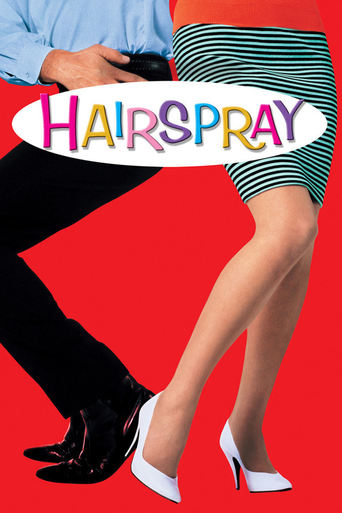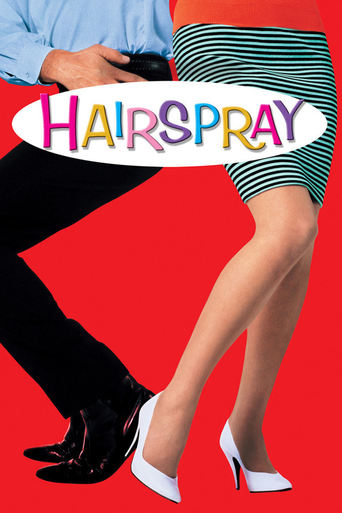 Hairspray
February. 16,1988 PG
AD: This title is currently not available on Prime Video
Ample teen Tracy Turnblad wants nothing more than to be on the hip local TV dance program, "The Corny Collins Show" -- and when her dream comes true, her lively moves and bubbly personality meet with unexpected popularity. But after witnessing firsthand the terrible state of race relations in 1960s Baltimore, Turnblad becomes an outspoken advocate for desegregation.
Similar titles
Polyester
A suburban housewife's world falls apart when her pornographer husband admits he's serially unfaithful to her, her daughter gets pregnant, and her son is suspected of being the foot-fetishist who's been breaking local women's feet.
Polyester
1981
Female Trouble
The life and times of Dawn Davenport, showing her progress from loving schoolgirl to crazed mass murderer - all of which stems from her parents' refusal to buy her cha-cha heels for Christmas. She runs away from home, is raped, becomes a single mother, criminal and glamorous model before her inevitable rendezvous with the electric chair.
Female Trouble
1974
Pink Flamingos
Notorious Baltimore criminal and underground figure Divine goes up against Connie & Raymond Marble, a sleazy married couple who make a passionate attempt to humiliate her and seize her tabloid-given title as "The Filthiest Person Alive".
Pink Flamingos
1972
Reviews
Arguably the high point of John Waters' career, HAIRSPRAY is a fun, energetic and infectious movie with a top-notch soundtrack and earnest performances from everyone involved. The story centers around Tracy Turnblad (Ricki Lake), a "pleasantly plump" teenager who spends her afternoons watching the Corny Collins Show, where teenagers dance the most popular dances to the latest tunes. She manages to get on the show, and from there hopes to bring integration to Baltimore, Maryland (this takes place in 1962). While still maintaining some of the weirdness which made John Waters (in)famous, this film rises above campiness because of the social ideas it embraces, e.g., racial equality. There's also hints of commentary on fame and child stars, akin to themes explored in more explicit ways in his previous films, but the focus here is on bringing people together. And what better way than through music and dancing? Just about everything in the movie works, from the retro fashion which has been lovingly recreated/exaggerated to the choreography and music. It's so catchy that you just want to get up and dance yourself. Still, the movie isn't without its negatives. The narrative is a bit thin, and the conflict is resolved a little too easily, but this can be mostly forgiven because of the strength of everything else around it. Recommended for moviegoers of all ages.
... more
As I watched this movie I was amazed at the fact that this movie attempts to break racial barriers and stereotypes, but the stereotypes regarding psychiatry (as well as beatniks in the 1960's) are over the top and I guess some call it "campy" but as a therapist who works in psychiatry I found it difficult to digest. My 11 year old had a much harder time watching this 1988 version. It was definitely groundbreaking at the time, but I am amazed at the attitudes that are reflected in this version--we've come such a long way in the past 20 years!We love the newer version--more energy, more fun, more comedy! The scene with John Travolta and Chris Walken dancing in the newer version is priceless.
... more
Hairspray marks something of a departure for director John Waters; a man best known for his 'bad taste' pictures such as Pink Flamingos and Female Trouble. The film still features Waters' style, but the bad taste is massively toned down and the whole feel of the movie could be described as 'John Waters Lite'. The film is set in 1962 Baltimore and music is the major focus of the film. Waters obviously realised that the style of it would be the major attraction; and as such has taken time to lay it on as thick as possible, and this blends well with the music and storyline. The plot focuses on a corny music show enjoyed by the teens in Baltimore. 'Pleasantly plump' Tracy Turnblad is one of the many obsessed by this show and sets out to get a role as one of the dancers. She achieves her goal and soon becomes a local hero, but she loses some friends when she decides to use her success in order to speak out for what she believes in - namely social integration.While John Waters' style is one of the best things about the movie, in another way it's one of the worst. In his earlier films, the content is generally distracting enough for the audience not to really notice the rather boring directorial style; but this film doesn't have that, and while the style is a big enough distraction at first; it soon becomes clear that the plot is rather lacking and the film becomes dull before we even reach the halfway point. Hairspray stars Ricki Lake in the lead role, and she does a rather good job with it. The role doesn't require any great acting talents, but she is at least bright and breezy for the duration. The rest of the cast is filled out nicely by an eclectic list of names, which includes Debbie Harry, Divine, Pia Zadora and even the director himself in an amusing role as a psychologist. The message regarding segregation may well be a good one; but really it's not all that interesting and isn't put forward particularly well, and that's where the film falls down. Overall, I do like the style of the film and appreciate the ideas behind it; but it's not well executed and I don't rate it among Waters' best efforts.
... more
Being a pleasantly plump teenage girl who loves to sing and dance myself,I absolutely adore this movie! Any movie where the fat girl steals the dreamy heart throb from the "perfect" skinny girl is a favorite of mine. This movie is empowering to big girls everywhere, even if they do have to shop at the "Hefty Hideaway." And personally, I think Rikki Lake was much more entertaining before she lost all the weight. When was the last time you saw her talk show or saw her in a movie? The musical version of Hairspray is one of my favorite shows and I would LOVE to play Tracy onstage. Waters may have his critics, but he sure knows how to direct a good cult classic.
... more