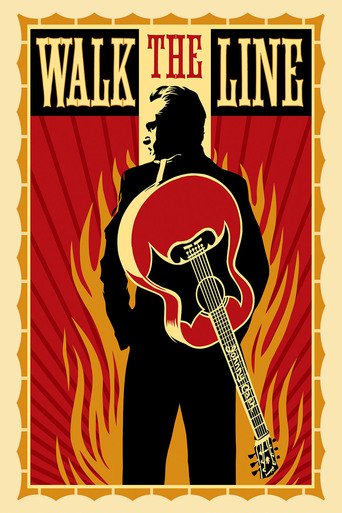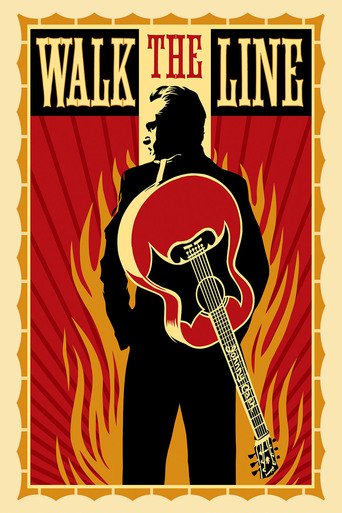 Walk the Line
September. 13,2005 PG-13
AD: This title is currently not available on Prime Video
A chronicle of country music legend Johnny Cash's life, from his early days on an Arkansas cotton farm to his rise to fame with Sun Records in Memphis, where he recorded alongside Elvis Presley, Jerry Lee Lewis and Carl Perkins.
Reviews
Johnny Cash sang like he meant business. He didn't get fancy and he didn't send his voice on missions it could not complete, but there was an urgency in his best songs that pounded them home. When he sang something, it stayed sung. James Mangold's "Walk the Line," with its dead-on performances by Joaquin Phoenix and Reese Witherspoon, helps you understand that quality. Here was a man who was blamed by his hard-drinking father for the death of his older brother, who said God "took the wrong son," who looked at Johnny's big new house and all he could say was, "Jack Benny's is bigger." In the movie you sense that the drive behind a Johnny Cash song was defiance. He was going to sing it no matter what anybody thought - especially his old man. The movie shows John R. Cash inventing himself. He came from a hard-working Arkansas family and grew up listening to country music on the radio, especially the Carter Family. He wrote his first song while he was serving in the Air Force in Germany. When he came back to the States, he got married and got a regular job but dreamed about being a recording artist. When his first wife, Vivian, complained he was spending more time on music than on her, he referred to his "band" and she said, "your band is two mechanics who can't even hardly play." "Walk the Line" follows the story arc of many other musicals, maybe because many core lines are the same: Hard times, obscurity, success, stardom, too much money, romantic adventures, drugs or booze, and then (if they survive) beating the addiction, finding love and reaching a more lasting stardom. What adds boundless energy to "Walk the Line" is the performance by Reese Witherspoon as June Carter Cash. We're told in the movie that June learned to be funny onstage because she didn't think she had a good voice; by the time John meets her she's been a pro since the age of 4, and effortlessly moves back and forth between her goofy onstage persona and her real personality, which is sane and thoughtful, despite her knack for hitching up with the wrong men. The film's most harrowing scene shows Johnny onstage after an overdose, his face distorted by pain and anger, looking almost satanic before he collapses. What is most fearsome is not even his collapse, but the force of his will, which makes him try to perform when he is clearly unable to. You would not want to get in the way of that determination. When Cash is finally busted and spends some time in jail, his father is dependably laconic: "Now you won't have to work so hard to make people think you been to jail." Although Cash's father (played with merciless aim by Robert Patrick) eventually does sober up, the family that saves him is June's. It is by now well known that Phoenix and Witherspoon perform their own vocals in the movie. It was not well known when the movie previewed - at least not by me. The problems with this film are minor, two in particular immediately come to mind. The pace of this film is so fast you find yourself wondering at times whether you have missed something. Time flies by in this film and it is sometimes hard to keep track of what state Cash's life is in now, or how famous he is today compared with the last scene. The pace is so speedy that it gets to the point where if there was a caption which read "one year later" at the beginning of this scene, you could count on there being the same caption at the beginning of the next one. Perhaps the most remarkable thing about Walk The Line is how average the film is at it's core. The base elements of the film are a fairly standard re-tread of virtually every rock & roll docu-drama film ever made from The Doors to infinity; drugs are used, people are hurt, lives are in chaos; all this we have seen before. What makes Walk The Line remarkable is how it takes something average and enhances just about every aspect of it to the point where you begin to forget how average the core of the film really is. The performances, the music, the cinematography, the script, all are distinctly sharper and better than any film of this kind than I have ever seen, though they had virtually nothing new to work with. I highly recommend this film. Go for the story, but stay for the outstanding performances.
... more
Throughout the film, I saw, I heard and I felt this amazing madness of music. I really saw it and felt it, because the scenery was bathed in music, the characters were wrapped in its train, all this history was mixed up on it. The dynamics of rock 'n' roll was replaced by the thoughtfulness of the blues and the rolling of country music. And in all this there was the meaning of the narrative love story, which at that time saved the singer.This is a biographical film about Johnny Cash, one of the most recognized singers and composers in his time, whose oeuvre was in the years glorified by the Great Elvis, and no less famous Karl Perkinson. But it was Johnny Cash who was recognized as a country icon. A mutually beneficial contract with Columbia Records brings success to him . In these years, the singer and composer has considerable problems: drugs and alcohol.The film shows the time when Johnny Cash, on tour, meets with June Carter, and with her he continues his performances. Being married, he falls in love with this woman. 10 years, this love is struggling with his attachments, and, at last, wins.It is impossible to tear your eyes from the actors. Charismatic Joaquin Phoenix, whose gaze attracts, makes you forget and admire, and the phenomenal Reese Witherspoon, who, like a jewel, shines on and off the stage. I did not expect such a frank, strong, naked game. This is the only biographical film I've watched 2 times and which has such a great impact on me. If you want to immerse yourself in the amazing music of the 60's, watch the struggle of love and hate, and want to see a happy ending, then this is that film, that you must obligatory watch.
... more
This movie tells the story of the famous American singer and songwriter Johnny Cash, performed in the style of country, gospel, and made a great contribution to the development of rock'n'roll. Events occur at a momentous time, and it formed the era of a completely new wave of the evolution of musical art, to emerging rock-n-roll. This time, the fifties of the twentieth century, it differs special style, the post-war world came to life and bloomed with bright colors of new life, a new generation. All modern music was born in those glorious days when the first enthusiasts and revolutionaries of the musical world took up their guitars. Among them, Johnny Cash, whose contribution to the development of rock and roll, is undervalued, but this is simply explained, all the attention to himself took Elvis Presley. The film was very bright and stylish, and looks at one go.
... more
That was an unusual feeling after watching this movie. I thought I would worry about Johnny's wife and family but I didn't. Did I feel sorry for Johnny? I can't say so. It was unusual for me because all the time I watch movies I find a character to sympathize to. But not this time. What's the reason? I tried to find it out. This movie is more than just about a person or some event. For me this movie is about values. In this movie I saw how people can choose different values than they had before. It made me think about the time of value. Before it I thought if a person has some strong values he/she will follow them whatever happens. Not everything is so simple.
... more