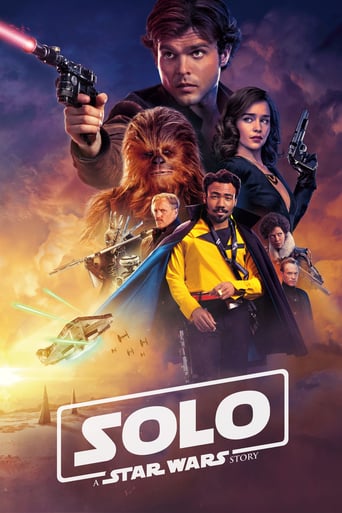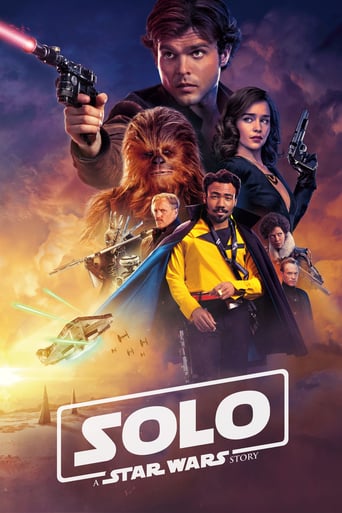 Solo: A Star Wars Story
May. 23,2018 PG-13
AD: This title is currently not available on Prime Video
Through a series of daring escapades deep within a dark and dangerous criminal underworld, Han Solo meets his mighty future copilot Chewbacca and encounters the notorious gambler Lando Calrissian.
Related
Sicario: Day of the Soldado
FBI agent Matt Graver teams up with operative Alejandro Gillick to prevent Mexican drug cartels from smuggling terrorists across the U.S. border.
Sicario: Day of the Soldado
2018
Isle of Dogs
In the future, an outbreak of canine flu leads the mayor of a Japanese city to banish all dogs to an island that's a garbage dump. The outcasts must soon embark on an epic journey when a 12-year-old boy arrives on the island to find his beloved pet.
Isle of Dogs
2018
Mission: Impossible - Fallout
When an IMF mission ends badly, the world is faced with dire consequences. As Ethan Hunt takes it upon himself to fulfill his original briefing, the CIA begin to question his loyalty and his motives. The IMF team find themselves in a race against time, hunted by assassins while trying to prevent a global catastrophe.
Mission: Impossible - Fallout
2018
A Quiet Place
A family is forced to live in silence while hiding from creatures that hunt by sound.
A Quiet Place
2018
Black Panther
King T'Challa returns home from America to the reclusive, technologically advanced African nation of Wakanda to serve as his country's new leader. However, T'Challa soon finds that he is challenged for the throne by factions within his own country as well as without. Using powers reserved to Wakandan kings, T'Challa assumes the Black Panther mantel to join with girlfriend Nakia, the queen-mother, his princess-kid sister, members of the Dora Milaje (the Wakandan 'special forces') and an American secret agent, to prevent Wakanda from being dragged into a world war.
Black Panther
2018
Ant-Man and the Wasp
Just when his time under house arrest is about to end, Scott Lang once again puts his freedom at risk to help Hope van Dyne and Dr. Hank Pym dive into the quantum realm and try to accomplish, against time and any chance of success, a very dangerous rescue mission.
Ant-Man and the Wasp
2018
Deadpool 2
Wisecracking mercenary Deadpool battles the evil and powerful Cable and other bad guys to save a boy's life.
Deadpool 2
2018
Pacific Rim: Uprising
It has been ten years since The Battle of the Breach and the oceans are still, but restless. Vindicated by the victory at the Breach, the Jaeger program has evolved into the most powerful global defense force in human history. The PPDC now calls upon the best and brightest to rise up and become the next generation of heroes when the Kaiju threat returns.
Pacific Rim: Uprising
2018
Jurassic World: Fallen Kingdom
Three years after the demise of Jurassic World, a volcanic eruption threatens the remaining dinosaurs on the isla Nublar, so Claire Dearing, the former park manager, recruits Owen Grady to help prevent the extinction of the dinosaurs once again.
Jurassic World: Fallen Kingdom
2018
Avengers: Infinity War
As the Avengers and their allies have continued to protect the world from threats too large for any one hero to handle, a new danger has emerged from the cosmic shadows: Thanos. A despot of intergalactic infamy, his goal is to collect all six Infinity Stones, artifacts of unimaginable power, and use them to inflict his twisted will on all of reality. Everything the Avengers have fought for has led up to this moment - the fate of Earth and existence itself has never been more uncertain.
Avengers: Infinity War
2018
Reviews
It's a very good film, the storyline is tight and the characters are really good but in the longrun it's simply a cool movie in the universe, not adding a lot to the LOR or the entire saga in general
... more
This is first and foremost a fun space western. In that right, it succeeds. It is not completely Star Wars. It tries to be, giving us a different side of the universe, but it feels like Star Wars mixed with Valerian. The performances were decent. It takes a bit for you to accept Eichenrach as Solo but by the end, you can totally see it. Woody Harrelson was a fine guy to see, he's been getting better. Emilia Clarke was fairly good. The standout is, of course, Donald Glover as Lando. He's exactly what a young Lando would and should be.The writing was probably my biggest disappointment. If you know me, you know I love writing. I'm okay with this writing, but there wasn't anything too great. It didn't do anything you didn't expect, which was probably my main problem.The direction was uneven, no surprise. It's not their fault, really. There was a director shake up halfway through production. Kinda amazing how decent it was given all the behind the scenes drama.It's not anything special. 6/10.
... more
What an unbelievably awful film. Why he the franchise been destroyed?
... more
I should have brought my pillow... this seriously sucked. Did Disney do this? this was no effort of imagination put into this. More of a get rich, shove star wars stories down peoples throats type of movies.1 star
... more