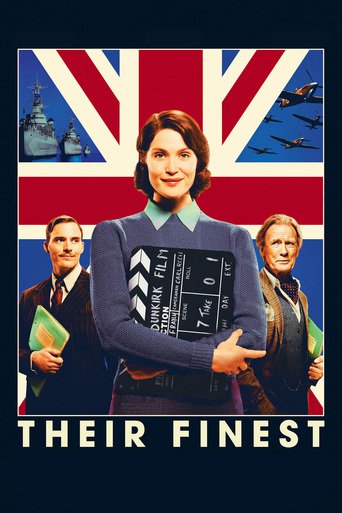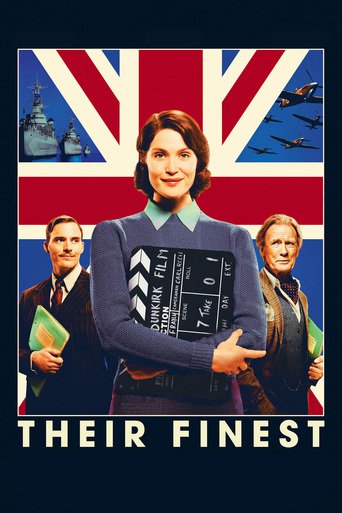 Their Finest
April. 06,2017
AD: This title is currently not available on Prime Video
During the Blitz of World War II, a female screenwriter (Gemma Arterton) works on a film celebrating England's resilience as a way to buoy a weary populace's spirits. Her efforts to dramatise the true story of two sisters (Lily Knight and Francesca Knight) who undertook their own maritime mission to rescue wounded soldiers are met with mixed feelings by a dismissive all-male staff.
Related
Bombshell: The Hedy Lamarr Story
The life and career of the hailed Hollywood movie star and underappreciated genius inventor, Hedy Lamarr.
Bombshell: The Hedy Lamarr Story
2018
Band Aid
A couple who can't stop fighting embark on a last-ditch effort to save their marriage: turning their fights into songs and starting a band.
Band Aid
2017
The Trip to Spain
Steve Coogan and Rob Brydon embark on a road trip along the coast of Spain.
The Trip to Spain
2017
Chronically Metropolitan
A cynical and clever coming of age film about first time novelist Fenton Dillane, who, unannounced returns to New York City to confront his family, his ex-girlfriend and a few lingering childhood fears.
Chronically Metropolitan
2016
Equity
Senior investment banker Naomi Bishop's world of high-power big money is brutal and fierce, and one she thrives in. When a controversial IPO threatens the fragile balance of power and confidentiality, Naomi finds herself entangled in a web of politics and deception.
Equity
2016
Little Men
Jake is a quiet, sensitive middle schooler with dreams of being an artist. He meets the affably brash Tony at his grandfather's funeral, and the unlikely pair soon hit it off. The budding friendship is put at risk, however, when a rent dispute between Jake's father, Brian, and Tony's mother, Leonor, threatens to become contentious.
Little Men
2016
Love & Friendship
From Jane Austen's novella, the beautiful and cunning Lady Susan Vernon visits the estate of her in-laws to wait out colorful rumors of her dalliances and to find husbands for herself and her daughter. Two young men, handsome Reginald DeCourcy and wealthy Sir James Martin, severely complicate her plans.
Love & Friendship
2016
A Quiet Passion
The story of American poet Emily Dickinson from her early days as a young schoolgirl to her later years as a reclusive, unrecognized artist.
A Quiet Passion
2016
Addicted to Fresno
Two co-dependent sisters, a recovering sex addict and a lonely lesbian who work as hotel maids in Fresno, go to ludicrous lengths to cover up an accidental crime.
Addicted to Fresno
2015
Ruben Guthrie
The story of one man not only battling the bottle, but the city that won't let him put it down.
Ruben Guthrie
2015
Reviews
The only good things to take away from this film were the performances of Bill Nighy and his agents. It was overly sentimental and the characters had neither chemistry nor believability.
... more
During the Blitz a struggling copywriter gets a job to help write a propaganda film about the Dunkirk evacuation, but the men in her life are not always helpful ...Lovely period drama, with a good balance of humour and hurt, and well produced all round. It's a long run time, but the pace is good, and the location switches keep the interest up. The story is love in a time of war, and there are several ups and downs amid the grim cruelty, with the added irony of the characters suffering the screenwriter's trick that they themselves apply: keep upping the ante until they have no choice but to resolve their predicament. There's also amusement in the camera trickery.One complaint: there is a brutal twist, which does tie in with the theme of life not being structured like stories, but I am bewildered by it and feel it wasn't handled right.Some of the humour comes from the chemistry between the screenwriters, but mostly from the crew on set down by the seaside, where Bill Nighy is on good form. The lead actress shows how good she is with quality material, and the cast delivers a solid performance. I particularly liked the scene with the twin sisters in Devon.Overall: Heartening romance that lets in the light and the dark.
... more
There have been countless movies about WWII. Most of them focus on the men in uniform, out in combat. Less gets shown of the women behind the scenes. Lone Scherfig's "Their Finest" focuses on a woman writing scripts for short information films in the United Kingdom. One of the things that I noticed is that it takes place around the time of the Dunkirk evacuation, recently depicted in Christopher Nolan's movie. That seems to be a popular topic these days, as is Winston Churchill (he's gotten depicted in several productions over the past year).It's not a masterpiece, but it pulls no punches in showing the horror of the air raids on London by Nazi forces, and the characters are developed enough so that the viewer cares about them. Gemma Arterton turns in a fine performance in the lead role, with good support from the rest of the cast (including Bill Nighy and Eddie Marsan).* I recommend the movie.*Incidentally, right after watching this I watched "The Limehouse Golem", in which those two also starred.
... more
Wartime-set drama (during the Blitz), that's part cap-tip to working women, part acclamation to the power of cinema.Arterton as the lead, Catrin, is hired early on as the sole woman on a small script writing team for the Ministry of Information, looking to the inspire the many at home and Americans abroad into joining the war in one swoop.Arterton is solid enough in her portrayal, and the script nuanced enough to push the stories & plight of women in general with tact -- no grandstanding here -- and she's an entertaining, bright foil to Sam Claflin's lead-writer Buckley.The romantic sub-plots here are a little to predictable, as is the denouement, thought Catrin is interesting enough for these to be passed off as forgivable.The film clearly takes some delight in it's portrayal of old-timey film-making, and the actors working on them (Bill Nighy a deft-hand here as usual).Entertaining, charming stuff here with a nice trim running time and engaging performances. Nothing especially stellar.
... more