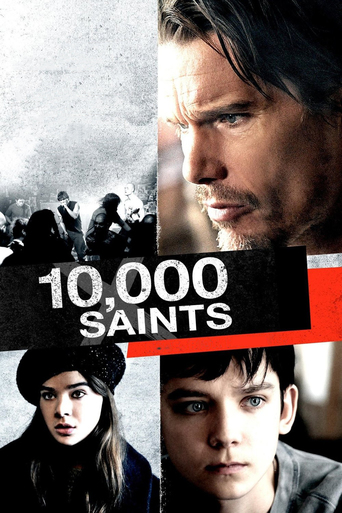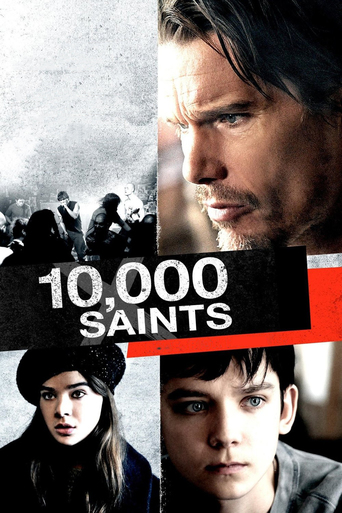 10,000 Saints
August. 14,2015 R
AD: This title is currently not available on Prime Video
A sweeping multigenerational story set against the backdrop of the raw, roaring New York City of the late 1980s; adoption, teen pregnancy, drugs, hardcore punk rock, the unbridled optimism and reckless stupidity of the young—and old—are all major elements in this heart-aching tale of the son of diehard hippies and his strange odyssey through the extremes of late 20th century youth culture.
Reviews
The story centers around Jude (Asa Butterfield) a teen boy growing up in Lintonburg, Vermont. He hangs out with his best friend Teddy (Avan Jogia) who is also adopted. His dad Les (Ethan Hawke) is with a different family in NYC. In an odd plot point Eliza (Hailee Steinfeld) stops in Vermont, meets the guys and this suddenly becomes a pregnant teen film (not funny like Juno) with an absentee father and a bunch of people, all well meaning, pulling in different directions.This is an indy style film with the pseudo-deep soundtrack with beginning and ending platitudes. "Life is like a river and we are all minnows..." The time frame in the 1980s and uses the Tompkins Square Park Riots in New York's East Village as a background.Guide: F-bomb. No sex or nudity.
... more
The basic synopsis of this film is that we get to follow the lives of three mal adjusted kids and their equally messed up parents from Vermont to New York and back again, – sort of. This is one of those films where if you actually say any more you will ruin some of the plot; so I must demur – despite itching to say more.The main character is Jude played by Asa Butterfield who is really very good and Ethan Hawke plays his narcotic loving father. I have to say the more I see Ethan Hawke act the better he seems to get. We also have the wonderful Emile Hirsch playing the lead singer to a hardcore punk type band. It is set in the eighties and they do manage to get a lot of details spot on – even CBGB's makes an appearance. The story is original, the direction great and the actors all seem to live their roles. It is billed as a comedy but I did not see a lot to laugh at here, I did really enjoy it though so as a drama withy light hearted moments it really did work for me.
... more
Based on the novel from Eleanor Henderson, 10,000 SAINTS is a classic styled drama set in New York where we follow some young and confused teenagers growing up and their crazed dysfunctional parents during the sex, drugs, and rock 'n roll era of the eighties. The first part of the film is really explosive and gripping but the further on the story goes it seems to get a bit stuck but keeps it curiosity until the end. This nostalgic trip through life gives you both smiles and tears while touching your heart and is a reminder of how fragile and short life is. A well-directed and written story by Sundance winners Shari Springer Berman and Robert Pulcini (American Splendor) with impressive performances from this odd mixed but great cast featuring Ethan Hawke, Asa Butterfield, Hailee Steinfield, Avan Jogia, Emilie Kirsch and Emily Mortimer.
... more
I wound up liking this a lot more than I thought I would. For the first 20 minutes or so I felt it dragged but then picked up. Overall I thought the acting was excellent, especially Ethan Hawke who played his somewhat complex character splendidly. What I really liked was that most of the characters stepped outside of stereotypical bounds. Hawke's character was a stoner, but in some ways level-headed and responsible. Johnny, the punk singer and tattoo artist, was trying to stay straight and walk the spiritual path and succeeded reasonably well. I read other comments which complained that "nothing happened" in the film. This is not an action film; it's a relationship movie, and given that, I believe it worked well. Plus, the characters all showed some degree of evolution. The scenery, with 1980's East Village was done really well too, very realistic, Twin Towers and all.
... more