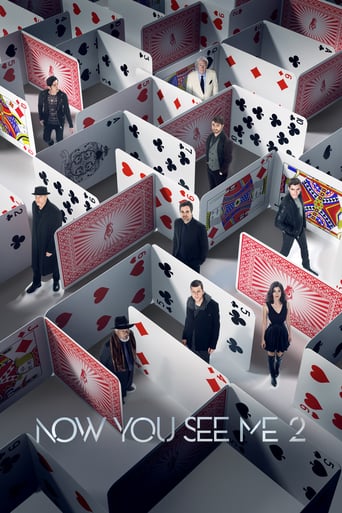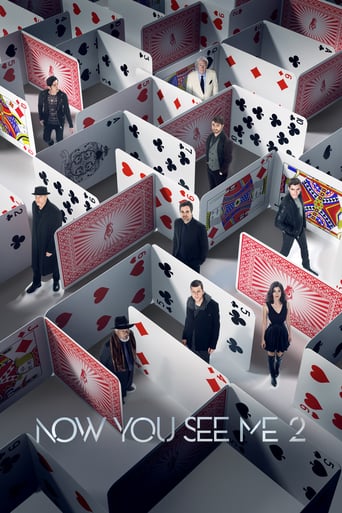 Now You See Me 2
June. 02,2016 PG-13
AD: This title is currently not available on Prime Video
One year after outwitting the FBI and winning the public's adulation with their mind-bending spectacles, the Four Horsemen resurface only to find themselves face to face with a new enemy who enlists them to pull off their most dangerous heist yet.
Reviews
Thanks for the memories!
... more
Although it has its amusing moments, in eneral the plot does not convince.
... more
It is neither dumb nor smart enough to be fun, and spends way too much time with its boring human characters.
... more
Actress is magnificent and exudes a hypnotic screen presence in this affecting drama.
... more
I'll start by saying you'll probably need to watch the 1st part over again, it was difficult for me to remember who is who, the script should probably have included some sort of 'reminder'? It is not a movie for oscar nominations nor will it be memorable but is entertaining all the same, a typical 'pop corn movie'. Nothing bad about it. Some of the plot could have been simplified a bit, it looks like the writer needed to add some spice but it got a bit overdone. Do not try to think what can be possible or not, is just a movie, a make believe thing to pass the time, not a tutorial video for magician :D
... more
The people that are still saying this movie is terrible is also the same people who still don't understand the movie itself.Though it did leave out a few details it is the best magical franchise of its kind.
... more
I actually think this one is better than the first one, but I am sorry, it still sucks so much. I gave this film two stars because it was better than the first film, that just sucks in every way. This film actually had some feelings, it had some heart, but still, it just did NOT make sense! So stupid premise, so little purpose, so bad acting (except Michael Kane). I am Sorry, but this is just a bad film, and I hope you did not pay anything for it.
... more
Don't know what category - Rubbish!The first film was hardly any better so why make a sequel!The plot is a real mess, the film is unwatchable! I'm surprised that I stayed until the end!Poke out your eyes with hot pins would be more enjoyable!
... more