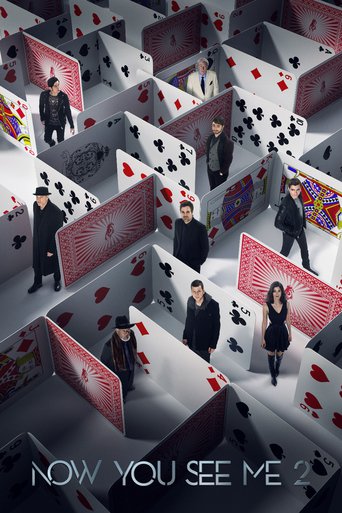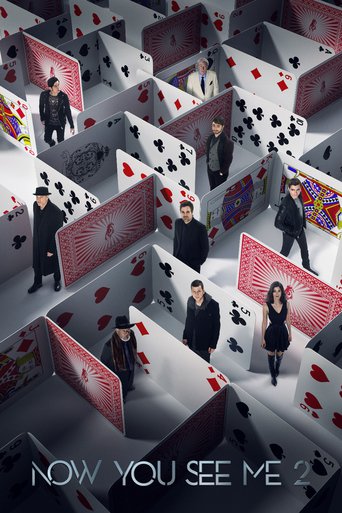 Now You See Me 2
June. 02,2016 PG-13
AD: This title is currently not available on Prime Video
One year after outwitting the FBI and winning the public's adulation with their mind-bending spectacles, the Four Horsemen resurface only to find themselves face to face with a new enemy who enlists them to pull off their most dangerous heist yet.
Reviews
I could have written this review for 'Now You See Me I', as my appreciation for Tyler's work started there, but I thought I'd skip it, as he outdid himself in the second part. Yes, the NYSM films are arguably one of the most plot hole ridden franchises in Hollywood (not speaking about the non-decision if magic now is actually an existing thing or not), but strangely I found that after watching the first one and simply accepting the aforementioned fact I was able to really enjoy the second one. And I will re-view the first one as well with this attitude. Those are simply enjoyable films with good actors, nice scenery and lighthearted stories. But I want to direct your focus on something else I rarely read about here: The music by Brian Tyler. You may say about him what you want, but he really created an exception here. In our times, real pop-rock drums (I am not talking programmed drums and loops) as addition to orchestral music have fallen out of grace - Tyler was one of the first to bring them back. And boy, he knows how. In my world, the NYSM score is one of the most inventive soundtracks of our time. Not only does Tyler create a really powerful combination of orchestral and pop/rock music, he also manages to deliver a theme (or leitmotif) one is able to whistle after leaving the theater - also something that is not standard anymore, as soundtracks have become more like acoustic wallpaper these days. The music is really versatile in the most profound way. Just listen to 'The Setup' as a prime example. He morphs through all kinds of style from pop, rock, soul, swing and jazz in one single piece. And his real drums lend a power to the music that is unprecedented. Others have also started to incorporate this style of drumming in their music, but never as virtuosic as Tyler does here. If you like popcorn flicks, give the NYSMs try, and if you're into movie scores, keep your ears open. An oh, by the way: Listen to 'Can you dig it', his end title version of 'Iron Man 3' - it's right up there on the same level.
... more
I'll start by saying you'll probably need to watch the 1st part over again, it was difficult for me to remember who is who, the script should probably have included some sort of 'reminder'? It is not a movie for oscar nominations nor will it be memorable but is entertaining all the same, a typical 'pop corn movie'. Nothing bad about it. Some of the plot could have been simplified a bit, it looks like the writer needed to add some spice but it got a bit overdone. Do not try to think what can be possible or not, is just a movie, a make believe thing to pass the time, not a tutorial video for magician :D
... more
The people that are still saying this movie is terrible is also the same people who still don't understand the movie itself.Though it did leave out a few details it is the best magical franchise of its kind.
... more
If you have any intelligence at all, you will, not only by seeing on IMDB page it says "COMEDY", but also, find by watching the film that is is a PARODY. For instance, there's (the actor of) Harry Potter that doesn't believe in magic and believes in science instead.The issue is though that in my opinion, FIRSTLY it should've tried even harder to make things go overboard, with all the effects and stuff. I mean the CGI is exactly the point to the parody -- but people also mistook it for a serious film because the film doesn't go crazy enough with it. SECONDLY, it's should've parodied all the characters heavier. The characters clearly are meant for parody as well but they don't strike you like that hard enough leaving the experience a little blunt.Don't skip the film just because unintelligent kids here couldn't figure out it's a parody.Overall, it's decent entertainment if you understand you are watching a comedy (parody), not a serious mystery film which it clearly doesn't claim to be.
... more