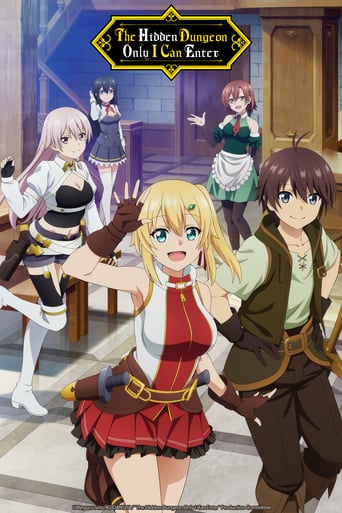 The Hidden Dungeon Only I Can Enter
January. 08,2021 TV-14
The Hidden Dungeon is a place of legend where rare treasures and items are hidden. Nor, the third son of an impoverished noble family who's lost the one job offer he had, was lucky enough to hear about this dungeon. He then acquires a skill that allows him to create, bestow, and edit skills... and in order to use it, he needs to accumulate points by carrying out such tasks as eating delicious meals and doing sexual things with alluring members of the opposite sex.
Seasons & Episode
Seasons 1 : 2021
|
12 Episode
|
MORE
You May Also Like
Prime Video
Wotakoi: Love is Hard for Otaku
After discovering that they work at the same company, a gaming crazed otaku and a fujoshi reunite for the first time since middle school. After some post-work drinking sessions they begin dating, but will it be a perfect relationship for the two?
Wotakoi: Love is Hard for Otaku
2018
How Not to Summon a Demon Lord
When it comes to the fantasy MMORPG Cross Reverie, none can match the power of the Demon King Diablo. Possessing the game's rarest artifacts and an unrivaled player level, he overpowers all foolish enough to confront him. But despite his fearsome reputation, Diablo's true identity is Takuma Sakamoto, a shut-in gamer devoid of any social skills. Defeating hopeless challengers day by day, Takuma cares about nothing else but his virtual life—that is, until a summoning spell suddenly transports him to another world where he has Diablo's appearance! In this new world resembling his favorite game, Takuma is greeted by the two girls who summoned him. They perform an Enslavement Ritual in an attempt to subjugate him, but the spell backfires and causes them to become his slaves instead. With the situation now becoming more awkward than ever, Takuma decides to accompany the girls in finding a way to unbind their contract while learning to adapt to his new existence as the menacing Demon King.
How Not to Summon a Demon Lord
2018
Redo of Healer
In a world of monsters, adventurers and magic, some of the most gifted healers are subjugated to brute force. Keyaru gains the ability to rewind time and turns the tables on those who've exploited him in this dark fantasy tale of vengeance and fury.
Redo of Healer
2021
The Irregular at Magic High School
In a world where magic is not a fairy tale but has existed for one hundred years siblings Tatsuya and Miyuki Shiba prepare to begin their studies at the elite Private Magic University Affiliated High School (Magic High School for short). Entering on different levels of the academic spectrum the two turn the once peaceful campus into a chaotic one.
The Irregular at Magic High School
2014
Mushoku Tensei: Jobless Reincarnation
34-year-old virgin loser is kicked out of his home by his family and realized that his life is completely over. As he regrets wasting his life, a truck runs him over and he died. When he wakes up... He's in a world of sword and sorcery! Reborn as a baby named Rudeus, he decides that this time, he'll live a life he won't regret!
Mushoku Tensei: Jobless Reincarnation
2021
Is It Wrong to Try to Pick Up Girls in a Dungeon?
In a world, where the deities have descended from the heavens lies the town of Orario that features the Dungeon, which contains an assortment of monsters from goblins to dragons. Adventurers slay those monsters and take their shards, which are then used to craft magic items. To become an adventurer, people join groups called Familia. Each of which is named after and serves a resident deity. The adventurers and their attributes and abilities are ranked by level, improved by experience and supervised by their Familia's deity. Bell Cranel, a novice adventurer, is the sole member of the Familia under the goddess Hestia. After being saved by top level adventurer Ais Wallenstein of the Loki Familia, he falls in love with her and decides to improve and become worthy of her attention. All the while mostly unaware that other girls, deities and mortals, also develop feelings for him. Especially Hestia herself.
Is It Wrong to Try to Pick Up Girls in a Dungeon?
2015
Domestic Girlfriend
Natsuo is a high school boy who is experiencing the crushing despair of unrequited love. To make matters worse, the person he is in love with is his teacher, Hina. In an attempt to lift his spirits, he attends a mixer where he meets a girl named Rui. The two sleep together, expecting never to see one another again, but fate has other plans. His life suddenly becomes more complicated when his father comes home and announces he has remarried a woman with two daughters whom Natsuo has met before: Hina and Rui!
Domestic Girlfriend
2019
Classroom of the Elite
Koudo Ikusei Senior High School is a leading prestigious school with state-of-the-art facilities where nearly 100% of students go on to university or find employment. The students there have the freedom to wear any hairstyle and bring any personal effects they desire. Koudo Ikusei is a paradise-like school, but the truth is that only the most superior of students receive favorable treatment. Ayanokouji Kiyotaka is a student of D-class, which is where the school dumps its "inferior" students in order to ridicule them. For a certain reason, Kiyotaka was careless on his entrance examination, and was put in D-class. After meeting Horikita Suzune and Kushida Kikyou, two other students in his class, Kiyotaka's situation begins to change.
Classroom of the Elite
2017