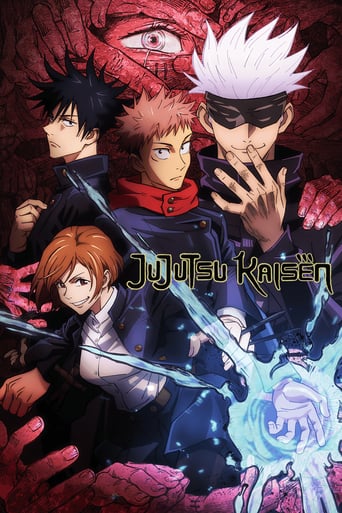 Jujutsu Kaisen
February. 20,2021 TV-14
With his days numbered, high schooler Yuji decides to hunt down and consume the remaining 19 fingers of a deadly curse so it can die with him.
Seasons & Episode
Seasons 1 : 2020
|
24 Episode
|
MORE
You May Also Like
Run with the Wind
Kakeru, a former elite runner at high school, is chased for stealing food. He is saved by a Kansei University student Haiji, who is also a runner. Haiji persuades Kakeru to live in the old apartment "Chikuseisou" where he plans to team up with fellow residents to enter Hakone Ekiden Marathon, one of the most prominent university races in Japan. Kakeru soon finds out that all of the residents except for Haiji and himself are complete novices.
Run with the Wind
2018
I'm Standing on a Million Lives
Ninth grader Yotsuya Yuusuke is practical, friendless, and not active in any clubs. Then one day, he and two female classmates are suddenly sent to another world where they must work together to battle for their lives. Yotsuya is a lone wolf and has always lived his life according to his wants, but how will that work out now that he's supposed to be a hero?!
I'm Standing on a Million Lives
2020
Akudama Drive
Many years ago, a Great Civil War ravaged Japan, leaving the country fragmented between two regions: Kansai and Kanto. In Kansai, a group of six Akudama carry out missions given to them by a mysterious black cat, while evading the police. But a dangerous journey is about to unfold when a civilian girl becomes twisted into the Akudama's way of life and witnesses their criminal drives.
Akudama Drive
2020
Hakata Tonkotsu Ramens
Although the city of Fukuoka might look relatively peaceful at first glance, in actuality it houses a thriving mixture of dangerous individuals such as killers, detectives, and professional revenge seekers right beneath its surface. Among their number is Zenji Banba, a laidback and observant detective who is investigating the work of other hitmen companies in the area. However, Banba might not be the only one with a bone to pick with these organizations, as Xianming Ling, a crossdressing male hitman in the employ of one such company begins getting fed up with his lack of jobs and pay. One day, after Ling's current target commits suicide before the hitman could reach him, his company refuses to pay him even half the amount they were originally supposed to for the assassination. Frustrated, Ling requests another mission and is offered the job of taking out Banba, whom his organization believes has been interfering with their business. However, when Banba arrives at his home and finds the hitman inside, Ling surprisingly doesn't even attempt to kill him. Instead, he offers the detective another option: to join him and form a team. With the offer on the table, exactly how will Banba respond, and just what plans does Ling have in store for the underground world of Fukuoka?
Hakata Tonkotsu Ramens
2018
Deca-Dence
Many years have passed since humanity was driven to the brink of extinction by the sudden emergence of the unknown life forms Gadoll. Those humans that survived now dwell in a 3000m-high mobile fortress Deca-dence built to protect themselves from the Gadoll threat. Denizens of Deca-dence fall into two categories: Gears, warriors who fight the Gadoll daily, and Tankers, those without the skills to fight. One day, Natsume, a Tanker girl who dreams of becoming a Gear meets surly Kaburagi, an armor repairman of Deca-dence. This chance meeting between the seemingly two opposites, the girl with a positive attitude who never gives up on her dreams and the realist who has given up on his, will eventually shake the future course of this world.
Deca-Dence
2020
Afterlost
One day, a city suddenly disappears. Takuya, a professional by-the-contract courier and lone wolf, meets Yuki, the only survivor from the city's extinction. The two rely on a message from Yuki's father, who was heard to be missing, and head toward the disappeared city, Lost. However, unexpected obstacles strike before the pair, with the reality especially shocking for Yuki. Before them are the feelings of those left behind, a mysterious group manipulating in the shadows, and unveiling the hidden conspiracy. Takuya and Yuki, who both were initially strangers, would deepen their bond during the journey and unravel the mystery of the Lost city.
Afterlost
2019
Dragon Quest: The Adventure of Dai
A long time ago, there was a valiant swordsman who came to be known simply as "the hero." There was a demon who has caused people suffering. The hero and his companions arrived to challenge the demon to a battle and by combining their powers, the battle was brought swift conclusion. With no one around to cause trouble, the island became a quiet place where everyone could live together in peace. Several years later, the demon is revived. Our present-day protagonist, Dai, lives on a remote island in the southern seas and dreams of becoming a great hero. When he hears about the demon's revival, Dai and his friends take it upon themselves to stop him and the evil force that revived him. Along the way, Dai discovers the identity of "the hero," the truth behind the evil force who revived the demon, and Dai's own hidden powers that surface in times of peril.
Dragon Quest: The Adventure of Dai
2020
ID: INVADED
Sakaido is a genius detective who can track down any criminal. But when his daughter is murdered, revenge lands him on the other side of the law. Now in prison, he helps the police solve mysteries using a system that invades a person's identity. Little by little, a trail of blood forms, and it all leads back to his daughter's murderer.
ID: INVADED
2020
The God of High School
When an island half-disappears from the face of the earth, a mysterious organization sends out invitations for a tournament to every skilled fighter in the world. "If you win you can have ANYTHING you want," they claim. They're recruiting only the best to fight the best and claim the title of The God of High School. Jin Mori, a Taekwondo specialist and a high school student, soon learns that there is something much greater beneath the stage of the tournament.
The God of High School
2020
Miru Tights
A web short anime series based on popular illustrator Yomu's girls in tights illustrations.
Miru Tights
2019