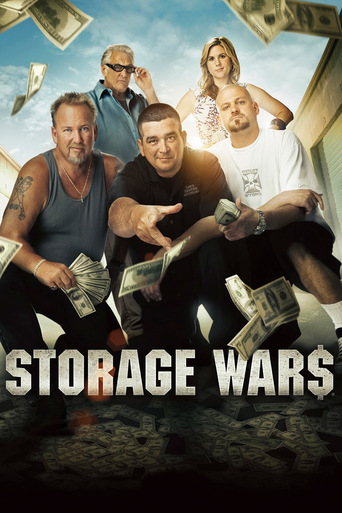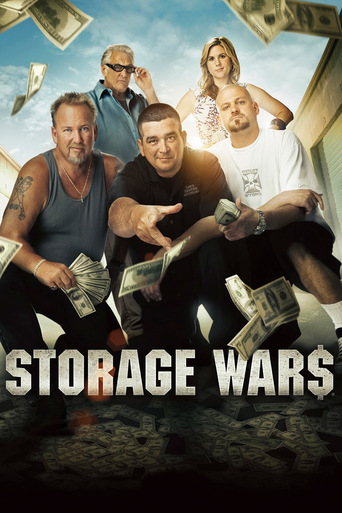 Storage Wars
January. 30,2019
AD: This title is currently not available on Prime Video
When rent is not paid on a storage locker for three months in California, the contents can be sold by an auctioneer as a single lot of items in the form of a cash-only auction. The show follows professional buyers who purchase the contents based only on a five-minute inspection of what they can see from the door when it is open. The goal is to turn a profit on the merchandise.
Seasons
Season 12
2018
Season 11
2017
Season 10
A&E presents the new original real-life series "Storage Wars," which follows four professional buyers and their teams as they scour repossessed storage units in search of hidden treasure. Part gamblers, part detectives, these auction pros have found everything from coffins to the world's most valuable comic book collection, paying as little as ten dollars for items valued in the millions. The 12-episode half-hour series premieres on A&E, Wednesday, December 1 at 10PM ET/PT. Each episode of "Storage Wars" follows a group of bidders as they get a quick peek inside the units, aided only by the beam of a flashlight. They then must assess on the spot if the unit is worth a bid and how high they will actually go to grasp the gold. The high-stakes fun begins as we see if the resulting buy is full of mostly trash... or true treasure. Driven by Dan Dotson, one of the most successful and outrageous auctioneers in the country, the cast of buyers is as colorful and varied as the treasures they uncover.
Season 10
2017
Season 9
2016
Season 8
2015
Season 7
2015
Season 6
2014
Season 5
2014
Season 4
The fourth season of the reality television show, Storage Wars aired on A&E from April 16, 2013 to July 2, 2013. It consisted of thirty episodes, beginning with the episode "The Big Boys vs. The Heavyweights" and ending with the episode "Super Bros. Shuffle". This season of Storage Wars had more frequent buyers than the other seasons. There were lots of new buyers on the show. All of the episodes this season were filmed at various self-storage facilities throughout Southern California, including Mini-U Storage, Storage Outlet and Extra Storage.
Season 4
2013
Season 3
2012
Season 2
2011
Season 1
2010
Similar titles
Suomen huutokauppakeisari
Suomen huutokauppakeisari is finnish TV serie, which follows everyday activities of auction house, located in Uurainen, Hirvaskangas.
Suomen huutokauppakeisari
2018
Auction Hunters
Auction Hunters is an American reality television series that premiered on November 9, 2010, on Spike and is produced by Gurney Productions Inc. It also airs internationally. In June 2011, Spike announced that it had ordered a third season of 26 episodes. In August 2012, Spike announced that it had ordered a fourth season of 26 episodes. The fourth season premiered on January 30, 2013.
Auction Hunters
2014