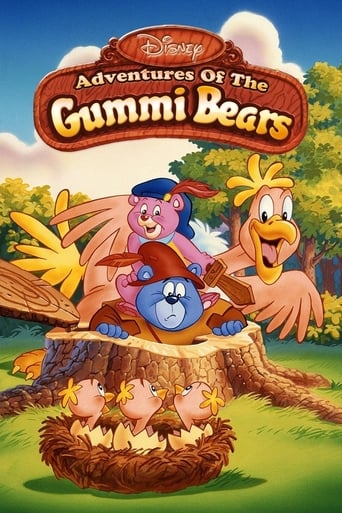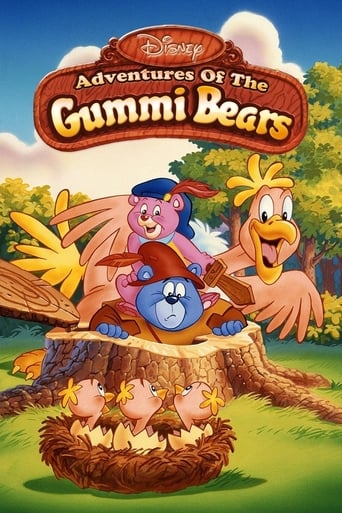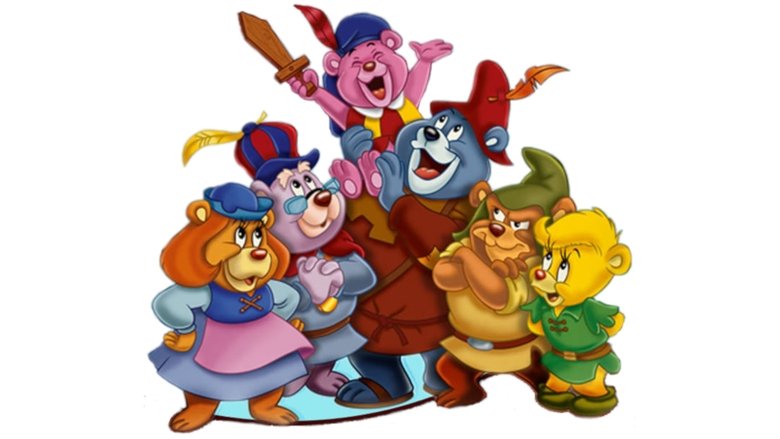 Disney's Adventures of the Gummi Bears
February. 22,1991 TV-G
Join the world's sweetest heroes for high adventure in a mystical land of giants and wizards, ogres and dragons, and wondrous creatures both good and evil. Meet Gruffi, Zummi, Cubbi, Grammi, Tummi, Sunni, and all the legendary Gummis as they laugh, play, foil dastardly plots, and fight for what's right.
Seasons & Episode
Seasons 6 : 1990
|
19 Episode
|
MORE
Seasons 5 : 1989
|
13 Episode
|
MORE
Seasons 4 : 1988
|
16 Episode
|
MORE
Seasons 3 : 1987
|
14 Episode
|
MORE
Seasons 2 : 1986
|
12 Episode
|
MORE
Seasons 1 : 1985
|
21 Episode
|
MORE
Related
Pink Panther and Pals
Pink Panther and Pals is an animated television
Pink Panther and Pals
2010
Captain Planet and the Planeteers
Captain Planet and the Planeteers is an American animated environmentalist television program created by Ted Turner, Robert Larkin III, and Barbara Pyle, produced by Pyle, Nicholas Boxer, Andy Heyward and Robby London, and developed by Pyle, Boxer, Heyward, London, Thom Beers, Bob Forward, Phil Harnage and Cassandra Schafhausen. The series was produced by Turner Program Services and DIC Entertainment and it was broadcast on TBS from September 15, 1990 to December 5, 1992. A sequel series, The New Adventures of Captain Planet, was produced by Hanna-Barbera and Turner Program Services, and was broadcast from September 11, 1993 to May 11, 1996. Both series continue today in syndication. The program is a form of edutainment and advocates environmentalism. In February 2009, Mother Nature Network began airing episodes and unreleased footage of Captain Planet and the Planeteers on its website. In September 2010, the Planeteer Movement was launched with the assistance of Pyle as a means for fans of the show to connect and continue to integrate the show's messages into their lives as real-life Planeteers.
Captain Planet and the Planeteers
1996
Aladdin: The Series
Aladdin is an animated television series made by Walt Disney Television which aired from 1994 to 1995, based on the original 1992 feature. It was animated at the Slightly Offbeat Productions Studios in Penrose, Auckland, New Zealand. Coming on the heels of the direct-to-video sequel The Return of Jafar, the series picked up where that installment left off, with Aladdin now living in the palace, engaged to beautiful and spunky Princess Jasmine. "Al" and Jasmine went together into peril among sorcerers, monsters, thieves, and more. Monkey sidekick Abu, the animated Magic Carpet, and the fast-talking, shape-shifting Genie came along to help, as did sassy, complaining parrot Iago, formerly Jafar's pet but now an antihero. Jafar, having previously been destroyed in the second movie, returns in only one episode which also serves as a crossover with Hercules: The Animated Series. Many of the films' stars provided the voices of their TV counterparts, with the notable exception of Dan Castellaneta filling in for Robin Williams in the Genie role. Unlike The Little Mermaid spinoff series, this series does not feature any musical numbers. The series originally aired concurrently on the syndicated The Disney Afternoon block and on Saturday mornings on CBS. Disney Channel reran the series in the late-1990s until it was replaced by their pre-teen lineup. The show was later shown on Toon Disney, but has since been removed.
Aladdin: The Series
1995
Goof Troop
Disney's Goof Troop is an Animated Comedy television series from The Walt Disney Company featuring Goofy as a father figure and bonding with his son Max, and Pete, as his neighbor. Created by Peter Montgomery, the main series of 65 episodes ran in syndication from 1992 to 1993 on The Disney Afternoon, while an additional thirteen episodes ran on Saturday mornings on ABC. One Christmas special was also produced, which ran in syndication.
Goof Troop
1993
Darkwing Duck
Darkwing Duck is an American animated action-adventure television series produced by The Walt Disney Company that ran from 1991–1995 on both the syndicated programming block The Disney Afternoon and Saturday mornings on ABC. It featured the eponymous anthropomorphic duck superhero whose alter ego is mild-mannered single quacker Drake Mallard. It is the only direct spin-off of DuckTales.
Darkwing Duck
1992
TaleSpin
Baloo the Bear stars in an adventurous comedy of love and conflict with his friend Kit Cloudkicker. Rebecca Cunningham and her daughter Molly purchase Baloo's failing company and Baloo must fly transport runs to clear his debt while dodging Don Karnage and his sky pirates.
TaleSpin
1991
The Real Ghostbusters
The Real Ghostbusters is an American animated television series spun-off from the Ghostbusters franchise. The series ran from 1986 to 1991, and was produced by Columbia Pictures Television, DiC Enterprises, and Coca-Cola Telecommunications. "The Real" was added to the title after a dispute with Filmation and its Ghost Busters properties. The series continues the adventures of paranormal investigators Dr. Peter Venkman, Dr. Egon Spengler, Dr. Ray Stantz, Winston Zeddemore, their secretary Janine Melnitz and their mascot ghost Slimer. There also were two ongoing Real Ghostbusters comics, one published monthly by Now Comics in USA and the other published weekly by Marvel Comics in the United Kingdom, and a popular toy line manufactured by Kenner.
The Real Ghostbusters
1991
Muppet Babies
The Muppet Babies (Kermit, Piggy, Gonzo, Fozzy and company) live in a large nursery watched over by Nanny. The babies have active imaginations, and often embark upon adventures into imaginary worlds.
Muppet Babies
1990
Chip 'n' Dale Rescue Rangers
Chip 'n Dale: Rescue Rangers is an animated series produced by Walt Disney Television Animation. Created by Tad Stones and Alan Zaslove, it featured the established Disney characters Chip 'n' Dale in a new setting. The series premiered on the Disney Channel on March 4, 1989, after a preview episode was aired on August 27, 1988. The series premiered with a two-hour movie special, Rescue Rangers: To the Rescue, which was later broken up into five parts to air as part of the weekday run. The final episode aired on November 19, 1990. On September 18, 1989, the series entered national syndication. From 1998 to 1999, reruns of the show were aired as a part of the Disney Afternoon line up.
Chip 'n' Dale Rescue Rangers
1990
DuckTales
Scrooge McDuck finds his hands full at home when nephews Huey, Dewey and Louie move to Duckburg. Joined by their loyal pals Launchpad McQuack, Gyro Gearloose and Mrs. Beakley, the DuckTales gang never fails to deliver a wealth of adventure. Get ready for a fortune of fun with DuckTales!
DuckTales
1990