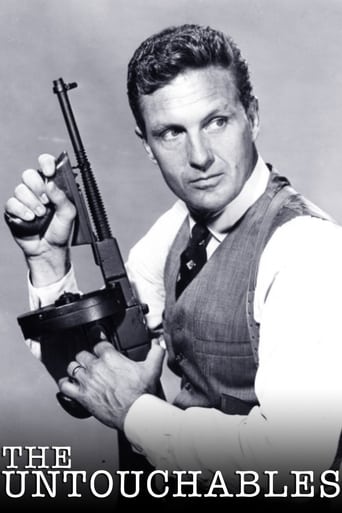 The Untouchables
October. 15,1959
The Untouchables is an American crime drama that ran from 1959 to 1963 on ABC. Based on the memoir of the same name by Eliot Ness and Oscar Fraley, it fictionalized Ness' experiences as a Prohibition agent, fighting crime in Chicago in the 1930s with the help of a special team of agents handpicked for their courage and incorruptibility, nicknamed the Untouchables. The book was later made into a film in 1987 by Brian De Palma, with a script by David Mamet, and a second less successful TV series in 1993. A powerful, hard-hitting crime drama, The Untouchables won series star Robert Stack an Emmy Award for Best Actor in a Dramatic Series in 1960 .
Seasons & Episode
Seasons 4 : 1962
|
30 Episode
|
MORE
Seasons 3 : 1961
|
28 Episode
|
MORE
Seasons 2 : 1960
|
32 Episode
|
MORE
Seasons 1 : 1959
|
28 Episode
|
MORE
Similar titles
Prohibition
The history of the rise, rule and fall of the Eighteenth Amendment to the United States Constitution and the entire era it encompassed (1920-33). After nearly a century of activism, Prohibition was intended to improve the lives of all citizens by protecting individuals, families and society at large from the devastating effects of alcohol abuse; but paradoxically it made millions of people rethink their definition of morality.
Prohibition
2011
The Untouchables
The Untouchables is an American crime drama series that aired for two seasons in syndication, from January 1993 to May 1994. The series portrayed work of the real life Untouchables federal investigative squad in Prohibition-era Chicago and its efforts against Al Capone's attempts to profit from the market in bootleg liquor. The series features Tom Amandes as Eliot Ness and William Forsythe as Al Capone, and was based on the 1959 series and 1987 film of the same name.
The Untouchables
1993
Chicago Hope
Chicago Hope is an American medical drama television series, created by David E. Kelley. It ran on CBS from September 18, 1994, to May 4, 2000. The series is set in a fictional private charity hospital in Chicago, Illinois. The show is set to return in the fall of 2013 on TVGN in reruns.
Chicago Hope
1994
The Waltons
The Waltons live their life in a rural Virginia community during the Great Depression and World War II.
The Waltons
1972
The Durrells
In 1935, financially strapped widow Louisa Durrell, whose life has fallen apart, decides to move from England, with her four children (three sons, one daughter), to the island of Corfu, Greece. Once there, the family moves into a dilapidated old house that has no electricity and that is crumbling apart. But life on Corfu is cheap, it's an earthly paradise, and the Durrells proceed to forge their new existence, with all its challenges, adventures, and forming relationships.
The Durrells
2016
Prime Video
The Good Fight
Picking up one year after the events of the final broadcast episode of "The Good Wife", an enormous financial scam has destroyed the reputation of a young lawyer, Maia Rindell, while simultaneously wiping out her mentor and godmother Diane Lockhart's savings. Forced out of her law firm, now called "Lockhart, Deckler, Gussman, Lee, Lyman, Gilbert, Lurie, Kagan, Tannebaum & Associates", they join Lucca Quinn at one of Chicago's preeminent law firms.
The Good Fight
2017
The Chi
A relevant, timely and distinctive coming-of-age story following a half dozen interrelated characters in the South Side of Chicago. The story centers on Brandon, an ambitious and confident young man who dreams about opening a restaurant of his own someday, but is conflicted between the promise of a new life and his responsibility to his mother and teenage brother back in the South Side.
The Chi
2018
ER
Explores the inner workings of an urban teaching hospital and the critical issues faced by the dedicated physicians and staff of its overburdened emergency room.
ER
1994
Agatha Christie's Poirot
From England to Egypt, accompanied by his elegant and trustworthy sidekicks, the intelligent yet eccentrically-refined Belgian detective Hercule Poirot pits his wits against a collection of first class deceptions.
Agatha Christie's Poirot
1989
Early Edition
Gary Hobson thinks he may even be losing his mind when tomorrow's newspaper mysteriously arrives today giving him a disconcerting look into the future. What will he do with tomorrow's news?
Early Edition
1996