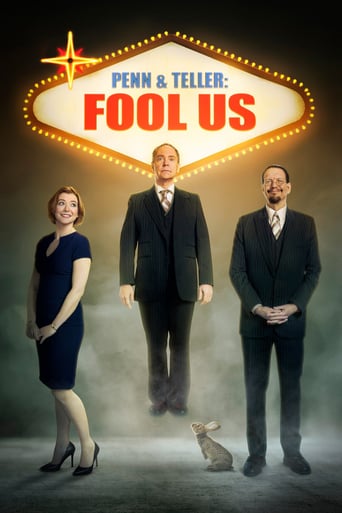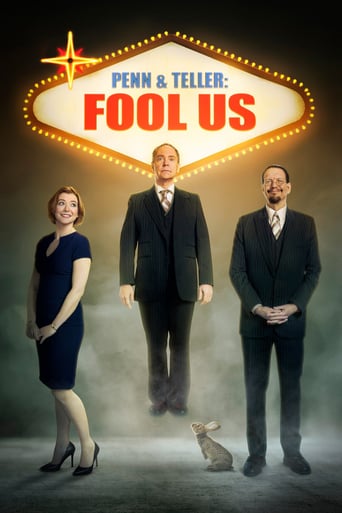 Penn & Teller: Fool Us
August. 19,2019 TV-PG
This title is currently not available on Prime Video
Illusionists Penn & Teller throw down the gauntlet to aspiring magicians to perform their most mystifying trick - and fool Penn and Teller. Penn & Teller have no prior knowledge of either the performers or the planned trick. They sit in the audience just like everyone else, watching every move the guest magicians make. If any illusionist fools the professionals, they win a five star trip to Las Vegas to perform as the opening act in Penn & Teller's world famous show at the Rio Hotel & Casino.
Seasons
Season 6
2019
Season 5
2018
Season 4
2017
Season 3
2016
Season 2
2015
Season 1
2011
Related
Who Is America?
A satirical half-hour series from comedian Sacha Baron Cohen exploring the diverse individuals, from the infamous to the unknown across the political and cultural spectrum, who populate our unique nation.
Who Is America?
2018
The Apprentice
British version of the reality competitions series that sees young entrepreneurs compete in several business tasks, attempting to survive the weekly firings in order to become the business partner of one of the most successful businessmen.
The Apprentice
2018
Hotel Hell
Chef Gordon Ramsay, along with a team of hospitality experts, travels the country applying his high standards to struggling hotels, motels, and bed and breakfasts in an effort to get the owners and staff to turn their establishments around. Ramsay's signature no-holds-barred style will make it clear to those he coaches that there is no place for dirty rooms or incompetent staff if one hopes to remain in business.
Hotel Hell
2016
Pointless
Pointless is a quiz show produced by Endemol UK for the BBC, hosted by Alexander Armstrong and Richard Osman. The show is unique in that it tasks players with finding obscure answers to questions and trying to obtain a low score. The series began airing on BBC Two on 24 August 2009, and was later moved to BBC One in 2011. To date, there have been nine series, plus four celebrity series. A record jackpot of £24,750 was won by David and Jonathan in the episode first transmitted on Friday 8 March 2013.
Pointless
2013
Total Wipeout
Total Wipeout is a British game show, hosted by Richard Hammond and Amanda Byram, which first aired on 3 January 2009. Each week, 20 contestants compete in a series of challenges in an attempt to win £10,000. These challenges are based in large pools of water or mud and generally involve large assault courses that participants must cross. Total Wipeout is a licensed version of Wipeout, the Endemol show that originated in the United States in 2008, with the name slightly altered to avoid confusion with the BBC version of the earlier game show of the same name. On 29 March 2012, BBC confirmed that they are to axe Total Wipeout after its sixth series. The Daily Mirror reported that a BBC spokesperson said: "After four very successful series of Total Wipeout, and one series of Winter Wipeout, the BBC has taken the decision that the next series, due to transmit later this year, will be the last." The remaining 10 episodes from Series 5 began airing on 18 August 2012 and ended the show's 4-year run on BBC One before 2013.
Total Wipeout
2011
Penn & Teller: Bullshit!
This daring original series stars postmodern bad boys of magic Penn & Teller as they question many of our culture's most cherished and widely held beliefs. From the truth about palm readings and TV psychics to the reality behind Feng Shui and Ouija boards, the archly comic masters of misdirection host this eye-opening analysis of the middle-ground between perception and reality.
Penn & Teller: Bullshit!
2010
Frisky Dingo
Frisky Dingo is an American animated cartoon series created by Adam Reed and Matt Thompson for Adult Swim. The series revolved around the conflict between a supervillain named Killface and a superhero named Awesome X, alias billionaire Xander Crews, and much of the show's humor focuses on parodying superhero and action movie clichés. It debuted on October 16, 2006 and ended its first season on January 22, 2007; the second season premiered on August 26, 2007 and ended on March 23, 2008. A third season was in development, but in the absence of a renewal contract from Adult Swim, pre-production ceased. The production company itself, 70/30 Productions, subsequently went out of business in January 2009. A spin-off show, The Xtacles, premiered on November 9, 2008, but only two episodes were aired prior to the production company's closure.
Frisky Dingo
2008
Brainiac: Science Abuse
Brainiac: Science Abuse is a British reality show that aired on Sky One from 13 November 2003 to 30 March 2008. During each episode of the show, numerous experiments are carried out to verify whether common conceptions are true or simply to create impressive explosions. The show centres on the three core branches of science for the key stages in British education: chemistry, physics and to a lesser extent, biology. The experimenters on the show are referred to as "Brainiacs", and each episode usually finishes with the destruction of a caravan. The show is produced by Granada Productions and is broadcast in Ireland and the United Kingdom on Sky Digital. The original presenters were Richard Hammond and Jon Tickle, then joined in the second series by Charlotte Hudson. Hammond left after the fourth, and was replaced by Vic Reeves and Hudson left after the fifth, and was replaced by Thaila Zucchi. In July 2008, after the sixth series had finished, Sky announced they had cancelled the show due to the sixth series' low ratings.
Brainiac: Science Abuse
2008
Hope & Faith
Hope, a down-to-earth, happily married mother of three has her tidy world turned upside down when her celebrity sister moves in. Faith was living the Hollywood life as a soap opera star before her character was killed off.
Hope & Faith
2006
Battle of the Planets
Battle of the Planets cast five young people as G-Force, consisting of Mark, Jason, Princess, Keyop, and Tiny. G-Force protects Earth from planet Spectra and other attacks from beyond space. The most prominent field commander of the Spectra forces was a villainous, masked individual known as Zoltar, who received his orders directly from the "Luminous One". Battle of the Planets is an American adaptation of the Japanese anime series Science Ninja Team Gatchaman.
Battle of the Planets
2003