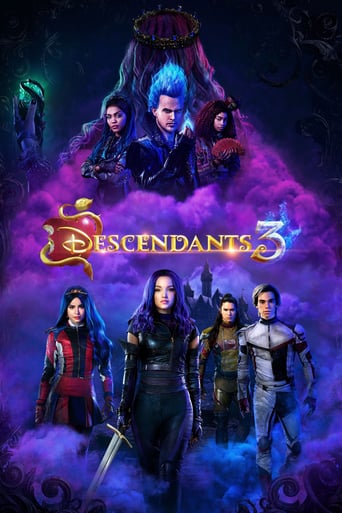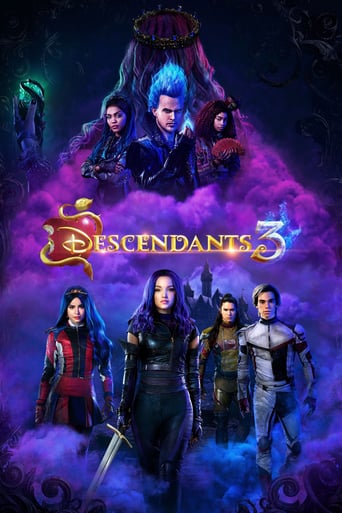 Descendants 3
August. 09,2019 G
AD: This title is currently not available on Prime Video
The teenagers of Disney's most infamous villains return to the Isle of the Lost to recruit a new batch of villainous offspring to join them at Auradon Prep.
Similar titles
Artemis Fowl
Artemis Fowl is a 12-year-old genius and descendant of a long line of criminal masterminds. He soon finds himself in an epic battle against a race of powerful underground fairies who may be behind his father's disappearance.
Artemis Fowl
2020
Frozen II
Elsa, Anna, Kristoff and Olaf head far into the forest to learn the truth about an ancient mystery of their kingdom.
Frozen II
2019
Maleficent: Mistress of Evil
Maleficent and her goddaughter Aurora begin to question the complex family ties that bind them as they are pulled in different directions by impending nuptials, unexpected allies, and dark new forces at play.
Maleficent: Mistress of Evil
2019
Aladdin
A kindhearted street urchin named Aladdin embarks on a magical adventure after finding a lamp that releases a wisecracking genie while a power-hungry Grand Vizier vies for the same lamp that has the power to make their deepest wishes come true.
Aladdin
2019
A Wrinkle in Time
After the disappearance of her scientist father, three peculiar beings send Meg, her brother, and her friend to space in order to find him.
A Wrinkle in Time
2018
The Nutcracker and the Four Realms
When Clara's mother leaves her a mysterious gift, she embarks on a journey to four secret realms—where she discovers her greatest strength could change the world.
The Nutcracker and the Four Realms
2018
Christopher Robin
Christopher Robin, the boy who had countless adventures in the Hundred Acre Wood, has grown up and lost his way. Now it's up to his spirited and loveable stuffed animals, Winnie The Pooh, Tigger, Piglet, and the rest of the gang, to rekindle their friendship and remind him of endless days of childlike wonder and make-believe, when doing nothing was the very best something.
Christopher Robin
2018
Under the Sea: A Descendants Story
Mal emerges from the shadows of a mystical forest onto a dark coastline where she crosses paths with Dizzy.
Under the Sea: A Descendants Story
2018
Mary Poppins Returns
In Depression-era London, a now-grown Jane and Michael Banks, along with Michael's three children, are visited by the enigmatic Mary Poppins following a personal loss. Through her unique magical skills, and with the aid of her friend Jack, she helps the family rediscover the joy and wonder missing in their lives.
Mary Poppins Returns
2018
Descendants 2
When the pressure to be royal becomes too much for Mal, she returns to the Isle of the Lost where her archenemy Uma, Ursula's daughter, has taken her spot as self-proclaimed queen.
Descendants 2
2017