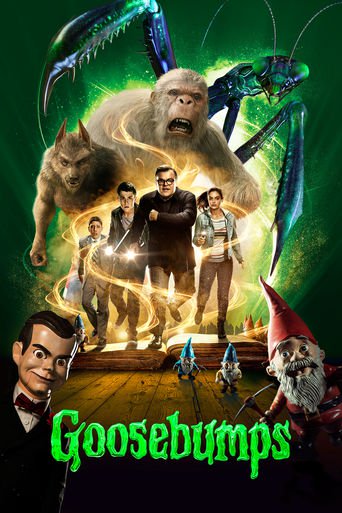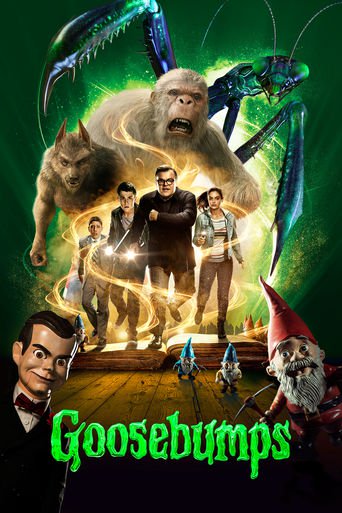 Goosebumps
August. 05,2015 PG
AD: This title is currently not available on Prime Video
A teenager teams up with the daughter of young adult horror author R.L. Stine after the writer's imaginary demons are set free on the town of Madison, Delaware.
Reviews
Without exaggeration, Goosebumps is one of the best comedy movies I've seen in a while. The humor works almost perfectly. Specially, as all the characters are so likable, even Champ who is this kind of dumb characters that are often turn out to be very annoying in many other movies like this. Honestly, sometimes Champ went too far, and some of his jokes fall flat, but that didn't make this character annoying, not in the slightest! I can't believe how many times I laughed out loud! Almost every single joke hits the mark. This movie also is as heartwarming as it is funny. Also, it has some very clever twists and turns that surprised me.Jack Black is so funny, even more funnier than he was in Jumanji: Welcome to the Jungle, IMO. Dylan Minnette is very good and adorable as always, but if you really want to see him acting, watch Don't Breathe or Netflix's series 13 Reasons Why. Odya Rush also is good, and Jillian Bell is hilarious as aunt Lorraine.Unfortunately, although I was engaged and very entrained in very second in this movie, I didn't really care, or rather worry about the characters. I didn't feel they were in danger. So this movie absolutely doesn't work as a thriller. As a PG-rated horror movie, this movie, of course, doesn't have to scare me. But the problem is that it becomes a bit tedious and lukewarm almost every time it tries to be scary. The visual effects could have been better, but it really don't have to be. Actually, I prefer to see the CGI in this quality, because it fits the campiness and the charming silliness of the movie, just like the original Jumanji. I can't believe how much I liked Goosebumps. I kept putting off watching it, and I thoroughly regret. I can't wait to watch the sequel!(7.5/10)
... more
Especially with Slappy. Got me goosebumps when he first appeared, seriously.
... more
I went to the cinema to watch this movie, and although I spent two pleasant hours, I thought it wasn't good enough for me to pay for a movie ticket, more for me to rent it and watch it at home.Goosebumps is an entertaining funny-horror teen movie fit for the whole family. Although I enjoyed the film, there wasn't anything that I considered out of the ordinary, not the story line, not the performances, not the humour, and not even the special effects. Just fun, no super-fun. Clichéd monsters, characters, situations, and adventures. Not great performances either, but there are three people who stood out for me: Ryan Lee as the over-confident flirt likable looser Champ; Amy Ryan as Gale (Zac's mother), and the manipulator & voice of Slappy the Dummy. Nevertheless, enjoyable!
... more
A teenager teams up with the daughter of young adult horror author R. L. Stine (Jack Black) after the writer's imaginary demons are set free on the town of Madison, Delaware.Let us be perfectly frank about this film, and the fact it is not quite a perfect movie. The biggest problem, by far, is the use of CGI. The Abominable Snowman is a bit rough, and the Werewolf is absolutely horrible. Why they chose to draw a werewolf rather than put a guy in a suit is beyond me, but it is the biggest mistake.That being said, the film is an excellent love letter to R. L. Stine. He was never my favorite, but I did read a couple of his books, and I am sure many of my generation read quite a few. Somebody bought those 400 million copies... although geared towards teenagers or young adults, I almost feel like people aged 30-35 might appreciate the movie more, or at least in a different way.
... more