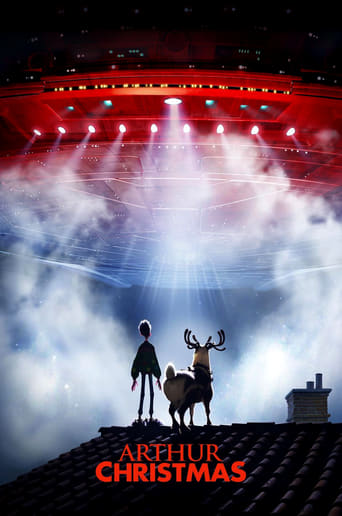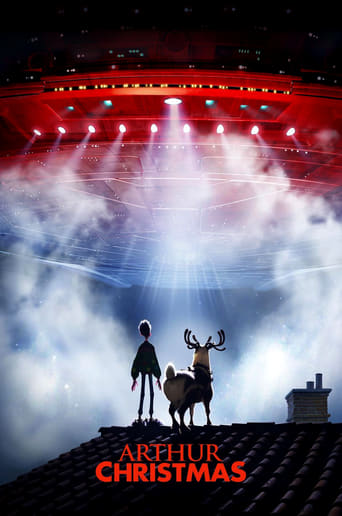 Arthur Christmas
February. 22,2011 PG
AD: This title is currently not available on Prime Video
This Christmas movie highlights the technological advances of operations at the North Pole, revealing how Santa and his vast army of highly trained elves produce gifts and distribute them around the world in one night. However, every operation has a margin of error… When one of 600 million children to receive a gift from Santa on Christmas Eve is missed, it is deemed "acceptable" to all but one, Arthur. Arthur Claus is Santa's misfit son who executes an unauthorized rookie mission to get the last present half way around the globe before dawn on Christmas morning.
Reviews
As the film title suggests, this is a festive film, dedicated to that of Christmas. And it definitely takes on a unique approach to the concept of Santa and gift-giving. With a military like procedure, the elves act as soldiers under the command of Steve, to safely deliver presents without exposure. However, this is jeopardized when a child is missed, and chaos breaks loose.The animation is cute and the colors are very complementary to the tone of the film. The characters however, are too stock like and have very stereotypical shapes; the stick, the oval, and the upside down triangle. A bit too much cartoon-like for my taste, with the emphasis on shape matching personality.The voice acting is pretty good. I couldn't tell that it was James McAvoy, and I think he might have altered his voice to match his character. Some of the voices of the elves are a little too squeaky for my taste, but they certainly match - once again, the size of their respectable characters.As for the plot, it isn't anything outstanding. While the idea behind having a story centered on the son of Santa helps to bring a new perspective on things, I didn't really like how Santa was depicted. Logically, Santa would have been doing this for decades, but it was depicted that he didn't really know what he was doing. Also, the military take on delivering presents might have been a cool idea, but it implies a sort of invasion and detracts some of the warmth that is associated with the event. It doesn't help that this is a truly patriarchal film, with Mrs.Santa doing predominantly housekeeping, and Bryony having special 'gift- wrapping' ability. Overall, it's a fun film to watch, but it won't be my go to Christmas movie.
... more
It's beginning to become cliché that in Christmas you have to watch movies that have to do with Santa. However, the movies that manage to emerge are either low quality TV movies, or movies based on old ones that really don't have anything new to say. Arthur Christmas is not like the other movies, as the whole family of Santa and their enterprise of giving gifts and delivering them on time is nicely described by the movie. So, the first part was okay, and the last part was fine, however there's a hole in the middle that ruins the rest. At some point, things go way too confusing to follow, and probably way too confusing for the creators as well. Other than that, a nice movie for the family. So, 4 out of 10.
... more
Movies about Santa Claus tend to be rather... traditional. What I mean, they usually keep with the old and tried values. Lots of woodworking, hand-crafting, old methods, putting your back into it. Thus, it is very nice and different to see a film where Santa uses extremely modern methods to achieve his goals. The sleigh has been replaced with an ultra high-tech spaceship, the elves work more like highly-trained special ops units, everything is run with the precision of a military operation and the children are merely a statistic to be achieved.And yet, in the end, not really. That's the first five minutes, the starting point, but the film still holds with the spirit of the old. It simply takes into account the fact that Santa probably would keep up with the achievements of technology, while also exploring the downsides of this. Okay, what's the story? Arthur Christmas, the eponymous main character, is the younger son of Santa, who in turn is the scion of a long life of Santas. And now, during his 70th Christmas Eve, he's all set to turn the reins over to Steve, Arthur's older brother, but it just so happens that they miss a child. And through various reasons it's up to Arthur to save the Christmas of this one lone child, really an insignificant error in an otherwise flawless performance.Pretty basic Christmas story, but it's the premise and the characters that make it worth watching. The animation is very high-quality, the character designs look very nice, the soundtrack works and all in all it looks suitably Christmasy. And the characters are great. From bumbling and senile Grandsanta to the current Santa, who's far past his prime, to Steve, who's ultra-efficient, but self-admittedly not that good with kids, to Arthur himself, who lacks self-confidence and precision, but is pretty much the only one with his heart still in the right place.It's a fun film, and definitely a future Christmas classic. It will dazzle you with its vision and characters, while still delivering the same good old Christmas message that we all expect from our Yuletide films.
... more
I absolutely loved this film!It was so colourful and cheery which any Christmas film should be but i just LOVED the writing! The storyline is completely brilliant with Santa and his elves being turned into a military operation.The dynamic between Santa and his own family mirroring the actual lives of many families today. The game board scene squabbling was so reminiscent of my own family that i found it hilarious.The portrayal of Mrs Claus was ace, reminding me of our very own queen Elizabeth was particularly dry witted and the little determined elf just was the icing on the cake.Watch this movie, even as an adult, it was delightful
... more