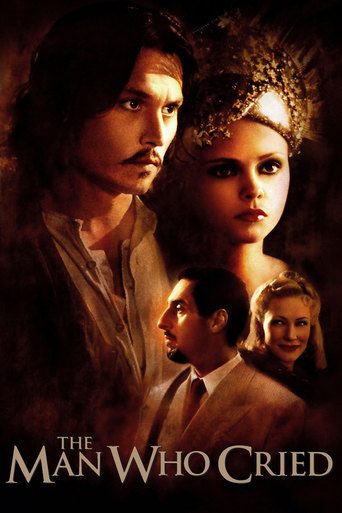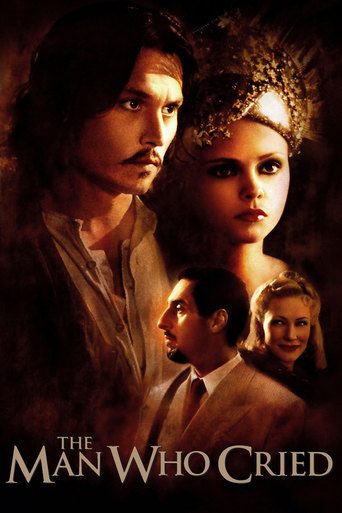 The Man Who Cried
August. 29,2000
AD: This title is currently not available on Prime Video
A young refugee travels from Russia to America in search of her lost father and falls in love with a gypsy horseman.
Reviews
The Man Who Cried has one of the most grand musical scores I've ever heard in a film, and this is coming from someone who is not a fan of opera. Each piece is deep and moving and adds richness to the film. Unfortunately, the cast does not quite deliver as well. Ricci gives a valiant performance as the heroine; however, her accent slips noticeably many times, detracting from the authenticity. The filmmaker would have done well to go with a British actress instead.Depp's talent as a character actor was wasted in this film. As a love interest he was rather cold and aloof; there was a distinct lack of chemistry between him and Ricci. The problem wasn't that his character had relatively few lines, but that combined with few actions aside from some equestrian stunts led for a wooden performance from Depp, through no fault of his own. Unlike the wide range of body language he was allowed in Benny and Joon, this uninspired role gave him no chance to shine.In contrast, Turturro does an excellent job of portraying the talented, but arrogant and snobby Dante. His singing voice (I assume it was not dubbed)is captivating and unparralleled. Likewise, Blanchett delivered a believable performance as the likable but misguided Lola, and engages the audience in alternately being disappointed in and feeling sorry for her. Her Russian accent was convincing and felt natural.Overall I quite enjoyed this film, I just wish the acting had been as rich as the music.
... more
are central target. meeting with Oleg Inkovski, Cate Blanchette or Christina Ricci. the ash of a world. Taraful de la Clejani. A Johnny Depp as new kind of Gypsy. a love story, need of sense for a world, cages, touching motive of Cuore and some attention for details. that is all. but each part is seed of drawing for subtle painting. painting of feelings, desires and masks of freedom. it is not a continent. only few isles who may be paper boats or shadows. but it is a beautiful film. exercise to reveal small things who creates sense. drops of fights against yourself. and flavor, subtle flavor of courage and hope.a film about lost worlds and dead time. delicate picture of fall. and beginning. map of a travel. and good occasion to imagine beauty more than accident.
... more
First of all, try to avoid the trailer before watching the movie if you can. The Man Who Cried is about a young Jewish girl living in Russia in the late twenties who has to flee her home country and eventually ends up in Paris as a young adult just before the onset of World War II. She gets involved with a cabaret showgirl played by Cate Blanchett, an Italian opera singer played by John Turturro and a gypsy man played by Johnny Depp. I found the movie slow-moving but not boring. It had a certain melancholy to it where almost everything was restrained and understated. There are dramatic moments but no big melodrama which honestly I kinda missed. I wasn't particularly touched nor did I cry or even get teary-eyed. Your own mileage might vary, but I don't think it's a big tear-jerker.There's a lot of music (mostly opera but not usually the bombastic cliché kind) in this film with two important recurring songs. They're quite beautiful especially the french song "Je crois entendre encore" which weirdly I didn't recognize as French despite it being my native language. The songs are important because they often convey the emotions felt instead of words. It doesn't really matter that you don't understand the words. As an historical drama, it mostly skirts big events, mostly focusing on their effects on our characters from different nationalities. You need some minimal historical background to get what is happening. The whole first part with the exile of the little girl was pretty gripping. She seemed so small and vulnerable. The romantic aspect was two-fold. The relationship between Cate Blanchett and John Turturro's characters was very interesting but not romantic. The relationship between Christina Ricci and Johnny Depp's characters was less interesting but more romantic.Johnny Depp doesn't say much but his presence is felt. He was born to play sexy gypsy men and I suspect most women will "swoon" over him ;) The other performances were fine with the stand-out being Cate Blanchett as a somewhat superficial Russian dancer trying to marry into richness. The songs were mostly lip-synched. I think they were done very well but still it disturbed somewhat my suspension of disbelief. In conclusion, I liked watching it, it was well made with strong actors but the story could have been told a little better to engage the viewer more emotionally. It didn't strike me as particularly memorable or as the highlight of any of these actor's resumes.Rating: 6.5 out of 10 (good)
... more
This film wasted the talents of several terrific actors; most notably, John Turtorro, Cate Blanchette, Johnny Depp and Harry Dean Stanton. Christina Ricci was serviceable, but was probably miscast. The direction/editing I found very choppy which made the film difficult to follow as it marred the pacing. It appears that the budgeting did not take into account spending adequate money or time on the editing portion of the film. I also felt that the plot was erratic and never fully developed characters as it should have. Cate Blanchette as Lola turned in her typical great acting with a flawless Russian accent, but it was difficult to know where she fit into the larger plot at times. Turturro's character was sort of a caricature of an Opera Diva and he was laughable at times especially when protesting being upstaged by horses. Overall the film was visually well done but fell flat in substance.
... more