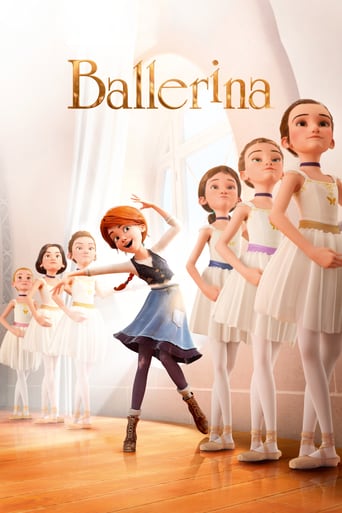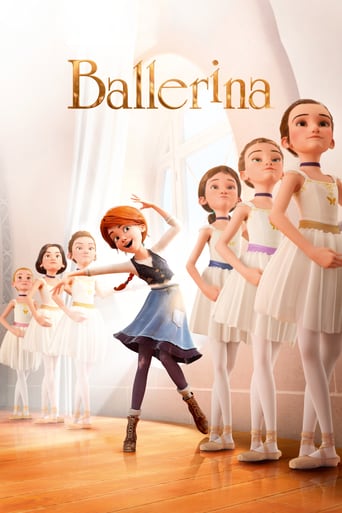 Ballerina
December. 14,2016
AD: This title is currently not available on Prime Video
Set in 1879 Paris. An orphan girl dreams of becoming a ballerina and flees her rural Brittany for Paris, where she passes for someone else and accedes to the position of pupil at the Grand Opera house.
Reviews
I was told that this movie had a rating of only 30% on RottenTomatoes, but last time I checked it was a massive 74%! I enjoyed this movie, although I will admit it was clichéd at times. It tells the story of a girl who escapes from an orphanage to become a ballerina in Paris. The characters are quite likeable and the animation is very nice. What I like the most is how realistic this film is. It's rare that you see an animated film that's completely normal.It turns out the rich bully is only that way because of her mother. Dang, I've seen this happen in "Gravity Falls" and "My Little Pony: Friendship Is Magic", so it must be a trope by now. Minor character Nora steals every scene she's in with funny dialogue. I'm glad I know my history because the movie got a lot of things wrong about the year 1879. It's still a beautiful film that really is pretty unique. Not one of the best movies ever made, but definitely good. ***
... more
I have no idea why they started the film as they did. The starting scene is just nothing new, childish, and makes the film seem for younger audiences. I suspect that someone told them they needed to start with an exciting scene with lots of action, so this is what happened... Nevermind the beginning, once the kids get to Paris things start to shape up and an actual narrative emerges. Nothing too revolutionary here, in terms of story or plot, but solid work.
... more
F. Just an f. You know how some period movies have delightful insights into present culture? This is just littered with terrible lines full of crap such as, "stop. It's hammer time." This is just terrible. I didn't care about victor, we didn't get any backstory from him, so I really never cared about why he wanted to become an inventor. I can't believe I spent a whole Friday morning watching this, but I'm also whistling time writing this review. I just want the servant dancer and the dance teacher to fall in love. And they kissed. Amazing. On the cheek. The only highlight of the movie. Would be better as a live action?
... more
Animated movies made in foreign countries don't usually get the best treatment hear in the United States. With some exceptions including movies dubbed by GKIDS, they're usually dubbed very poorly and are given terrible scripts which usually make the movie absolutely appalling. The most notable example was a British film called "The Magic Roundabout" which was released under the name "Doogal" by The Weinstein Company back in 2006 and was subsequently panned by critics. Now we have a movie called "Leap!". A film about a girl dreaming to become a ballet dancer made by companies from both Canada and France and also dubbed into English, and sadly it doesn't really work at times. The movie does some aspects really well, but it also does some really badly. Here's what exactly happened.In the late 1880's, an orphan girl named Félicie (Elle Jones) runs away with her best friend Victor (Nat Wolff) to Paris to follow their dreams with the latter dreaming to become an inventor and the former destined to be a ballerina. They both become separated and Félicie eventually runs into a cleaner with a limp named Odette (Carly Rae Jepsen) who allows her to stay with her as a cleaner. She continues to do this until her music box, the only thing she owns from her mother, is destroyed by a snooty, bratty ballerina named Camille (Maddie Zeigler) who is the daughter of a famed restaurant owner (Kate McKinnon). Jealous, she intercepts a letter from the Paris Opera Ballet pretending to be Camille in hopes of becoming a famed ballerina. Knowing of her trick to get in, Odette decides to secretly trains Félicie in hopes that she can stay in the class and get to dance on stage with a famed ballet dancer in The Nutcracker.I think it's interesting to note the different reception that the original French version and the American dub are receiving. Where the French version stands at a pretty good 74% on Rotten Tomatoes, the American one is at a pretty weak 37% and it's honestly not hard to see why. I'll go over the good parts of the film first. The story is actually pretty good. Though it did have a very rushed beginning, it gradually improved over time and I at least could care about the characters and dilemmas they were going through, particularly the relationship between Félicie and Odette who I'll get to in a minute. The animation is absolutely stunning. It really is beautiful and I particularly loved looking at the very detailed backgrounds of Paris. Some of the characters are fine. Félicie was very nice and had some charm to her and Odette was actually a pretty good wise mentor character even though I've seen it before so many times. Now let's get to the bad stuff, and there is a lot. The biggest one I should get off my back is the dubbing. Oh wow, is it awful. Some of these actors are actually pretty talented too, yet they just give off awful performances. While actors like Carly Rae Jepsen and Terrence Scammell were decent, others like Maddie Zeigler, Nat Wolff and especially Elle Jones were not only flat out terrible, but also badly miscast. Elle Jones was great as Alice in the underrated J.J. Abrams' hit "Super 8", but here she was so bland and boring that I really believed that she didn't really care about the script. Another thing that I didn't like was Victor. This was a character that added nothing to the story, but only to contribute some really immature jokes which is something that I really hate in animated movies. Something that really bugged me too was the historical inaccuracies. The film shows the Eiffel Tower being partially constructed as well as the Statue of Liberty, which also already turned green, still in France before being shipped across the Atlantic yet in real life the Statue would already be in New York and actually look like copper by the time the Eiffel Tower started construction. However, the thing that I really hated the most about this film was the fact that it had so many pop songs. All they did was just really annoy me and also ruin pivotal moments in the film particularly a scene near the end which I won't spoil. Had they cut those darn things out and replaced them with an instrumental score, I'd probably be kinder to the movie."Leap!" is a very unbalanced movie. Though it does have a good story, fantastic animation, and some decent characters, it's also bogged down by terrible characters, bad voice-over work, historical inaccuracies and pointless pop songs. If I were you, if you really wanted to see this movie, I'd recommend finding a copy of the French version and watching it with subtitles. I can guarantee that you'll have a better experience with that version of the film than this.
... more