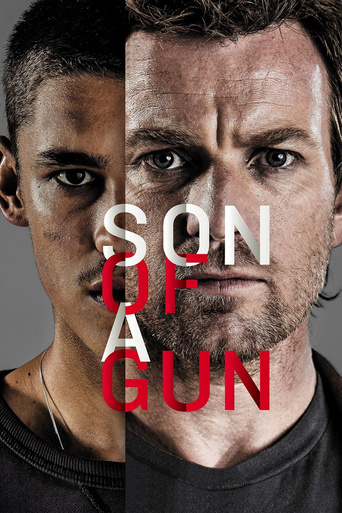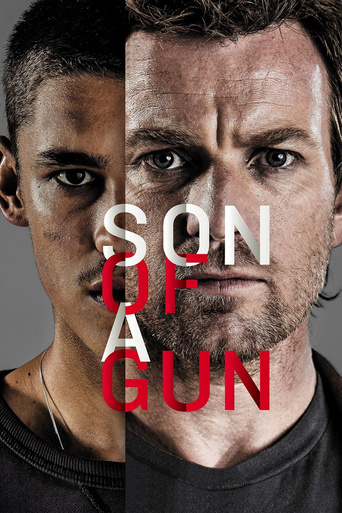 Son of a Gun
October. 16,2014 R
AD: This title is currently not available on Prime Video
Locked up for a minor crime, 19 year old JR quickly learns the harsh realities of prison life. Protection, if you can get it, is paramount. JR soon finds himself under the watchful eye of Australia's most notorious criminal, Brendan Lynch, but protection comes at a price.
Reviews
In this extremely watchable film, Ewan McGregor stars as a sly convict who plots a daring escape from prison, then masterminds a heist of a gold production factory! If this plot summary seems far-fetched, it may actually be an understatement of the extraordinary situations and relationships depicted in this potboiler.The strength of the film is McGregor's performance of the charming hardened criminal. In prison, his character Brendon takes under his wing, a young convict named Jesse (Brenton Thwaites). After Jesse helps Brendon to make his prison break, he then becomes enmeshed in the complex criminal world of Brendon, leading him to fall in love with a young woman named Tasha (Alicia Vikander), who is the mistress of the gangster named Sam.Just as she has in slew of other films, Vikander steals this one right out from under the good efforts of McGregor and Thwaites. There is a luminous presence to Tasha and a melancholy that makes her character unique among a group of thugs.In the final analysis, there is nothing deep or profound about this film. But "Son of a Gun" cooks up an interesting variation on a standard crime film with the unforgettable performance of Vikander.
... more
This opens with one of the most clichéd scenes you get in cinema - a young pretty boy called Jesse Ryan is in a prison van going to prison and he's surrounded by creatures several species down the evolutionary ladder who are looking at him in a hostile way . Yeah it's clichéd but people enjoy a good cliché now and again especially prison ones and being an Aussie film I was intrigued I might be watching something along the lines of John Hillcoat's 1988 prison nightmare movie GHOSTS OF THE CIVIL DEAD , a film that was criminally underrated and despite being understated had the capacity to shock . SON OF A GUN isn't really in the same league and tries to be a plot driven gritty thriller !!!!! SPOILERS !!!!! This might have succeeded in its aims of being a great plot driven thriller but it often misses the mark where credibility is concerned . Jesse is sent to prison for a relatively minor offence that carries a sentence of six months but apparently he finds himself in a prison full of convicts who are doing life . I'd have thought that like Britain and America Australian prisons would have different categories where people doing relatively short sentences don't mix with lifers . I'm guessing this is because Jesse needs to meet someone who can save him from prison predators who have nothing to lose and that man is Brendan Lynch who has another twenty years to serve . If he protects Jesse from the predators he wants Jesse to come up with a plan to spring him from jail by hi-jacking a copter . Hmmm so someone who can't protect himself in jail might just happen to be a very effective hijacker on the outside ? . It's not like Jesse is all that hardened and violent .Doesn't Brendan have any mates on the outside who might be more reliable ? And what's to stop Jesse changing his mind ? Let's face it he's looking at 25 years in jail if he gets caught but I guess if the characters stopped to think about all this as much as the audience do then the film would abruptly stop The contrived writing is a pity because SON OF A GUN is a rather enjoyable and tense thriller in parts . Ewan McGregor is normally an actor I dislike and seems incapable of giving a convincing performance but here he's something of a revelation as tough villain Brendan Lynch and speaking in his native accent does help . I take it by his spoken idiom Lynch is a Scot ? He's ably supported by a cast I'd had no previous knowledge of in a film while entertaining could have been a bit more intelligent
... more
I watched just because of Ewan McGregor. And it was well worth the 1:49 minutes of my time. If you want to you can probably work out what is going to happen next throughout the whole movie. But, the performances are good and the story is interesting and I just sat back and watched for the sheer movie satisfaction. And, on that score, this movie does not disappoint. The violence is in keeping with the roles portrayed and, dammit, I just loved the way it ended. I will definitely recommend this movie to my wife as there is more than enough to keep her watching - besides the aforementioned McGregor. In this cynical world, it's nice, once in a while, to have trust vindicated.
... more
Didn't expect too much from this film. The plot is decent. It is about a guy who is helped in prison by a notorious guy. That guy later comes out and they team up for a gold heist. Also the lead guy falls in love with a gangster's girl. So all these plots unwind in this decent thriller. Though in some places the movie thinks to attempt too much and falls flat, there are some instances which are away from the commercial movie. Ewan Mcgregor has done a fantastic job as the criminal. Also thumbs up for Alicia Vikander. Brenton Thwaites could have done a better job. Overall not a bad movie to watch. A decent heist thriller which tries too much in some places.
... more