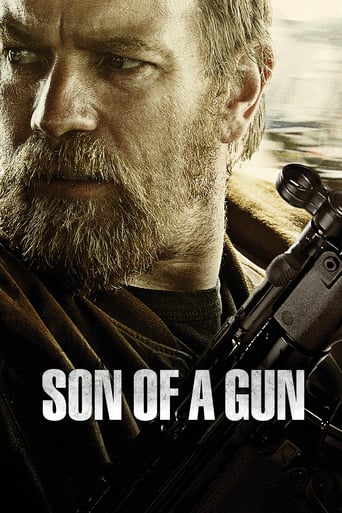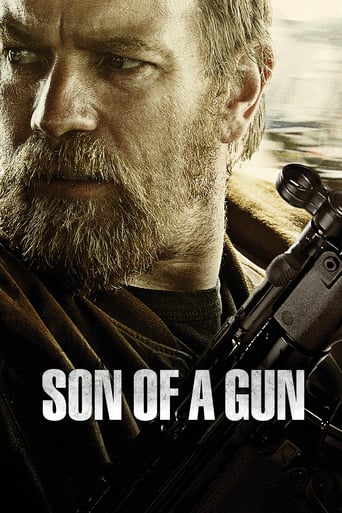 Son of a Gun
October. 16,2014 R
AD: This title is currently not available on Prime Video
Locked up for a minor crime, 19 year old JR quickly learns the harsh realities of prison life. Protection, if you can get it, is paramount. JR soon finds himself under the watchful eye of Australia's most notorious criminal, Brendan Lynch, but protection comes at a price.
Reviews
No exaggeration. This is legit a movie that gets it. If you're Aussie, this is bang on. Even the minor details show how real the scenes are. Haven't seen a movie as real as this, all the violence, prison, drug related parts are no bs. If you're looking for an epic action fuelled, overly stimulating crazy plot twisting movie, You should stick to mainstream Hollywood movies. And yes, the 150 f words make it much more realistic, if you can't accept that - grow up.
... more
'Son of a Gun' stars Brenton Thwaites, Ewan McGregor, and Alicia Vikander. The film opens with Thwaites going through some basic checks just before entering his new home, prison. If there is a reason for him to be in there it doesn't say, or I just don't remember. But soon after he makes his jail cell his new residence he notices that one of Australia's most notorious criminals shares this prison with him. A few unsavory things happen and Thwaites finds himself clinging to McGregor hopping that he can be the father he never had. Together they bust out of jail just before attempting a multi million dollar heist. Things go south and our unlikely heroes go on the run. It's not exactly an original tale but thankfully the film doesn't rely on it to much. Majorly, it weighs on McGregor to help it march forward. Not having taken on a role like this before he dives whole heartedly in it. He is scary, abusive, but charming. Somehow he gives this scummy character just enough quality for us to hate and love him.He is not alone here though. Vikander and Thwaites also do a fairly good job. Now, this is the kind of performance I have come to expect from Vikander at this point. But never before have I see Thwaites actually get into his character as much as he does in 'Son of a Gun'. He may not get to display much range but he is able to show a lot of emotion through a simple look.At first he struggles at doing what McGregor wants and it shows. He trembles as weapons are shoved into his hands and cowers next to fallen comrades. But slowly he dips into this ultra violent world that his new found father figure loves so much. This is one thing that occurs quite a bit here. Violent, brutal, action scenes. The surprising part of these intricate sequences is that they are handled with relative grace by first time writer/director Julius Avery. He infuses them with style and grit that you don't see from rookie directors. However, his script is not so fine tuned. Not only is it predictable and uninspired but it also lacks soul. The actors performances are likable but the characters they play are not. Having to follow these under developed, unlikable people for nearly two hours can be a bit of a strain. They yell, get in fights over insignificant things, and abuse nearly everyone around them.As the story goes on it becomes even more difficult to sit through. It starts off at a good pace but as the story thickens it doesn't really know what to do with itself. It twists and turns all the way to the end but never do these twists make sense. It creates them from thin air and attempts to explain them with convoluted facts that only add to the abounding confusion. 'Son of a Gun' may be gritty, stylish, and boasting good performances but it doesn't offer much else. Its story is paper thin, predictable, and convoluted to no end. And flat unlikable characters don't help the films cause.
... more
This film is a thoroughly impressive take on a true story: Unlike many Australian films which tend to exaggerate the Australian stereotype, Son of a Gun tastefully portrays a very believable and captivating story. Not only has it been written and shot beautifully, the subtle intricacies candidly highlight the high caliber of the work.Brenton Thwaites has cemented his position as one of the most artistic actors of today, portraying the full character of JR in a way that urges you to root for him throughout. A mention must also go to the amazing Alicia Vikander who can hardly put a foot wrong of late (Ex Machina and U.N.C.L.E. are must-see's if you're a fan). It was an absolute pleasure to watch the two act together. Would definitely recommend.
... more
i was a bit worried when i first watched a trailer for this film that it may be cheaply made like some other Australian titles, but gladly i decided to give it ago anyway, and i just want to start by saying i loved this film it had me griped from the moment it started right to the very end. This is not you typical all action shoot em up heist film, instead it is very intelligent and gritty and more what you would expect to happen in real life. i had not heard of any of the actors in this film except from Ewan MacGregor but was surprised at how well everyone played their part. If you are thinking of watching this film then i recommend you give it a go, the only reason i think the film doesn't have a higher rating is because more people wanted a all action film, so stick it on you wont regret it and fingers crossed we see more films like this emerge from Australia
... more