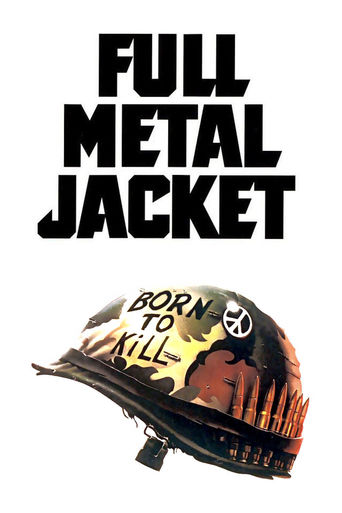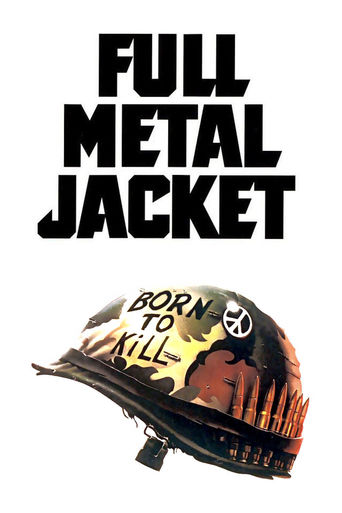 Full Metal Jacket
June. 26,1987 R
A pragmatic U.S. Marine observes the dehumanizing effects the U.S.-Vietnam War has on his fellow recruits from their brutal boot camp training to the bloody street fighting in Hue.
Reviews
the audience applauded
... more
Excellent adaptation.
... more
The storyline feels a little thin and moth-eaten in parts but this sequel is plenty of fun.
... more
Stanley Kubrick's Vietnam war epic Full Metel Jacket is a outstanding movie even visionary. I provably consider it to be the second greatest war film. No only be it's so powerful and disturbing, but also because it explores things that many war films usually don't. What it takes to be a soldier to fight in war and what does it do to the human brain? The question is "not good". It shows the dehumanizing of war in a way nothing could top it. It kinda fellas like two movies. "The bootcamp and the actual war" as James Rolfe said. The Story is basically through the eyes of a soldier nicknamed Private Joker while in bootcamp he witnesses his drill instructor Gunner Sergeant Hartman (R Le Erney) scream and abuse an overweight soldier nickedbamed Private Pyle. It starts off comediac and funny when Hartman pushes him to the limits and yells at him with his unbelievably hilarious rapid fires, but it soon gets dark and very horrific when Hartman turns his fellow soldier against for stealing a donut. They all have to do extra work because he can't do it. So one night they beat him up in his sleep in a gut-wrenching and powerful moment. This drives Private Pyle insane and he kills Hartman in revenge, and then kills himself. The second part is when Joker finally joins the war in Vietnam where we see what America has done to the country. And the soldiers Joker comes across are sick psychopaths, especially Animal Mother, because the training they had to go through before becoming soldiers.It's a brilliant movie, and R Le Erney gives a phenomenal performance that should have won him an Oscar. So, another brilliant film by Stanley Kubrick.
... more
In USN bootcamp only rifles we had in our barracks were unloaded drill rifles with firing pins removed. They were strictly for carrying when marching and for doing manual of arms. I'm unfamiliar with USMC bootcamp policy but it seemed odd to me that Private Pyle had access to live ammunition in the barracks and had that loaded rifle that he shot his drill sgt. and himself with. Would someone familiar with USMC basic training rules explain whether this is true in real life?
... more
7.5 for clarification.One of the film's strongest attributes is it's cinematography, which is exceedingly good throughout. Kubrick seems intent on utilising music at ever opportunity, though I would cast doubt on how effective this decision was. The cast as a whole deliver moderately impressive performances. Kubrick certainly intended to showcase how war dehumanizes the individual, and this allows for the highlight of the film: the magnificent scene in which "Private Pyle" commits suicide. The film claims to provide dark humour, however If there was such any I failed to observe it. However, I simply couldn't understand the psyche of protagonist "Joker", as he is such a contradictory figure throughout the film. Is this another effort by Kubrick to demonstrate the dehumanizing effect of war, or a metaphor for the duality of man?
... more
I find it interesting that the first half of this is so fondly remembered compared to the second half. The first half has the famous role of R. Lee Ermey, a ton of quotable lines, and a dark sense of humor. This part of the film exposes both Joker, and the audience to the true horrors of war. It doesn't start in the field, it starts in the training. Similar to "A Clockwork Orange", the first half of this judges you, "Yeah, you like this out of shape guy getting physically and emotionally abused, don't ya?". We do, even though I knew what would happen, I laughed as Pvt. Pyle was humiliated for over 40 minutes, and then the tone changes. As Kubrick is so expertly able to do, we realize that Pyle has snapped, the first casualty of war that Joker sees isn't a man,but a man's spirit.The second half isn't as well remembered, even I had trouble remembering what happens when Ermey isn't on screen. I understand what the movie's trying to say, now that Joker's in the war zone, he's experienced to the physical horrors around him. After the Tet Offensive, he's thrust right into the front lines, seeing things like mass graves, booby traps, teenage snipers, and even his own innocence being destroyed. Kubrick does all of this with utter mastery, almost like he knew the first half would overshadow the second half, even though the second half is just as important, if not more. He knew the darker tone the movie takes wouldn't be accepted by all, almost like he used it as a way to gauge the real fans who got the film's overall message. If you like the first half of this, and don't like the second half, then you've missed the point of this movie. No matter how much we try to glorify war, or say how it's necessary, it's still Hell. No matter what color you paint it, it'll always be black, black as night, black as coal. It destroys lives, homes, morals, souls, everything, and Kubrick shows that in spades here. It's not a feel good movie, as it ends with Joker becoming just another grunt, unafraid of death, no longer afraid of the violence that surrounds him. But then again, how can you make a feel good movie out of a conflict that killed an entire generation of people? You can't, but Kubrick delivered a perfect showing of the decay a human soul goes through. It's Kubrick's world, we just live in it.
... more