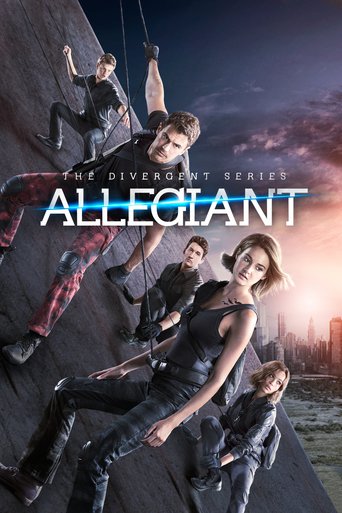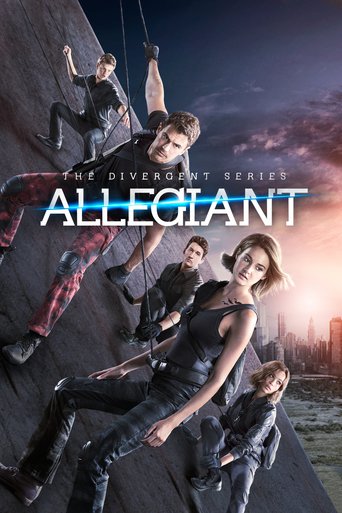 Allegiant
March. 09,2016 PG-13
AD: This title is currently not available on Prime Video
Beatrice Prior and Tobias Eaton venture into the world outside of the fence and are taken into protective custody by a mysterious agency known as the Bureau of Genetic Welfare.
Reviews
The 3rd installment of the divergent series is all about the end of the prior film. Is there anyone outside the wall? Should we go and who decides? If there are those outside the wall that are still alive what do they want from us? Is it a good thing? Are those outside lying? This movie does a lot to make you consider in terms of your world is based on your environment. If you don't look outside your normal day to day life you will have a very narrow view of the world you live in. People who seem to be honest and have your best interests at heart are just trying to get something from you or further there own ambitions of power. No, the movie is very left untied at the end it was as if the production company had their sights on making Allegiant a 2 film ending. Unfortunately, the film didn't get great reviews which caused the next film to be cut. Funny, but now was the time to watch the film because the storyline is more about how your point of view is shaped based on your environment. So many of us don't look outside of our News Media that we watch normally and the writers that we read to consider the world may be much different that we may think. It's very warped from reality.... but your reality is your reality.... but isn't it better to see the world as it is?
... more
This is a fine film, regardless of who the target audience is, it is skillfully shot, edited, directed and acted. I truly enjoyed watching this.So many times I was on the edge of my seat. Great action sequences. a nice Sci-Fi concept.Will be excited to see the others in this series
... more
After seeing the first two movies of the franchise I had pretty low expectations for this last one. The only surprising aspect about it was that even with these extreme low expectations it managed to disappoint me. If you don't turn it off half way trough it will probably bore you to death. The underlying story in the movie has been chewed up and spit out so many times that you can guess what will happen next ten minutes in advance and the final 'revelation' of what's behind the wall and what happened to put it there in the first place in neither exiting nor interesting. It's actually pretty stupid.The lead is extremely annoying and cliché, her boyfriend is a little less annoying but just the fact that he willingly likes to be called four (yes like the number) makes me want to kick him in the face. There is no tension between them, I don't feel for them, if they were to break up or die or disappear i could literally not care less. Don't waste time on watching it, the movie will robe you of two precious hours of your life that you can never get back.
... more
I am trying to keep from falling asleep from this boring, stupid, stupid, did I say stupid movie. Asinine, ridiculous, this movie could be renamed, "How to bore your audience to death" or "Movie for braindead corpses". I feel stupid for watching this so called 'movie'. And I am watching it for free and I still want my money back. Terrorist groups don't need any old torture devices, they can use this movie. Bad acting, check. Stupid plot line, check. Very big, gigantic plot holes that make absolutely no sense, check. You don't care if everyone in the movie does a horrible, painful death, check. Through out the movie you will roll your eyes, sigh heavenly, saying things like "Why are they doing that?" and "That makes no sense.", check. †**Spoilers, you knew the one chick was going to die when they got on top of the wall. No bullets hit Tris or Four although they were being shot at at close range and with machine guns, and they didn't get shot as they climbed up the wall. Despite the land outside the wall being completely jacked up from nuclear war, the land is completely toxic, yet people are able to survive on the fridges in tents!!!Where were they getting food and water!!! These people are supposedly exposed to all kinds of toxic fumes, toxic land but they all look normal!!!? Oh, but the Genetic Manipulation place was able to survive the nuclear fall out and create a grass growing (again ON WHAT IF THE WHOLE WORLD IIS A NUCLEAR HOLOCAUST!!!) And the motivations for the characters, stupid, stupid, stupid. David, who you KNEW and the new section were evil. Absolutely nothing shocking. You knew who was going to die, you knew who was evil. And why did Four go back to Chicago? And how did he survive walking through the nuclear wasteland with no issues!! We are living in the last days, common sense is out, insane people rule the world and make the movies. Finding an actual good these days is like trying to find the holy Grail or a needle in a haystack.
... more