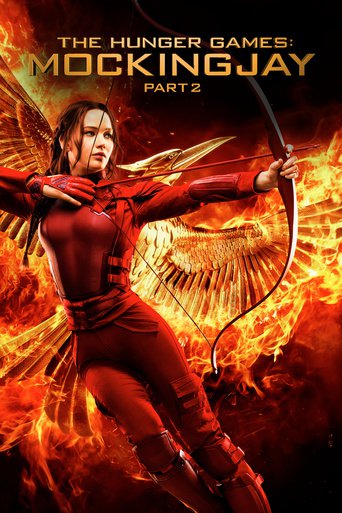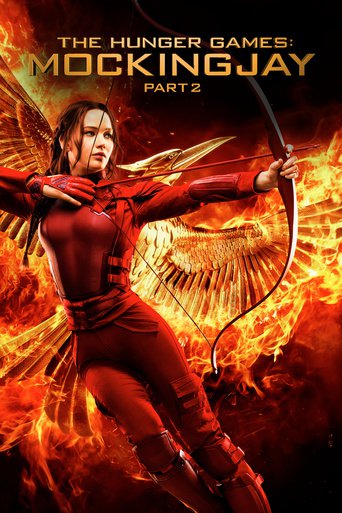 The Hunger Games: Mockingjay - Part 2
November. 18,2015 PG-13
With the nation of Panem in a full scale war, Katniss confronts President Snow in the final showdown. Teamed with a group of her closest friends – including Gale, Finnick, and Peeta – Katniss goes off on a mission with the unit from District 13 as they risk their lives to stage an assassination attempt on President Snow who has become increasingly obsessed with destroying her. The mortal traps, enemies, and moral choices that await Katniss will challenge her more than any arena she faced in The Hunger Games.
Reviews
Pretty good movie overall. First half was nothing special but it got better as it went along.
... more
This story has more twists and turns than a second-rate soap opera.
... more
It is a whirlwind of delight --- attractive actors, stunning couture, spectacular sets and outrageous parties. It's a feast for the eyes. But what really makes this dramedy work is the acting.
... more
It's hard to think of a multi-part movie saga with quality that plummeted quite as far as the 'Hunger Games' movies. This is largely due to the source material: the books (I've read them) are just not that good. The most interesting thing in them was the premise--the competition among the impoverished sectors--and the farther the books got away from that, the less interesting they became, as the author was better with plot than with character and not at all skilled in writing dialogue with wit or philosophical depth. The first "Hunger Games" was very good: it emphasized the game; it highlighted differences among the participants; it retained the book's smart ending. Sparkling performances in both small and large supporting roles backed Jennifer Lawrence's luminescent performance in the lead. The 'Catching Fire' sequel was also pretty good, with extra kudos for the special effects. But by the time we get to "Mockingjay"--which must have been split into two movies only to maximize profits--there's not much going on. Particularly in "Mockingjay Part 2," it was sad to watch such an outstanding cast of actors try to make something of a script that gives none of them anything interesting to do or say while they plod on to a predictable ending. All Lawrence can do is look angst-ridden. The few plot developments present are forced and unconvincing. I'll give it a "3" only for the continuing high quality of special effects and artwork. The only reason to watch it is if you feel obligated to complete the saga.
... more
What a disgrace, was buzzing for this and the film literally is shocking, don't even bother watching even if you've seen the other 3
... more
The film picks up where the other one leaves off. Again, there is no recap. This film answers the questions we had at the end of the last film. "What will happen to Peeta (Josh Hutcherson)? And more important, Who will Katniss (Jennifer Lawrence) end up with, because this is also a love story. It isn't long before the Mockingjay "goes rogue" as the film pays homage to Orwell if I recall by high school book reports. What is important in this film is that the end does not leave you hanging, you have closure.I enjoyed the film as Katniss spouted out memorable lines as all civilian killing is personal. They are our family. Philip Seymour Hoffman died while making this film. His role was reduced to a few head shots and limit lines. I heard they were going to use CG to create his character. If they did, I couldn't tell. Good final film.Guide: No swearing, sex, or nudity.
... more
After the events of the first 'Mockingjay' film Katniss is recovering in District 13 and Peeta, in custody, is still convinced that she is the enemy thanks to his conditioning by those loyal to President Snow and the capital. President Coin, the rebel leader believes that Katniss must be kept safe to be used for propaganda purposes but she is determined that once the attack on the capital gets underway she will take part and that ultimately she will kill Snow. She manages to get to the attacking forces but is put in a unit of high profile rebels who are once again only going to be used for propaganda; even if this time there is some danger from the numerous booby traps set in the outskirts of the city. When the squad leader is killed she tells the others that they are part of a secret mission to kill Snow on the direct orders of Coin. They will face many dangers and many of them won't survive before they get to Snow's mansion… then Katniss will have to decide who the real enemy is.Having really enjoyed the previous films I looked forward to this conclusion and wasn't disappointed. There was plenty of action; this was varied and exciting. At times it was a war movie and at others it was close to being a horror movie as they battle genetically engineered 'Mutts' in the sewers. While few viewers will doubt that Katniss will survive and ultimately be triumphant there are some real surprises as other characters die. Panem may be a future North America but certain aspects of the story seem to be inspired by the end of Imperial Russia with Snow in the roll of the Tsar and Coin as Lenin… promising freedom for all but likely to be the next oppressor. Of course we have to have a feel good ending… this proves to be highly satisfying even if it is more than a little unlikely that the new president would watch the execution of the 'tyrant' from a position that is only slightly above the person due to be shot! Jennifer Lawrence does a fine job as our protagonist and Donald Sutherland impresses as President Snow; somehow he makes the character not totally unsympathetic even after all we've seen him order done. The rest of the cast is pretty solid too. Overall I thought this was a solid conclusion to the series; those who enjoyed the previous instalments should enjoy this and those that didn't probably won't.
... more