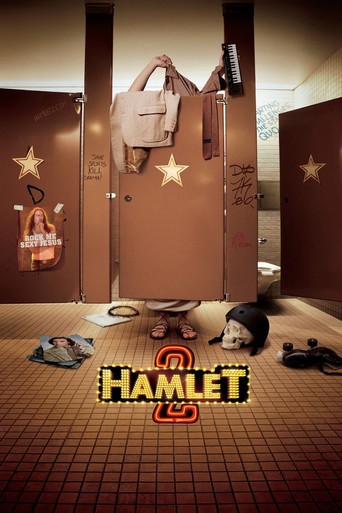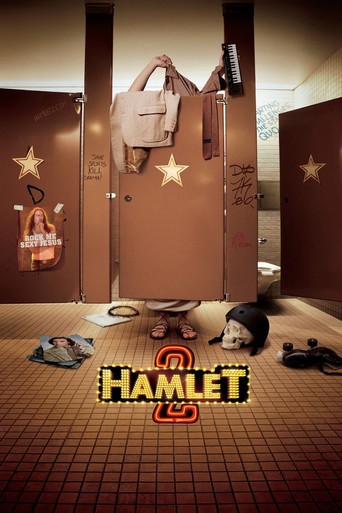 Hamlet 2
January. 21,2008 R
AD: This title is currently not available on Prime Video
From the same people that brought you "Little Miss Sunshine," Hamlet 2 is the story of Dana Marschz, a high school drama teacher facing the cancellation of his program. A spoof on the typical story of bringing inner city and privileged youth together to succeed, this offbeat comedy contains a hilarious musical finale.
Reviews
Dana Marschz (Steve Coogan) is a failed actor and recovering alcoholic who is teaching high school drama in Tucson. He's plagued by bad reviews by a little kid, his class is being canceled next semester, most of his students aren't interested in drama, and his wife Brie (Catherine Keener) is trying to get pregnant. He's desperate to revive his class so he decides to blow everyone away with an original play Hamlet 2, an inappropriate sequel to the Shakespeare play.Steve Coogan is hilariously pathetic and clueless. Elisabeth Shue does a funny cameo as herself. There are some really sadly pathetic funny moments. You just can't stop laughing at Steve. Everything is played up to its wacky craziness. Almost everybody is way over the top especially Steve Coogan. This is his movie all the way thru. Although Hamlet 2 actually need to be crazier.
... more
This is not a review of the overall movie but instead a review of one (significant) part: Elisabeth Shue. Although she's just a secondary character in the film, I found myself riveted to her performance and laughing riotously at everything she did. She's now officially my favourite actress, and if you see this film there's a good chance she may become yours too.This is more than just random praise for one of the performers. Actually her character is very relevant to the story. HAMLET 2 is about a washed-up, mediocre actor (played by Coogan) who believes enthusiasm is more important than talent. With a ridiculously optimistic attitude despite a life of failure, he embarks on putting together the most ambitious play ever made: a sequel to Hamlet. The movie is full of madcap situations, and often it borders on utterly absurd. But this is where Shue's character comes in. Playing herself as a fellow "washed-up, mediocre actor" (which is hilarious considering how successful she is in real life), she plays the role with deadpan sobriety. She becomes the "straight man" which is the glue that holds this story together. Shue is the reference point without which the film would spiral into a silly romp.Movies where actors play themselves with hilarious results:BEING JOHN MALKOVICH with John MalkovichCOFFEE & CIGARETTES with Steve Coogan, Cate Blanchett, etcKING OF COMEDY with Jerry Lewis (aka Jerry "Langford")HAMLET 2 with Elisabeth ShueSee them all. You won't be disappointed!
... more
I did like Elizabeth Shue playing herself. I admired the concept of writing a sequel to the William Shakespeare play. One or two lines are funny in the hour and a half film. There. I started with the positive. The rest of 'Hamlet 2' is pure crap and absolutely painful to watch. Offensive? I think that was the main objective and due to that, it wasn't at all bothersome to watch the mockery of Jesus. I've seen worse. But, the true core of the movie was offensive. The irony was the endless parodies of other, much more entertaining films, such as 'Dangerous Minds' or 'Dead Poets Society,' when at the end of this film, 'Hamlet 2' simply became a poor remake of those films. Watch the extremely untalented Steve Coogan (ha ha, I get it, Coogan's character, Dana, also is untalented. So, I guess, like Shue, he's playing himself) fall down, run around or flash his naked body or slam a door on his hand, followed by the extremely unfunny/unoriginal "flipping people off" due to his strained middle finger. The basics of the film involve a lost teacher who "inspires" stereotypical students (of other films) into a finally-original play while his funding and life falls apart. I understand indie films, admire when "artists" take their low budget ideas and turn them into movies. So, I actually gave this movie a second viewing, thinking perhaps I missed something, or failed to laugh when prompted. Nope, I actually liked it less the second time. And even more irony: the production put on (a la 'Hamlet 2') in the closing is like a really fifth-rate, $5 school play. So is the movie.
... more
Hamlet 2 was an awesome movie. Very witty, uplifting, and hilarious. The reviews definitely did not do it justice. I think most people that saw this movie had something else in mind when they went to see it so they all watched it with biased views, because they weren't getting what they thought they were. The characters were all played by good actors and the acting was really good. the only thing i didn't like was the fact that it was supposed to be in Tucson, AZ and it was filmed in Albuquerque, NM. The directors said it was due to the unwelcoming Tucson, which is definitely not true as there are actually many film studios in Tucson..
... more