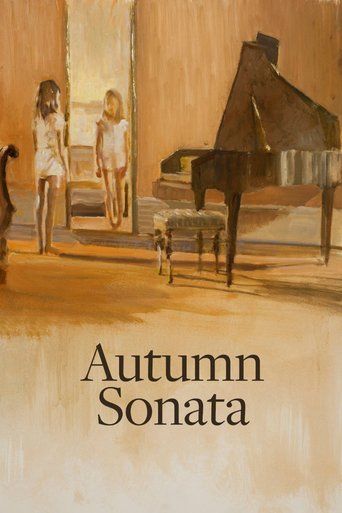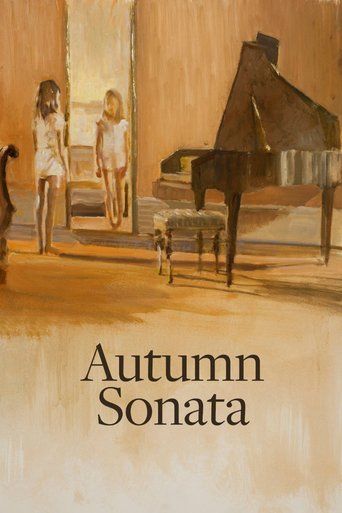 Autumn Sonata
October. 08,1978
AD: This title is currently not available on Prime Video
A young married woman invites her mother, a celebrated concert pianist, to stay with her. Tensions rise as their buried hatred for one another comes to the surface.
Reviews
Two giants of Swedish cinema - with names different by only three letters - finally collaborated with Ingmar Bergman's "Höstsonaten" ("Autumn Sonata" in English). Ingrid Bergman plays Charlotte, the mother who abandoned her family to pursue a career. Returning home forces her and her daughter Eva (Liv Ullmann) to reconcile while at the same time facing problems that their family has had.Film buffs know that Ingmar Bergman is one director who doesn't insult his audience's intelligence. With this movie he goes deep into the issues that have dominated this family, and how they're bound to play out. I haven't seen most of Bergman's movies, so I can't compare this to them, but I can say that it's one of the most profound and complex stories ever put to film. Maybe not the greatest movie ever made, but still one that you should see.
... more
You should have a taste for heavy, depressing, complicated dramas in order to like Ingmar Bergman's opus – and I don't think many people do. This isn't Bergman's most famous or most experimental movie (the most popular are Persona, Wild Strawberries and The Seventh Seal), but it's still very good. It has the classic Bergman set-up: a few people are put in a small environment and are forced to confront each other. I found quite charming the fact that the colors in the movie are all autumnal, which fits the title perfectly.After the death of her long time friend and partner, Charlotte (Ingrid Bergman) accepts the invitation of her daughter Eva (Liv Ullmann) and her husband Viktor (Halvar Björk) to come and stay with them a while. On her arrival, she's unpleasantly surprised to find her other daughter Helena (Lena Nyman) there as well, since she had sent her to a hospital because she's mentally disabled. Charlotte hasn't seen Eva in years because she's always touring, as she's a world famous pianist, and after the joy of seeing each other wears off, one night the two women start recalling Eva's childhood and, in a heated fight, manage to finally tell each other what they always wanted to say.Autumn Sonata deals with the negative consequences on a child's later life, caused by the fact that a parent is too concentrated on his/her career and therefore is ignoring his/her child. Interestingly, this was a well known issue for Ingrid Bergman, who had become famous for leaving her family and running away with Italian director Roberto Rossellini. But it was also not an unknown theme for Ingmar Bergman who, according to one of his sons, "hadn't been a father at all". Regardless, it's a difficult theme and the movie tries to explore all its implications: therefore it is mostly made of dialogue, which can become boring if the movie doesn't grip you. But I think it's very difficult not to get emotionally involved in the story, especially since relationships between parents and children are rarely simple.Because of so much dialogue and because it is mostly set in Eva's house, Autumn Sonata reminds of theatre, which is where Bergman started his career. Also, all the characters apart from Charlotte and Eva are not that relevant and they only help define the mother-daughter relationship better. Liv Ullmann and Ingrid Bergman deliver great performances. Every detail is carefully planned, like for example their external appearance: Eva wants to go unnoticed in her dull colored clothes, tied hair and huge glasses, while her mother is elegant, beautiful and self-confident. And even though this changes after their night-long discussion, we get the impression that the message of this movie is – things never change, especially when they become routine, no matter how much we (think we) want them to change. Nonetheless, Autumn Sonata is a beautiful and intelligent movie, and a definite recommendation.Rating: 8/10 Read more at http://passpopcorn.wordpress.com/
... more
Typical introspective Bergman film with exceptional performances by Liv Ullman and Ingrid Bergman.The latter plays a famous concert pianist visiting her daughter after a long absence. Both harbor a mutual hope for reconciliation from their estranged past but the emotional baggage carried by each may be too much to overcome.The film is beautifully photographed and the script is engrossing but it is extremely "wordy" even for a Bergman film. There is lots of voice over narration, lots of flashbacks, lots of static dialogue, and lots of static monologue (sometimes with the character talking directly to the camera.) The on focus mother-daughter relationship is sad in itself but the overall gloom is layered on pretty thick - loss of parent, loss of husband, loss of child, bad parenting, absentee parenting, repressed anger, forced abortion, disabled child, spastic cerebral palsy, disgust, hatred, emotional detachment and so on......This is the perfect movie to watch if you're a psychoanalyst but for the casual viewer it's pretty depressing stuff. A lot of reviews give this film very high marks but this is not grade "A" Bergman. It is superbly crafted and well acted but it comes across more like a filmed stage play than a movie.
... more
This is the most harrowing movie I have ever seen. It is the tale of a mother and daughter, more specifically it is perhaps the first and final time the daughter confronts her mother. Liv Ullmann surpasses her performances in "Face to Face" and Persona to give what I believe to be her best performance. Ingrid Bergman also does a commendable job.The characters are very carefully etched. Even before the confrontation begins I could sense the change is Liv Ullmann when she is in presence of her mother. I could see in her a 12 year old kid desperate for her mother's approval without being told so explicitly. And mostly I remember her distraught face when she watches her mother play. Having already watched her in 5 other Bergman movies, I thought I knew her expressions. But that face will probably trouble me in the night when I try to sleep for a few days.Whenever I watched Ingrid rebuke Liv, I could see in my mind as if she was kicking her daughter in her gut. Watching this movie made me so thankful that I didn't had a parent like that and appreciate them much more.Another masterpiece by Bergman with some of the best performances I have ever seen.
... more