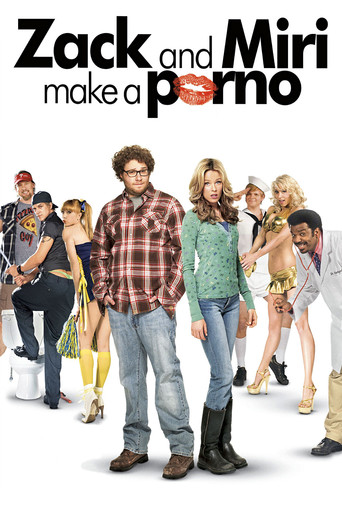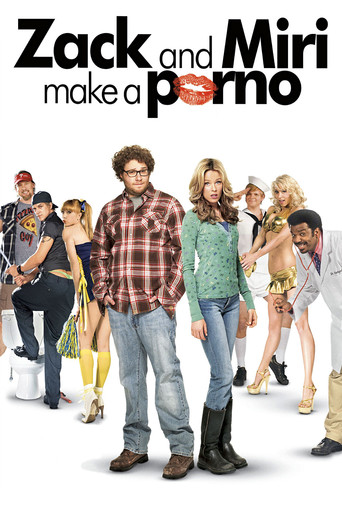 Zack and Miri Make a Porno
September. 18,2008 R
AD: This title is currently not available on Prime Video
Lifelong platonic friends Zack and Miri look to solve their respective cash-flow problems by making an adult film together. As the cameras roll, however, the duo begin to sense that they may have more feelings for each other than they previously thought.
Reviews
The scene with Justin long is hiliarious. If you enjoy these actors you'll laugh and love this movie.
... more
This is a comedy film about a very attractive young woman, Miri (played by Elizabeth Banks), and an unattractive, overweight young man, Zack (played by Seth Rogen). They are friends who live in poverty in a flat in Pennsylvania. They decide to make a porn film.The plot is implausible. There's no way that an articulate, hot girl would want anything to do with an unattractive, overweight, coarse idiot - let alone choose to live in poverty with him. For them to then have sex on film - when they've never been sexually attracted to each other - stretches the ridiculous plot further. They then push things even further into the unbelievable by falling in love with each other and marrying. The backstory is ridiculous. We're supposed to believe that hot Miri has never been popular and that very unappealing Zack has never been attracted to her throughout the years that they've been best friends. Early in the film, Zack and Miri attend their high school reunion. This is implausible due to the fact that unpopular, unsuccessful people don't go to their school reunions. Zack and Miri aren't believable as friends, flatmates, porn co-stars or as a couple. The film starts off as a sex comedy, but later makes a preposterous and uncomfortable jolt into being a romantic drama. This is an 18 certificate in the UK, but the humour is so blunt and juvenile that it's not going to appeal to many adults.
... more
Though comedies are usually not my cup of tea when it comes to film, I've usually always been impressed by the work of Seth Rogen and the persona he has been able to cultivate on-screen. Unfortunately, "Zack and Miri Make A Porno" proves that a great director can be a comedian's best friend...or worst enemy.For a basic plot summary, this movie tells the story of Zack (Rogen) and Miri (Elizabeth Banks), two people living together trying to make ends meet. When it begins to become clear that the ends will never meet, Zack hatches a plan to make some quick dough...a home-made porno film.This movie is primarily an example of how you can't just "let a comedian loose" on film. Under the direction of, say, Judd Apatow in "Knocked Up", Rogen was brilliant because the stories going on around him were also interesting. The same can be said (though to a lesser extent) for the more recent "Neighbors". In "Zack & Miri", however, there is nothing interesting that happens in this movie AT ALL. Rogen is expected to carry the entire film and he can't manage such a feat alone.This is truly a terrible movie that was an utter waste of time from beginning to end. On top of the candidate list for one of the worst flicks I've seen in a number of years. Watch some of the aforementioned Rogen efforts instead if you are craving some juvenile humor. Stay away from this one at ALL COSTS!
... more
Despite the obvious smuttiness of the title, Zack and Miri Make a Porno is one of writer/director Kevin Smith's sweetest, and most formulaic, films to date. Pushing it's 'R' rating to the limit with its combination of sexual innuendo, crude profanity and skin-on-skin action, Seth Rogen's cuddly and beardy Zack and Elizabeth Banks's bubbly and adorably inept Miri - life-long friends sharing a frozen Pittsburg apartment - are a particularly cutesy couple, and the slow realisation of their love for one another provides a nice and oddly believable romance.Having not paid their utility bills in months due to sheer bone idleness and Zack's weakness for making ridiculous online purchases, Zack and Miri are cut off and are left to huddle next to a home-made indoor fire in their overcoats. Whilst attending their high school reunion, Miri hopes to bump uglies with her former crush, Bobby Long (Brandon Routh), but discovers that he is now gay and in a relationship with gay porn star Brandon (Justin Long - a porn name if I ever heard one). Impressed with Brandon's success, Zack suggests to Miri that they make their own porn movie in the hope of making enough money to have the lights switched back on.At its best, Zack and Miri is very funny, with Craig Robinson's deadpan Delaney, Zack's co-worker who helps fund the project, providing the majority of the films most humorous moments. When it really should be the anti-When Harry Met Sally (1989), it misses a trick by following the rom-com gospel to a tee. Although it certainly doesn't shy away from the porn (Jason Mewes and Traci Lords get to enjoy most of that), its little more than a veil for a traditional "it was you all along!" romance. Still, even though it doesn't reach the heights of Smith's best works like Clerks (1994) and Chasing Amy (1997), there are plenty of laughs to be had for the casual audience and Smith cultists alike.
... more