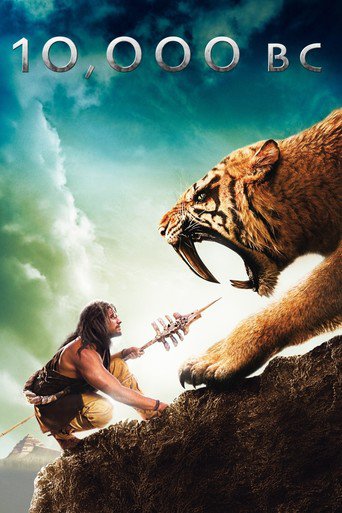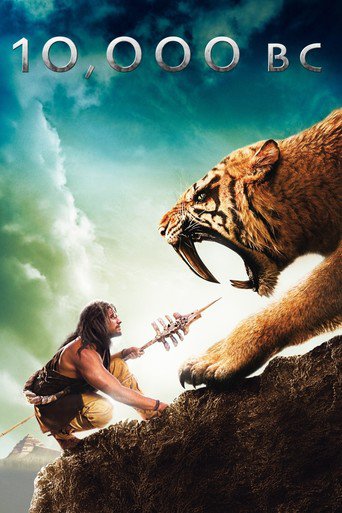 10,000 BC
February. 22,2008 PG-13
AD: This title is currently not available on Prime Video
A prehistoric epic that follows a young mammoth hunter's journey through uncharted territory to secure the future of his tribe.
Reviews
I went into this fully expecting and looking for brain candy. This film is the black licorice of brain candy.
... more
°Sabertooth spoilers ahead°Not sure what the critics are all about but I really enjoyed this. Sure, I get that it's not historically watertight, like are there really giant birds running around 10.000 BC ? and it's probably not the movie to end all movies .. but it was more than decent. The story never became predictable, the visuals were enjoyable all throughout and I did not cringe at any of the dialogues or the acting for that matter although both were kind of basic but hey, it was a prehistoric time after all remember, and I have to admit I cried real tears when .. Nah I'm not gonna tell you that yet! are you kidding me. The whole production had a pleasant warmth and friendliness to it, like in olden times, when people still had a heart and cared for each other, instead of preying on something twisted or shocking. I guess that's what you guys have been missing? That means evolution did a bad job and now you're just too numb to enjoy anything if bloody body parts are not slapping you in the face.. So, perfect feel good movie for a night with the girlfriend or your family and totally made to watch on a large screen. I had some debate with myself whether to give this a nine or a ten but this title really needs some rescuing from harsh votes of the modern day zombies and I'm willing to be the hero of the day
... more
This film to my mind has a remarkably poor overall rating - suspend your logic whilst watching and just enjoy the quality effects and the excellent locations. This is not Citizen Kane but when compared to other caveman flicks this has to be the best out there. The narrative is pretty simplistic and the acting is basic at best but the overall prehistoric environment that the producers have created is certainly engaging which provides both good action sequences and science fiction/fantasy moments. I would recommend any one interested in the fantasy genre to give this a glance but not to expect too much in relation to character development or intelligent plot lines. The other aspect of this film which I enjoyed was it's nod to antediluvian theories and how ancient civilizations possessed technologies we can no longer harness. Overall this is a film I would watch again and would recommend fantasy fans to give it a go especially if you don't mind occasionally having to endure a scene that is both bemusing and over the top. But by definition that is fantasy isn't it?
... more
My God, this film has, in everyway, ripped off the entire plot of Appocalypto.This film was boring, poorly, stupid and a complete waste of time. My biggest problem with the film is the story. It's complicated and it's stupid (especially when it gets to the climax and the death of the old woman).Also, the hero is not interesting at all. He's just the generic good guy who defies the dangers and everybody likes and saves the day and unlike Appocalypto, you don't care because he is not an engaging character. The CGI is not terrible and some of the animals and landscapes are really fun to watch. I do think there is a good movie somewhere in there trying to get out but you are just stuck with typical clichés like the "prophecy" stuff and the hero not believing he is the one but he is and he defies the odds and….You have seen this movie. Trust me, you have seen it.This movie leaves not impact at all. Do not watch it, if you want to see an ancient epic, go see Appocalypto instead.
... more