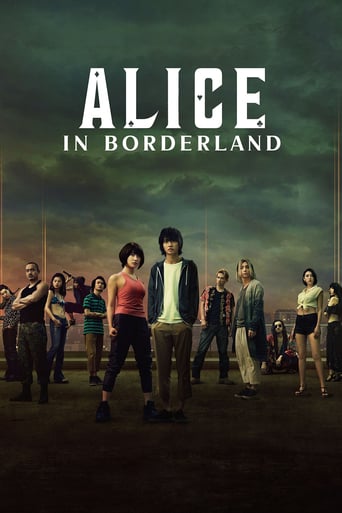 Alice in Borderland
December. 10,2020
With his two friends, a video-game-obsessed young man finds himself in a strange version of Tokyo where they must compete in dangerous games to win.
You May Also Like
Sweet Home
Cha Hyun-Soo is a high school student. He is also a recluse and rarely leaves his room. He refuses to talk to his father, mother and younger sister. One day, his whole family, except for him, dies in a car accident. Cha Hyun-Soo is left all alone. He moves into a small apartment. At this time, a mysterious phenomenon of humans turning into monster occur all around the world. The residents of Cha Hyun-Soo's apartment building, including Pyeon Sang-Wook, fight against these monsters and try to survive.
Sweet Home
2020
Do Do Sol Sol La La Sol
A riches-to-rags pianist who loses everything but her smile is guided by twinkling little stars to a small town where she finds hope, home and love.
Do Do Sol Sol La La Sol
2020
Do You Like Brahms?
A drama about the dreams and love of classical music students who find their own happiness after wandering between talent and reality.
Do You Like Brahms?
2020
Crash Landing on You
A paragliding mishap drops a South Korean heiress in North Korea -- and into the life of an army officer, who decides he will help her hide.
Crash Landing on You
2019
Private Lives
In a world where data is no longer private, con artists uncover a sinister surveillance scheme headed by the government and a greedy corporation.
Private Lives
2020
Where Your Eyes Linger
This series tells the story about Tae Joo, the 18-year-old only successor to the TB Group. He's blessed with a wealthy family, good looks, and no troubles to worry for often described as a handsome guy in the spotlight. His 18-year-old bodyguard, Goo Koo, has been trained in all different types of martial arts and is physically trained to have a strong body. He's also very thoughtful, and Tae Joo is his only friend, while Goo Koo is the only person Tae Joo feels as though he can trust, and feels relieved around him.
Where Your Eyes Linger
2020
Extra-ordinary You
What would you do if you found out that you were, in fact, a character in a comic? And an extra character on top of that? Change the course of the story, obviously! Eun Dan Oh is a 17-year-old high-school student from a wealthy family who suffers from a lifelong heart condition that inevitably means she will not live past her teenage years. However, when Dan Oh realizes she is experiencing long gaps in her memory as well, she comes into the unhappy inheritance of another fact in her life: she is a character in a Korean webtoon and all of her actions are predetermined by the artist who draws her.
Extra-ordinary You
2019
Signal
Detectives from the present and a detective from the past communicate via walkie-talkie to solve a long-time unsolved case.
Signal
2016
The Uncanny Counter
A group of supernatural demon hunters known as "Counters," each with unique abilities, disguise themselves as employees of noodle restaurant, while tracking down evil spirits that terrorize the mortal world.
The Uncanny Counter
2020
ID: INVADED
Sakaido is a genius detective who can track down any criminal. But when his daughter is murdered, revenge lands him on the other side of the law. Now in prison, he helps the police solve mysteries using a system that invades a person's identity. Little by little, a trail of blood forms, and it all leads back to his daughter's murderer.
ID: INVADED
2020