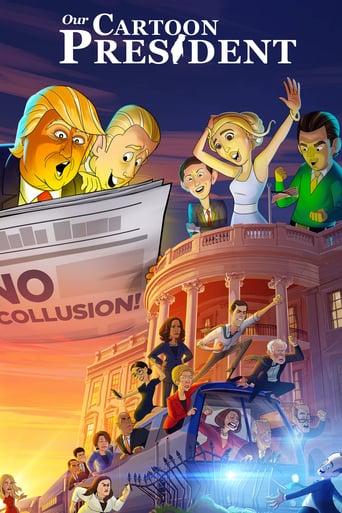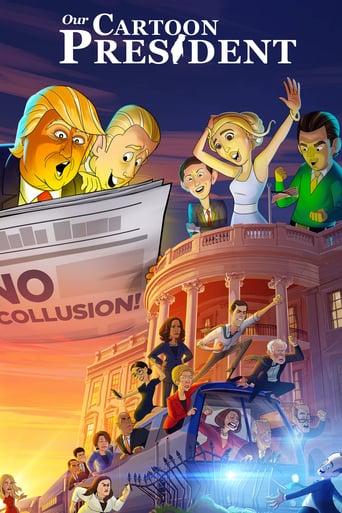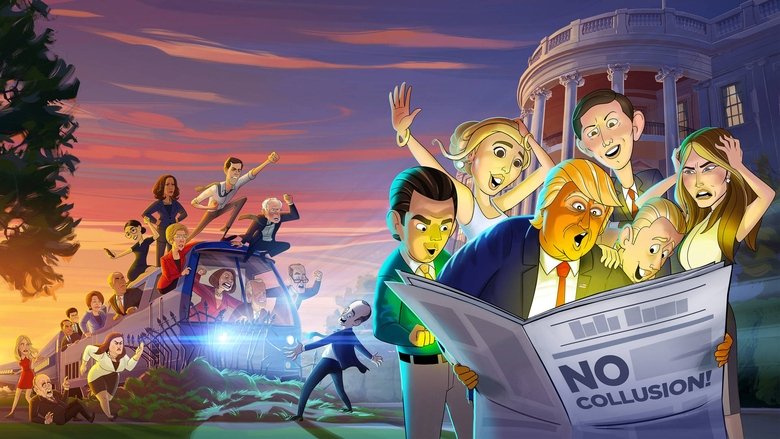 Our Cartoon President
July. 14,2019 TV-14
AD: This title is currently not available on Prime Video
A hilarious look into the Trump presidency, animation style. Starring two-dimensional avatars of Donald Trump and his merry band of insiders and family members, this cutting-edge comedy presents the truish adventures of Trump, his confidants and bon vivants through the eyes of an imaginary documentary crew.
Seasons
Season 2
President Trump tries to convince the American people that he's the greatest, least criminal president in history as House Speaker Nancy Pelosi and Senator Chuck Schumer attempt to win back the Democratic base from newcomer Alexandria Ocasio-Cortez.
Season 2
2019
Season 1
2018
Similar titles
Isekai Quartet
A mysterious switch appeared one day. Upon pressing it, they were sent to a different alternative world!! There are also characters from other alternative worlds gathered together...!?
Isekai Quartet
2019
Veep
A look into American politics, revolving around former Senator Selina Meyer who finds being Vice President of the United States is nothing like she expected and everything everyone ever warned her about.
Veep
2019
Designated Survivor
Tom Kirkman, a low-level cabinet member is suddenly appointed President of the United States after a catastrophic attack during the State of the Union kills everyone above him in the Presidential line of succession.
Designated Survivor
2019
Documentary Now!
Loving parodies of some of the world's best-known documentaries. Each episode is shot in a different style of documentary filmmaking, and honors some of the most important stories that didn't actually happen.
Documentary Now!
2019
Madam Secretary
Former CIA agent Elizabeth Faulkner McCord is suddenly thrust into the position of US Secretary of State where she must quickly learn to drive international diplomacy, wrangle office politics and balance a complex family life.
Madam Secretary
2019
One-Punch Man
Saitama is a hero who only became a hero for fun. After three years of "special" training, though, he's become so strong that he's practically invincible. In fact, he's too strong—even his mightiest opponents are taken out with a single punch, and it turns out that being devastatingly powerful is actually kind of a bore. With his passion for being a hero lost along with his hair, yet still faced with new enemies every day, how much longer can he keep it going?
One-Punch Man
2019
House of Cards
Set in present day Washington, D.C., House of Cards is the story of Frank Underwood, a ruthless and cunning politician, and his wife Claire who will stop at nothing to conquer everything. This wicked political drama penetrates the shadowy world of greed, sex and corruption in modern D.C. House of Cards is an adaptation of a previous BBC miniseries of the same name, which is based on the novel by Michael Dobbs.
House of Cards
2018
Another Period
Set at the turn of the century, "Another Period" follows the misadventures of the Bellacourts, Newport, RI's first family, who have absolutely nothing to offer to the world, but who have so much money it doesn't matter. The series focuses on sisters "Lillian" and "Beatrice", who care only about how they look, what parties they attend and becoming famous, which is a lot harder in 1902.
Another Period
2018
Mr. Osomatsu
2018
Kaijuu Girls: Ultra Kaijuu Gijinka
Humanity's battle of many years with the kaiju, giant monsters, has finally come to an end. Now that Earth has entered an age of peace, girls with the souls of kaiju have begun to appear, giving them the ability to transform into kaiju. They are known as the Kaiju Girls, and this is the powerful, transient, beautiful, and at times easygoing story of the strange fate these girls bear.
Kaijuu Girls: Ultra Kaijuu Gijinka
2018