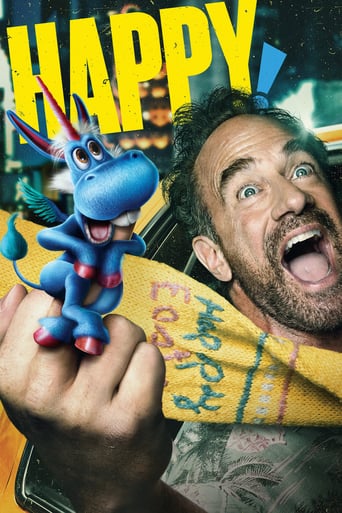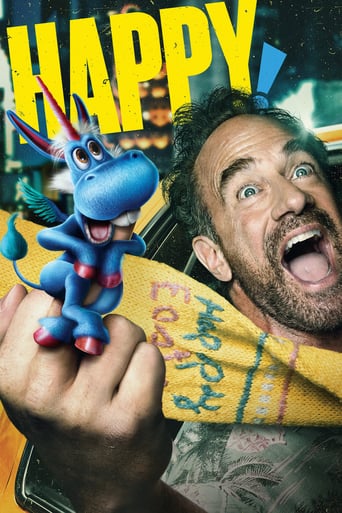 HAPPY!
May. 22,2019
This title is currently not available on Prime Video
Corrupt ex-cop turned hitman Nick Sax's life is changed forever by a relentlessly positive, imaginary blue winged horse named Happy.
Seasons
Season 2
2019
Season 1
2017
Similar titles
Doom Patrol
The Doom Patrol's members each suffered horrible accidents that gave them superhuman abilities — but also left them scarred and disfigured. Traumatized and downtrodden, the team found purpose through The Chief, who brought them together to investigate the weirdest phenomena in existence — and to protect Earth from what they find.
Doom Patrol
2019
Chilling Adventures of Sabrina
As her 16th birthday nears, Sabrina must choose between the witch world of her family and the human world of her friends. Based on the Archie comic.
Chilling Adventures of Sabrina
2018
Radiant
Seth is a boy who seeks to become a great magician, and a group of witches who seek to travel to the Radiant. Radiant is a mythical land that spawns monsters called "Néméses" which fall to the world from the sky. While traveling, they are also hunted by The Inquisition.
Radiant
2018
Titans
A team of young superheroes led by Nightwing (formerly Batman's first Robin) form to combat evil and other perils.
Titans
2018
Marvel's Cloak & Dagger
Two teenagers from very different backgrounds awaken to newly acquired superpowers which mysteriously link them to one another.
Marvel's Cloak & Dagger
2018
Marvel's Runaways
Every teenager thinks their parents are evil. What if you found out they actually were? Six diverse teenagers who can barely stand each other must unite against a common foe – their parents.
Marvel's Runaways
2017
Marvel's Iron Fist
Danny Rand resurfaces 15 years after being presumed dead. Now, with the power of the Iron Fist, he seeks to reclaim his past and fulfill his destiny.
Marvel's Iron Fist
2017
The Gifted
A suburban couple's ordinary lives are rocked by the sudden discovery that their children possess mutant powers. Forced to go on the run from a hostile government, the family joins up with an underground network of mutants and must fight to survive.
The Gifted
2017
Legion
David Haller, AKA Legion, is a troubled young man who may be more than human. Diagnosed as schizophrenic, David has been in and out of psychiatric hospitals for years. But after a strange encounter with a fellow patient, he's confronted with the possibility that the voices he hears and the visions he sees might be real.
Legion
2017
Marvel's The Defenders
The superheroes Daredevil, Jessica Jones, Iron Fist, and Luke Cage team-up in New York City.
Marvel's The Defenders
2017