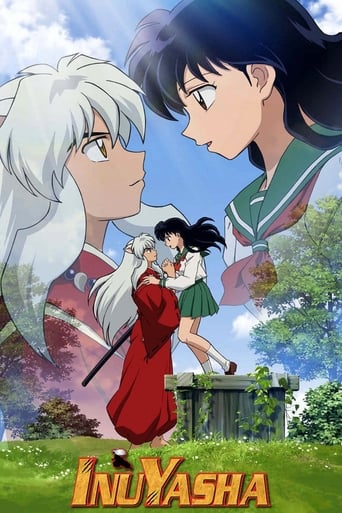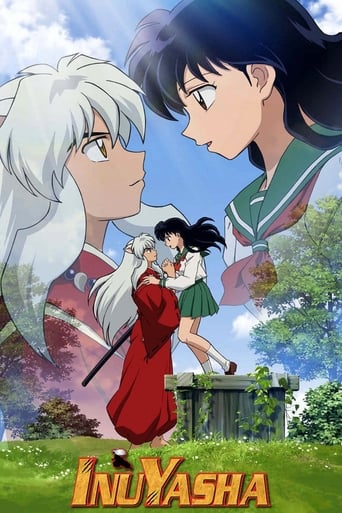 InuYasha
March. 29,2010 TV-14
AD: This title is currently not available on Prime Video
Kagome Higurashi is a modern day young girl who lives with her family by the old Higure shrine. Unbeknownst to Kagome, she is the reincarnation of priestess Kikyo and posseses the "Jewel of Four Souls" (the Shikon jewel). One ill-fated day, Kagome locates an ancient well near her home and is abruptly transported through the well and into a feudal Japan, inhabited by demons. There, she encounters Inuyasha, son of a powerful demon father and a human mother, who is pinned to a tree by an enchanted arrow.
Seasons
Season 2
Inuyasha, Kagome, Miroku, Sango, Shippou and their neko-mata friend Kirara, are now in the final leg of their quest to put an end to the elusive demon, Naraku and all of the chaos and evil he has caused, and to ultimately undo the unfortunate karma of the Jewel of Four Souls. Their journey, however, will not be easy as their remaining enemies put out all the stops to make sure that they do not accomplish their goal.
Season 2
2009
Season 1
Kagome Higurashi, an average ninth grader, gets pulled into an ancient well by a demon, bringing her 500 years in the past to a feudal era. There she meets Inuyasha, a half-demon who seeks the Shikon Jewel to make himself a full-fledged demon. With Inuyasha and new friends, Kagome's search for the Jewel of Four Souls begins...
Season 1
2000
Similar titles
Into the Badlands
In a land controlled by feudal barons, a great warrior and a young boy embark on a journey across a dangerous land to find enlightenment. A genre-bending martial arts series very loosely based on the classic Chinese tale Journey to the West.
Into the Badlands
2019
The Seven Deadly Sins
The "Seven Deadly Sins"—a group of evil knights who conspired to overthrow the kingdom of Britannia—were said to have been eradicated by the Holy Knights, although some claim that they still live. Ten years later, the Holy Knights have staged a Coup d'état and assassinated the king, becoming the new, tyrannical rulers of the kingdom. Elizabeth, the king's only daughter, sets out on a journey to find the "Seven Deadly Sins," and to enlist their help in taking back the kingdom.
The Seven Deadly Sins
2019
My Hero Academia
In a world where eighty percent of the population has some kind of super-powered Quirk, Izuku was unlucky enough to be born completely normal. But that won't stop him from enrolling in a prestigious hero academy. Now, he'll get his first taste of brutal rivalry from other schools as he braves the cutthroat, no-holds-barred provisional license exam.
My Hero Academia
2019
Food Wars!: Shokugeki no Soma
Yukihira Souma's dream is to become a full-time chef in his father's restaurant and surpass his father's culinary skill. But just as Yukihira graduates from middle schools his father, Yukihira Jouichirou, closes down the restaurant to cook in Europe. Although downtrodden, Souma's fighting spirit is rekindled by a challenge from Jouichirou which is to survive in an elite culinary school where only 10% of the students graduate. Can Souma survive?
Food Wars!: Shokugeki no Soma
2019
Karakuri Circus
Narumi is certain that Masaru will be kidnapped by wooden puppets with supernatural strength after fighting them with all his strength. Masaru inherited his father's wealth which has brought many enemies out of the shadows, too many for Narumi to defend him alone. When Narumi is feeling discouraged, Masaru's watcher, Shirogane, arrives with a powerful weapon, the puppet Arlequin.
Karakuri Circus
2019
Ace of Diamond
Eijun Sawamura is a pitcher who joins an elite school with a brilliant catcher named Kazuya Miyuki. Together with the rest of the team, they strive for Japan's storied Koushien championships through hard work and determination.
Ace of Diamond
2019
Black Clover
Asta and Yuno are two orphans who want the same thing: to become the Wizard King. Locked in a friendly rivalry, they work hard towards their goal. While Yuno excels at magic, Asta has a problem uncommon in this world: he has no powers! But, on the day they receive their grimoires, they surprise everyone. To reach their goal, they'll each find their own path to greatness—with or without magic.
Black Clover
2019
Mob Psycho 100
Shigeo Kageyama, a.k.a. "Mob," is a boy who has trouble expressing himself, but who happens to be a powerful esper. Mob is determined to live a normal life and keeps his ESP suppressed, but when his emotions surge to a level of 100%, something terrible happens to him! As he's surrounded by false espers, evil spirits, and mysterious organizations, what will Mob think? What choices will he make?
Mob Psycho 100
2019
The Promised Neverland
The one adored as the mother is not the real parent. The people living here together are not actual siblings. The Gracefield House is where orphaned children live. An irreplaceable home where 38 siblings and Mom live happy lives, even with no blood relations. However, their everyday life suddenly came to an abrupt end one day...
The Promised Neverland
2019
That Time I Got Reincarnated as a Slime
"Rimuru Tempest" is the new name of a slime in a fantasy world taken by a former 37-year-old human Satou Mikami after he is killed by a passing robber. Broken free from ordinary, stale past life, his fresh adventure in a fantasy world as a slime monster with unique abilities begins.
That Time I Got Reincarnated as a Slime
2019