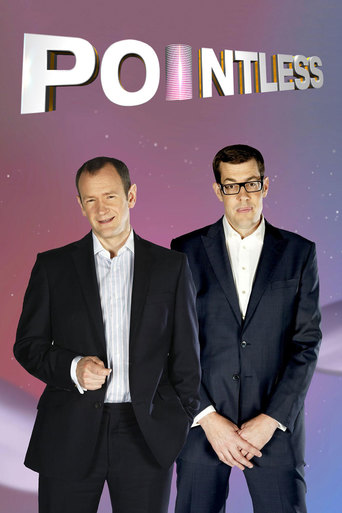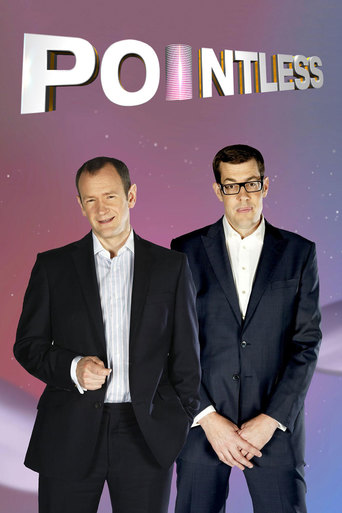 Pointless Celebrities
January. 19,2019
This title is currently not available on Prime Video
Alexander Armstrong and Richard Osman present a celebrity version of the general knowledge quiz in which contestants try to come up with the answers that nobody else could think of.
Related
Match of the Day 2
A light-hearted look at the United Kingdom's Premier League action, rounding-up the weekend's football action.
Match of the Day 2
2019
Match of the Day
Match of the Day is the BBC's main football television programme. Typically, it is shown on BBC One on Saturday evenings during the English football season, showing highlights of the day's matches in English football's top division, the Premier League. It is one of the BBC's longest-running shows, having been on air since 22 August 1964, though it has not always been aired regularly. The programme is broadcast from MediaCityUK in Salford Quays on the banks of the Manchester Ship Canal in Greater Manchester. MOTD is presented by former England captain Gary Lineker, who is usually joined by England teammate and former Newcastle United captain Alan Shearer and Liverpool and Scotland defender Alan Hansen as well as Mark Lawrenson. Over the years many famous and respected sports broadcasters have fine-tuned their skills on the programme, including Kenneth Wolstenholme, David Coleman, Barry Davies, John Motson, Jimmy Hill and Des Lynam.
Match of the Day
2019
My Parents Are Aliens
My Parents Are Aliens is a British children's television sitcom that was produced for eight series by Yorkshire Television and aired on ITV from 8 November 1999 to 18 December 2006.
My Parents Are Aliens
2015
Pointless
Pointless is a quiz show produced by Endemol UK for the BBC, hosted by Alexander Armstrong and Richard Osman. The show is unique in that it tasks players with finding obscure answers to questions and trying to obtain a low score. The series began airing on BBC Two on 24 August 2009, and was later moved to BBC One in 2011. To date, there have been nine series, plus four celebrity series. A record jackpot of £24,750 was won by David and Jonathan in the episode first transmitted on Friday 8 March 2013.
Pointless
2013
ChuckleVision
ChuckleVision is a British comedy television series shown mainly on BBC One and CBBC channel. New episodes are always first aired on BBC One, and occasionally episodes are shown on BBC Two. The first episode was shown on 26 September 1987. ChuckleVision focusses on Paul & Barry Chuckle and follows them throughout various comical situations. The twenty-first series of ChuckleVision was broadcast in December 2009 on BBC One. A 3D movie was also in production and was set to possibly be released in late 2012, however it has since been confirmed that the funding for this is no longer available.
ChuckleVision
2009
The Basil Brush Show
The Basil Brush Show was a British children's television sitcom series, starring the glove puppet fox, Basil Brush. It was produced for six series by The Foundation, airing on CBBC from 4 October 2002 to 21 December 2007. The show is a spin-off from the original 1960's/1970's BBC television series, but without any of the original cast.
The Basil Brush Show
2007
The Kenny Everett Television Show
Sketch comedy show starring Kenny Everett.
The Kenny Everett Television Show
1988
Hi-de-Hi!
Hi-de-Hi! is a British sitcom set in Maplins, a fictional holiday camp, during 1959 and 1960, and was written by Jimmy Perry and David Croft, who also wrote Dad's Army and It Ain't Half Hot Mum amongst others. It aired on the BBC from 1980 to 1988. The title was the phrase used to greet the campers and in early episodes was written Hi de Hi. The series revolved around the lives of the camp's management and entertainers, most of them struggling actors or has-beens. The inspiration was the experience of writers Perry and Croft: after being demobilised from the Army, Perry was a Redcoat at Butlins, Pwllheli during the holiday season. The series gained large audiences and won a BAFTA as Best Comedy Series in 1984. In 2004, it came 40th in Britain's Best Sitcom and in a 2008 poll on Channel 4, Hi-de-Hi! was voted the 35th most popular comedy catchphrase.
Hi-de-Hi!
1988