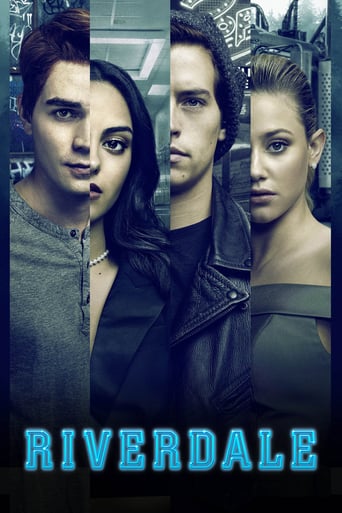 Riverdale
January. 26,2017 TV-14
Set in the present, the series offers a bold, subversive take on Archie, Betty, Veronica and their friends, exploring the surreality of small-town life, the darkness and weirdness bubbling beneath Riverdale's wholesome facade.
Seasons & Episode
Seasons 5 : 2021
|
11 Episode
|
MORE
Seasons 4 : 2019
|
19 Episode
|
MORE
Seasons 3 : 2018
|
22 Episode
|
MORE
Seasons 2 : 2017
|
22 Episode
|
MORE
Seasons 1 : 2017
|
13 Episode
|
MORE
You May Also Like
Shadowhunters
When Clary Fray's mother has disappeared, Clary joins a band of Shadowhunters; demon killing hunters, and gets caught up in a plan to save the world.
Shadowhunters
2016
13 Reasons Why
After a teenage girl's perplexing suicide, a classmate receives a series of tapes that unravel the mystery of her tragic choice.
13 Reasons Why
2017
Pretty Little Liars
Based on the Pretty Little Liars series of young adult novels by Sara Shepard, the series follows the lives of four girls — Spencer, Hanna, Aria, and Emily — whose clique falls apart after the disappearance of their queen bee, Alison. One year later, they begin receiving messages from someone using the name "A" who threatens to expose their secrets — including long-hidden ones they thought only Alison knew.
Pretty Little Liars
2010
Chilling Adventures of Sabrina
As her 16th birthday nears, Sabrina must choose between the witch world of her family and the human world of her friends. Based on the Archie comic.
Chilling Adventures of Sabrina
2018
Stranger Things
When a young boy vanishes, a small town uncovers a mystery involving secret experiments, terrifying supernatural forces, and one strange little girl.
Stranger Things
2016
Legacies
In a place where young witches, vampires, and werewolves are nurtured to be their best selves in spite of their worst impulses, Klaus Mikaelson's daughter, 17-year-old Hope Mikaelson, Alaric Saltzman's twins, Lizzie and Josie Saltzman, among others, come of age into heroes and villains at The Salvatore School for the Young and Gifted.
Legacies
2018
Charmed
Set in the fictional college town of Hilltowne, Charmed follows the lives of three sisters, Macy, Mel and Maggie Vera who, after the tragic death of their mother, discover they are three of the most powerful witches of all time.
Charmed
2018
Teen Wolf
Scott McCall, a high school student living in the town of Beacon Hills has his life drastically changed when he's bitten by a werewolf, becoming one himself. He must henceforth learn to balance his problematic new identity with his day-to-day teenage life. The following characters are instrumental to his struggle: Stiles, his best friend; Allison, his love interest who comes from a family of werewolf hunters; and Derek, a mysterious werewolf with a dark past. Throughout the series, he strives to keep his loved ones safe while maintaining normal relationships with them.
Teen Wolf
2011
The Secret Circle
After her mother dies in a fire, Cassie Blake moves in with her grandmother in the small town of Chance Harbor, Washington. As she gets to know her high school classmates, strange and frightening things begin to happen. They are all descended from powerful witches, and they've been waiting for Cassie to join them and complete a new generation of the Secret Circle. What they don't yet know is that darker powers are at play and that Cassie's mother's death might not have been an accident.
The Secret Circle
2011
Beauty and the Beast
Detective Catherine Chandler is a smart, no-nonsense homicide detective. When she was a teenager, she witnessed the murder of her mother at the hands of two gunmen and herself was saved by someone – or something. Years have passed and while investigating a murder, Catherine discovers a clue that leads her to Vincent Keller, who was reportedly killed in 2002. Catherine learns that Vincent is actually still alive and that it was he who saved her many years before. For mysterious reasons that have forced him to live outside of traditional society, Vincent has been in hiding for the past 10 years to guard his secret – when he is enraged, he becomes a terrifying beast, unable to control his super-strength and heightened senses.
Beauty and the Beast
2012