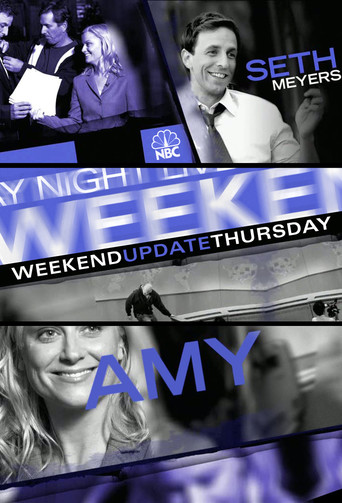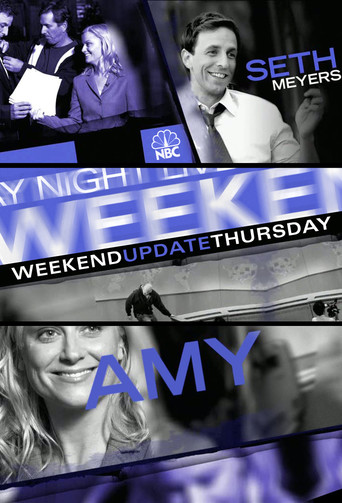 Saturday Night Live Weekend Update Thursday
August. 24,2017
AD: This title is currently not available on Prime Video
Saturday Night Live Weekend Update Thursday is an American limited-run series broadcast on NBC. It is a political satire news show spin-off from Saturday Night Live, featuring that show's "Weekend Update" segment. It initially ran for three 30-minute episodes in October 2008, during the lead-up to the 2008 United States presidential election.
Seasons & Episode
Seasons 4 : 2017
|
3 Episode
|
MORE
Episode 1 - Episode 1
August. 10,2017
Episode 2 - Episode 2
August. 17,2017
Episode 3 - Episode 3
August. 24,2017
Seasons 3 : 2012
|
3 Episode
|
MORE
Seasons 2 : 2009
|
3 Episode
|
MORE
Seasons 1 : 2008
|
3 Episode
|
MORE
Related
Drunk History
Historical reenactments from A-list talent as told by inebriated storytellers. A unique take on the familiar and less familiar people and events from America's great past as great moments in history are retold with unforgettable results.
Drunk History
2019
Those Who Can't
There are teachers who inspire, enlighten, and challenge us. These are not those teachers.
Those Who Can't
2019
Late Night with Seth Meyers
Seth Meyers, who is "Saturday Night Live's" longest serving anchor on the show's wildly popular "Weekend Update," takes over as host of NBC's "Late Night" — home to A-list celebrity guests, memorable comedy and the best in musical talent. As the Emmy Award-winning head writer for "SNL," Meyers has established a reputation for sharp wit and perfectly timed comedy, and has gained fame for his spot-on jokes and satire. Meyers takes his departure from "SNL" to his new post at "Late Night," as Jimmy Fallon moves to "The Tonight Show".
Late Night with Seth Meyers
2017
The Nightly Show with Larry Wilmore
The Nightly Show provides viewers with Larry Wilmore's distinct point of view and comedic take on current events and pop culture. Hosted by Wilmore, the series features a diverse panel of voices, providing a perspective largely missing in the late night television landscape.
The Nightly Show with Larry Wilmore
2016
@midnight
Chris Hardwick will lead three celebrity contestants down the ultimate internet wormhole. Culling from the darkest recesses of social media, they will compete to determine who has the funniest take on the day's pop culture.
@midnight
2015
1600 Penn
1600 Penn is an American single camera television comedy series about a dysfunctional family living in the White House.
1600 Penn
2013
Honey, I Shrunk the Kids: The TV Show
Honey, I Shrunk the Kids: The TV Show is an American syndicated science fiction sitcom based on the 1989 film, Honey, I Shrunk the Kids. It expands upon the original film's concept of a shrinking experiment gone wrong to include a myriad of experiments gone awry. It debuted in first-run syndication on September 1, 1997 and ran for three consecutive seasons, concluding with the 66th episode on May 20, 2000. Peter Scolari took over the role as Wayne Szalinski, the wacky inventor in the original film, played by Rick Moranis. Each episode incorporates new technologies and digital effects to feature the family in various new adventures. The series was filmed in Calgary, Alberta, with its main studios located in Currie Barracks, a decommissioned Canadian Forces dormitory.
Honey, I Shrunk the Kids: The TV Show
2000
Ace Ventura Pet Detective: The Series
Ace Ventura: Pet Detective is an animated television series based on the film of the same name. The series was produced by Morgan Creek Productions and Nelvana for Warner Bros. Studios. It aired for two seasons from 1995 to 1997 on CBS. A third season and reruns of previous episodes aired on Nickelodeon from 1999 to 2000.
Ace Ventura Pet Detective: The Series
2000