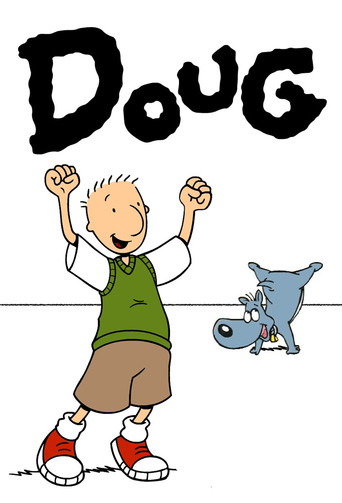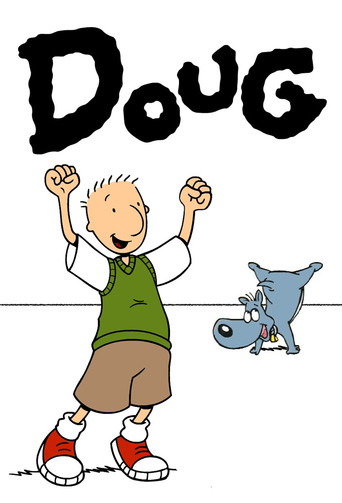 Doug
September. 14,2000 TV-Y7
AD: This title is currently not available on Prime Video
Doug is an American animated sitcom created by Jim Jinkins and co-produced by his studio, Jumbo Pictures. The show's plotline centers around the surreal and imaginative exploits of its title character, Douglas "Doug" Funnie, who experiences common predicaments while attending school in his new hometown of Bluffington, Virginia. The series lampoons several topics, including puppy love, bullying, and rumors. Numerous episodes center around Doug's attempts to date his classmate Patti Mayonnaise. Doug originally aired on Nickelodeon in the United States of America. It, along with Rugrats and The Ren & Stimpy Show, comprised the original three Nicktoons, premiering simultaneously on August 11, 1991 and ending on January 2, 1994. Following the acquisition of the former Jumbo Pictures by Disney in 1996, the series aired on ABC as part of the former Disney's One Saturday Morning programming block. The second series premiered on September 7, 1996, and ended on June 26, 1999 while having a feature film adaption. In 2011, the Nickelodeon series became syndicated on TeenNick's then newly debuted The '90s Are All That block.
Similar titles
The Worst Witch
Mildred Hubble becomes a student at Cackle's Academy.
The Worst Witch
2019
Big Mouth
Teenage friends find their lives upended by the wonders and horrors of puberty in this edgy comedy from real-life pals Nick Kroll and Andrew Goldberg.
Big Mouth
2019
Andi Mack
Andi is contemplative and artistic and sheltered by overprotective parents. But on the eve of her 13th birthday, Andi's free-spirited older sister Bex returns home with a revelation that changes everything and sends Andi on an uncharted course of self-discovery.
Andi Mack
2019
Henry Danger
When 13-year-old Henry Hart lands a job as Danger, the sidekick-in-training to superhero Captain Man, he must learn to navigate a double life balancing the challenges of 8th grade with the crazy adventures of a real-life crime fighter!
Henry Danger
2019
The End of the F***ing World
James is 17 and is pretty sure he is a psychopath. Alyssa, also 17, is the cool and moody new girl at school. The pair make a connection and she persuades him to embark on a darkly comedic road trip in search of her real father.
The End of the F***ing World
2019
Captain Tsubasa
The passionate story of an elementary school student whose thoughts and dreams revolve almost entirely around the love of soccer. 11-year-old Tsubasa Oozora started playing football at a very young age, and while it was mostly just a recreational sport for his friends, for him, it developed into something of an obsession. In order to pursue his dream to the best of his elementary school abilities, Tsubasa moves with his mother to Nankatsu city, which is well-known for its excellent elementary school soccer teams. But although he was easily the best in his old town, Nankatsu has a lot more competition, and he will need all of his skill and talent in order to stand out from this new crowd. He encounters not only rivals, but also new friends like the pretty girl Sanae Nakazawa and the talented goalkeeper, Genzo Wakabayashi, who shares the same passion as Tsubasa, and will prove to be a treasured friend in helping him push towards his dreams. Representing Japan in the FIFA World Cup is Tsubasa's ultimate dream, but it will take a lot more than talent to reach it.
Captain Tsubasa
2019
K.C. Undercover
K.C. Cooper, a high school math whiz and karate black-belt, learns that her parents are spies when they recruit her to join them in the secret government agency, The Organization. While she now has the latest spy gadgets at her disposal, K.C. has a lot to learn about being a spy, including keeping her new gig a secret from her best friend Marisa. Together, K.C. and her parents, Craig and Kira, and her younger siblings, Ernie and Judy (a humanoid robot), try to balance everyday family life while on undercover missions, near and far, to save the world.
K.C. Undercover
2018
The Thundermans
Meet The Thundermans, a typical suburban family that happens to have astounding superpowers. At the center of the action are the 14-year-old Thunderman twins, who share the same bathroom, the same school, and the same annoying little siblings. Their only difference? The sister is a super student with a super sunny disposition who super looks forward to being a superhero someday, and her twin brother is a super villain.
The Thundermans
2018
Stuck in the Middle
Harley is an engineering whiz who uses her inventions to navigate life as the middle child in a large family of seven kids.
Stuck in the Middle
2018
Girl Meets World
The adventures of relatable and adventurous Riley Matthews, the tween daughter of Cory and Topanga Matthews, and her bold best friend Maya as they traverse the twists and turns of teenage years at Manhattan's John Quincy Adams Middle School where Riley's dad is their History teacher.
Girl Meets World
2017