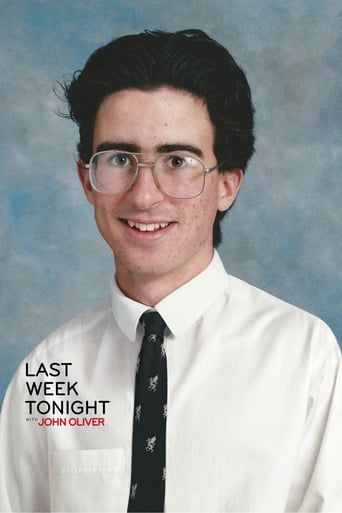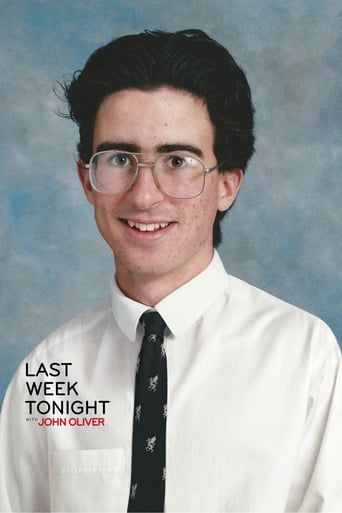 Last Week Tonight with John Oliver
June. 21,2020 TV-MA
AD: This title is currently not available on Prime Video
A half-hour satirical look at the week in news, politics and current events.
Seasons & Episode
Seasons 7 : 2020
|
16 Episode
|
MORE
Seasons 6 : 2019
|
30 Episode
|
MORE
Seasons 5 : 2018
|
30 Episode
|
MORE
Seasons 4 : 2017
|
30 Episode
|
MORE
Seasons 3 : 2016
|
30 Episode
|
MORE
Seasons 2 : 2015
|
35 Episode
|
MORE
Seasons 1 : 2014
|
24 Episode
|
MORE
Related
Full Frontal with Samantha Bee
Samantha Bee breaks up late-night's all-male sausage fest with her nuanced view of political and cultural issues, her sharp interview skills, her repartee with world leaders and, of course, her 10-pound lady balls.
Full Frontal with Samantha Bee
2016
The Late Show with Stephen Colbert
Improv actor and comic Stephen Colbert leaves his "The Colbert Report" character behind as he makes his long-awaited return to television. As the host of The Late Show franchise redux -- taped at the historic Ed Sullivan Theatre at New York -- Colbert talks to actors, athletes, politicians, comics, artists and musicians as himself for the first time. Loyal fans, however, will also be treated to consistency as Colbert remains backed by many members of his writing and digital team from his former venture. Julliard-trained Jon Batiste serves as the bandleader.
The Late Show with Stephen Colbert
2015
Veep
A look into American politics, revolving around former Senator Selina Meyer who finds being Vice President of the United States is nothing like she expected and everything everyone ever warned her about.
Veep
2012
The Newsroom
A behind-the-scenes look at the people who make a nightly cable-news program. Focusing on a network anchor, his new executive producer, the newsroom staff and their boss, the series tracks their quixotic mission to do the news well in the face of corporate and commercial obstacles-not to mention their own personal entanglements.
The Newsroom
2012
Conan
A late night television talk show hosted by Conan O'Brien.
Conan
2010
Community
Follow the lives of a group of students at what is possibly the world's worst community college in the fictional locale of Greendale, Colorado.
Community
2009
Parks and Recreation
Hilarious ensemble comedy that follows Leslie Knope, a mid-level bureaucrat in the Parks and Recreation Department of Pawnee, Indiana, and her tireless efforts to make her quintessentially American town just a little bit more fun.
Parks and Recreation
2009
30 Rock
30 Rock is an American television comedy series that ran on NBC from October 11, 2006, to January 31, 2013, and was created by Tina Fey. The series, which is loosely based on Fey's experiences as head writer for Saturday Night Live, takes place behind the scenes of a fictional live sketch comedy series depicted as airing on NBC. The series' name refers to 30 Rockefeller Plaza in New York City, the address of the GE Building, in which the NBC Studios are located.
30 Rock
2006
The Colbert Report
The Colbert Report is an American satirical late night television program that airs Monday through Thursday on Comedy Central. It stars political humorist Stephen Colbert, a former correspondent for The Daily Show with Jon Stewart. The Colbert Report is a spin-off from and counterpart to The Daily Show that comments on politics and the media in a similar way. It satirizes conservative personality-driven political pundit programs, particularly Fox News' The O'Reilly Factor. The show focuses on a fictional anchorman character named Stephen Colbert, played by his real-life namesake. The character, described by Colbert as a "well-intentioned, poorly informed, high-status idiot", is a caricature of televised political pundits. The Colbert Report has been nominated for seven Primetime Emmy Awards each in 2006, 2007, 2008, 2009, 2010, 2011, and 2012, two Television Critics Association Awards Awards, and two Satellite Awards. In 2013, it won two Emmys. It has been presented as non-satirical journalism in several instances, including by the Tom DeLay Legal Defense Trust and by Robert Wexler following his interview on the program. The Report received considerable media coverage following its debut on October 17, 2005, for Colbert's coining of the term "truthiness", which dictionary publisher Merriam-Webster named its 2006 Word of the Year.
The Colbert Report
2005
Real Time with Bill Maher
Each week Bill Maher surrounds himself with a panel of guests which include politicians, actors, comedians, musicians and the like to discuss what's going on in the world.
Real Time with Bill Maher
2003