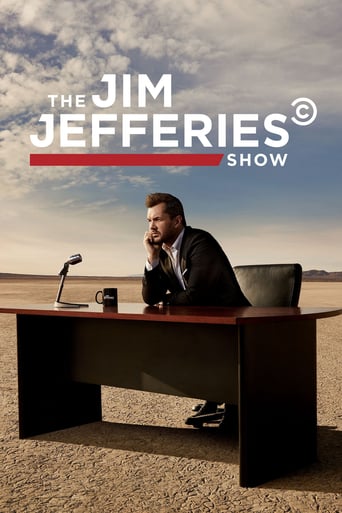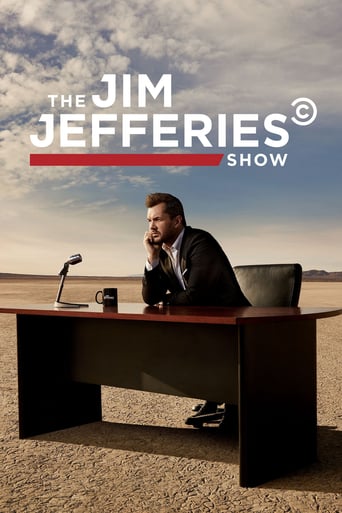 The Jim Jefferies Show
September. 24,2019 TV-14
AD: This title is currently not available on Prime Video
Each week, Jefferies tackles the week's top stories from behind his desk and travels the globe to far-off locations to provide an eye opening look at hypocrisy around the world. Featuring interviews, international field pieces, and man on the ground investigations, Jim tackles the news of the day with no-bulls**t candor, piercing insight and a uniquely Aussie viewpoint.
Seasons & Episode
Seasons 3 : 2019
|
13 Episode
|
MORE
Seasons 2 : 2018
|
30 Episode
|
MORE
Seasons 1 : 2017
|
20 Episode
|
MORE
Similar titles
En rodage
2019
Comédie sur mesure
2019
The Mash Report
Satirical and surreal news show. Nish Kumar and a cast of hilarious correspondents keep you up to date with everything that has happened - or not happened - this week.
The Mash Report
2019
Les Newbies
2019
L'Open Mic de…
A well-known comedian hosts his own open mic night in which he presents his most favourite funny people: friends, humorists and up-and-coming comedians. Viewers will have the opportunity to discover the guest comedy performers doing what they do best: stand-up comedy!
L'Open Mic de…
2019
Crashing
A standup comic discovers that his wife is unfaithful, leading him to reevaluate his life amidst the New York City comedy scene.
Crashing
2019
Billy on the Street
Comedian Billy Eichner, unfiltered and unapologetic, hits the streets of New York City to test unsuspecting strangers on their knowledge of music and pop culture. With microphone in hand and money in tow, Eichner gives contestants the chance to win cash by answering a series of hilarious and spontaneous questions. The catch? The final round is subjective - Don't agree with Billy? You lose.
Billy on the Street
2019
I'm Dying Up Here
Set in LA's celebrated, infamous stand-up comedy scene of the 1970s, this series delves into the inspired and damaged psyches that inhabit the hilarious, but complex business of making an audience laugh.
I'm Dying Up Here
2018
The Break with Michelle Wolf
Nobody's safe as Michelle Wolf unapologetically takes aim in this weekly topical show that blends sketches with live comedy and in-studio guests.
The Break with Michelle Wolf
2018
The Zen Diaries of Garry Shandling
The story of legendary comedian Garry Shandling, featuring interviews from nearly four dozen friends, family and colleagues; four decades' worth of television appearances; and a lifetime of personal journals, private letters and home audio and video footage.
The Zen Diaries of Garry Shandling
2018
Related
Full Frontal with Samantha Bee
Samantha Bee breaks up late-night's all-male sausage fest with her nuanced view of political and cultural issues, her sharp interview skills, her repartee with world leaders and, of course, her 10-pound lady balls.
Full Frontal with Samantha Bee
2020
Dear White People
At a predominantly white Ivy League college, a diverse group of students navigate various forms of racial and other types of discrimination.
Dear White People
2019
Half in the Bag
Mike Stoklasa and Jay Bauman discuss recent movie releases while milking senile Mr. Plinkett on a VCR repair job.
Half in the Bag
2019
Best of the Worst
Mike, Jay, Rich and the rest of the Red Letter Media crew brave some of the worst movies ever created by man.
Best of the Worst
2019
Man Seeking Woman
Josh Greenberg is a naive romantic on a desperate quest for love. When his longtime girlfriend dumps him, Josh enters the dating scene, a nightmarish hellscape of untold horror. Despite the agony, Josh continues his search in the hopes of finding someone who will make all the misery worth it.
Man Seeking Woman
2017
Late Night with Seth Meyers
Seth Meyers, who is "Saturday Night Live's" longest serving anchor on the show's wildly popular "Weekend Update," takes over as host of NBC's "Late Night" — home to A-list celebrity guests, memorable comedy and the best in musical talent. As the Emmy Award-winning head writer for "SNL," Meyers has established a reputation for sharp wit and perfectly timed comedy, and has gained fame for his spot-on jokes and satire. Meyers takes his departure from "SNL" to his new post at "Late Night," as Jimmy Fallon moves to "The Tonight Show".
Late Night with Seth Meyers
2017
Blue Planet II
There is nowhere more powerful and unforgiving yet more beautiful and compelling than the ocean. Join us and explore the greatest yet least known parts of our planet.
Blue Planet II
2017
Inside Amy Schumer
Take a journey into the provocative and hilariously wicked mind of Amy Schumer as she explores topics revolving around sex, relationships, and the general clusterf*ck that is life. Through a series of scripted vignettes, stand-up comedy, and man-on-the street candid interviews, Schumer tackles various themes such as "Denial," "Getting Your Way," and "Threesomes."
Inside Amy Schumer
2016
Key & Peele
Key & Peele is an American sketch comedy television show. It stars Keegan-Michael Key and Jordan Peele, both former cast members of MADtv. Each episode of the show consists of several pre-taped sketches starring the two actors, introduced by Key and Peele in front of a live studio audience.
Key & Peele
2015
Legit
Jim Jefferies, an edgy, foul-mouthed stand-up comedian from Australia, in his mid-30s and living in LA, is endeavoring to make his life and career more "legit," only to find it a difficult, uncomfortable uphill struggle every step of the way. Jim is encouraged in his quest by Steve, his neurotic best friend and roommate, a cyber-law library salesman who struggles to stay on his feet in the wake of a divorce, and Steve's brother Billy, who suffers from advanced staged Muscular Dystrophy and is confined to a wheelchair.
Legit
2014