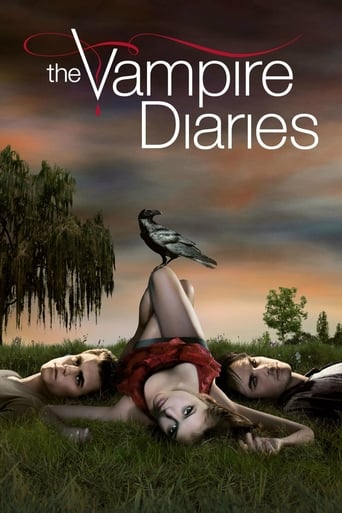 The Vampire Diaries
September. 10,2009 TV-14

Watch Now
The story of two vampire brothers obsessed with the same girl, who bears a striking resemblance to the beautiful but ruthless vampire they knew and loved in 1864.
Seasons & Episode
Seasons 8 : 2016
|
16 Episode
|
MORE
Seasons 7 : 2015
|
22 Episode
|
MORE
Seasons 6 : 2014
|
22 Episode
|
MORE
Seasons 5 : 2013
|
22 Episode
|
MORE
Seasons 4 : 2012
|
23 Episode
|
MORE
Seasons 3 : 2011
|
22 Episode
|
MORE
Seasons 2 : 2010
|
22 Episode
|
MORE
Seasons 1 : 2009
|
22 Episode
|
MORE
Similar titles
Shadowhunters
When Clary Fray's mother has disappeared, Clary joins a band of Shadowhunters; demon killing hunters, and gets caught up in a plan to save the world.
Shadowhunters
2016
Lost Girl
The gorgeous and charismatic Bo is a supernatural being called a succubus who feeds on the energy of humans, sometimes with fatal results. Refusing to embrace her supernatural clan and its rigid hierarchy, Bo is a renegade who takes up the fight for the underdog while searching for the truth about her own mysterious origins.
Lost Girl
2010
The Secret Circle
After her mother dies in a fire, Cassie Blake moves in with her grandmother in the small town of Chance Harbor, Washington. As she gets to know her high school classmates, strange and frightening things begin to happen. They are all descended from powerful witches, and they've been waiting for Cassie to join them and complete a new generation of the Secret Circle. What they don't yet know is that darker powers are at play and that Cassie's mother's death might not have been an accident.
The Secret Circle
2011
Penny Dreadful
Some of literature's most terrifying characters, including Dr. Frankenstein, Dorian Gray, and iconic figures from the novel Dracula are lurking in the darkest corners of Victorian London. Penny Dreadful is a frightening psychological thriller that weaves together these classic horror origin stories into a new adult drama.
Penny Dreadful
2014
True Blood
True Blood is an American television drama series created and produced by Alan Ball. It is based on The Southern Vampire Mysteries series of novels by Charlaine Harris, detailing the co-existence of vampires and humans in Bon Temps, a fictional, small town in northwestern Louisiana. The series centers on the adventures of Sookie Stackhouse, a telepathic waitress with an otherworldly quality.
True Blood
2008
A Discovery of Witches
Closet witch Teresa Palmer and centuries-old vampire Matthew Goode are drawn into a deadly mystery and forbidden romance when a magical book shows up in an Oxford library.
A Discovery of Witches
2018
Legacies
In a place where young witches, vampires, and werewolves are nurtured to be their best selves in spite of their worst impulses, Klaus Mikaelson's daughter, 17-year-old Hope Mikaelson, Alaric Saltzman's twins, Lizzie and Josie Saltzman, among others, come of age into heroes and villains at The Salvatore School for the Young and Gifted.
Legacies
2018
Prime Video
Dark Shadows
Dark Shadows is an American gothic soap opera that originally aired weekdays on the ABC television network, from June 27, 1966, to April 2, 1971. The show was created by Dan Curtis. The story bible, which was written by Art Wallace, does not mention any supernatural elements. It was unprecedented in daytime television when ghosts were introduced about six months after it began. The series became hugely popular when vampire Barnabas Collins appeared a year into its run. Dark Shadows also featured werewolves, zombies, man-made monsters, witches, warlocks, time travel, and a parallel universe. A small company of actors each played many roles; indeed, as actors came and went, some characters were played by more than one actor. Major writers besides Art Wallace included Malcolm Marmorstein, Sam Hall, Gordon Russell, and Violet Welles. Dark Shadows was distinguished by its vividly melodramatic performances, atmospheric interiors, memorable storylines, numerous dramatic plot twists, unusually adventurous music score, and broad and epic cosmos of characters and heroic adventures. Now regarded as something of a classic, it continues to enjoy an intense cult following. Although the original series ran for only five years, its scheduling as a daily daytime drama allowed it to amass more single episodes during its run than most other science-fiction/fantasy genre series produced for English-language television, including Doctor Who and the entire Star Trek television franchise. Only the paranormal soap opera Passions, with a total of 2,231 episodes, has more.
Dark Shadows
1966
Being Human
The central premise of Being Human is that various types of supernatural beings exist alongside human beings, with varying degrees of menace; that three of these supernatural beings are opting to live amongst human beings rather than apart from them; and that these three characters are attempting (as much as is possible) to live ordinary human lives despite the pressures and dangers of their situations. They are constantly threatened with exposure or persecution, with pressure from other supernatural creatures, and with problems caused by their attempts to deal with their own natures.
Being Human
2009
Midnight, Texas
Welcome to a place where being normal is really quite strange. In a remote Texas town no one is who they seem. From vampires and witches to psychics and hit men, Midnight is a mysterious safe haven for those who are different. As the town members fight off outside pressures from rowdy biker gangs, ever-suspicious cops and their own dangerous pasts, they band together and form a strong and unlikely family.
Midnight, Texas
2017