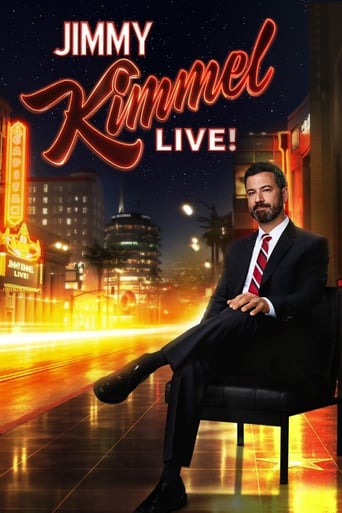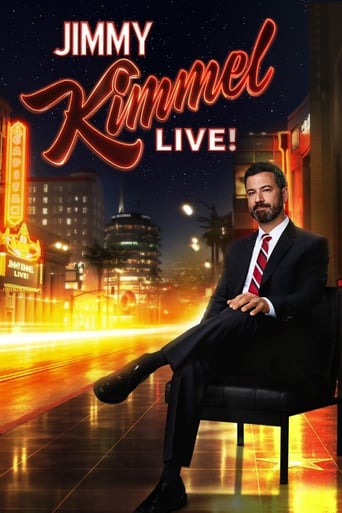 Jimmy Kimmel Live!
September. 12,2019
AD: This title is currently not available on Prime Video
Jimmy Kimmel Live! is an American late-night talk show, created and hosted by Jimmy Kimmel and broadcast on ABC.
Related
The Late Late Show with James Corden
Once Craig Ferguson retires, James Corden will be taking over The Late Late Show. The show is a late night talk show that interviews celebrities and has its own bits. And of course, it's all hosted by James Corden.
The Late Late Show with James Corden
2020
The Late Show with Stephen Colbert
Improv actor and comic Stephen Colbert leaves his "The Colbert Report" character behind as he makes his long-awaited return to television. As the host of The Late Show franchise redux -- taped at the historic Ed Sullivan Theatre at New York -- Colbert talks to actors, athletes, politicians, comics, artists and musicians as himself for the first time. Loyal fans, however, will also be treated to consistency as Colbert remains backed by many members of his writing and digital team from his former venture. Julliard-trained Jon Batiste serves as the bandleader.
The Late Show with Stephen Colbert
2020
Conan
A late night television talk show hosted by Conan O'Brien.
Conan
2019
The Tonight Show Starring Jimmy Fallon
After Jay Leno's second retirement from the program, Jimmy Fallon stepped in as his permanent replacement. After 42 years in Los Angeles the program was brought back to New York.
The Tonight Show Starring Jimmy Fallon
2019
The Ellen DeGeneres Show
The Ellen DeGeneres Show, often shortened to Ellen, is an American television talk show hosted by comedian/actress Ellen DeGeneres.
The Ellen DeGeneres Show
2019
Duck Dynasty
Duck Dynasty is an American reality television series on A&E. It shows the lives of the Robertson family, who became wealthy from their family-operated business, Duck Commander, operated in West Monroe, Louisiana, which makes products for duck hunters, primarily the duck call named Duck Commander. The Robertson men, brothers Phil and Si, and Phil's sons Jase, Willie, and Jep, are known for their long beards. The business began in a family shed, where Phil Robertson spent 25 years making duck calls from Louisiana cedar trees. His son Willie is now the CEO of the company. The family was previously featured on the series Benelli Presents Duck Commander and its spin-off Buck Commander, which still airs on the Outdoor Channel. The show has broken several ratings records on both A&E and cable television as a whole; the fourth season premiere drew 11.8 million viewers, the most-watched nonfiction cable telecast in history.
Duck Dynasty
2017
Inside the Actors Studio
James Lipton sits down with some of the world's most accomplished actors and directors for penetrating, fascinating interviews.
Inside the Actors Studio
2017
Late Night with Seth Meyers
Seth Meyers, who is "Saturday Night Live's" longest serving anchor on the show's wildly popular "Weekend Update," takes over as host of NBC's "Late Night" — home to A-list celebrity guests, memorable comedy and the best in musical talent. As the Emmy Award-winning head writer for "SNL," Meyers has established a reputation for sharp wit and perfectly timed comedy, and has gained fame for his spot-on jokes and satire. Meyers takes his departure from "SNL" to his new post at "Late Night," as Jimmy Fallon moves to "The Tonight Show".
Late Night with Seth Meyers
2017
MADtv
MADtv is an American sketch comedy television series based on Mad, and contained animated Spy vs. Spy and Don Martin cartoon shorts as well as images of Alfred E. Neuman. Its first TV broadcast was on October 14, 1995. The one-hour show aired Saturday nights on Fox, and was in syndication on Comedy Central. In Australia the show screens on satellite and cable TV channel The Comedy Channel and in late-night timeslots on free-to-air broadcaster the Nine Network and its affiliates.
MADtv
2016
The Soup
With this satirical series, the E! Entertainment Network returns to a format they helped create with the popular '90s show Talk Soup. Only this time instead of just poking fun at talk shows, they're setting their sights on all things in entertainment, reality TV, pop culture, and politics.
The Soup
2015