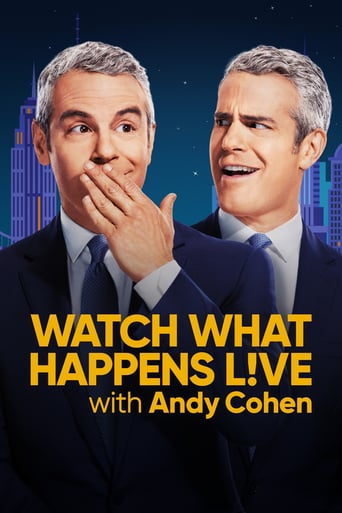 Watch What Happens: Live
July. 16,2009
Bravo network executive Andy Cohen discusses pop culture topics with celebrities and reality show personalities.
Similar titles
Kölner Treff
1976
En mode Salvail
What to expect: interviews, musical performances, a fierce band, surprising stories and most of all, guests who are more than happy to play along and follow Éric Salvail on his beautifully crazy tangents!
En mode Salvail
2013
Bonsoir bonsoir!
Each day, Jean-Philippe Wauthier welcomes guests on the show in warm, friendly setting. His interviews focus on their newsworthy achievements but also, and most importantly, on their passions, interests and opinions.
Bonsoir bonsoir!
2019
The Kelly Clarkson Show
Kelly Clarkson presents the biggest newsmakers and names in film, television and music; as well as emerging new talent and everyday people who are beacons of hope in their communities.
The Kelly Clarkson Show
2019
Dimension 20's Adventuring Party
Adventuring Party is a series of livestreamed talk-back episodes that aired after each new episode of Dimension 20. Each Adventuring Party episode features the Dimension 20 cast as they talk about the events of the most recent episode, their experiences during that session, any unique challenges or situations they encountered, and answer as many fan questions as Brennan allows.
Dimension 20's Adventuring Party
2020
Sucré Salé
Patrice Bélanger and his team are here to give Quebecers a little boost to their lives with this show where fun and pleasure prevail. With a front row seat to events happening across the province, the show is the reference for summer culture. Above and beyond the artists featured, the show puts our entire province in the spotlight.
Sucré Salé
2002
Late Night with David Letterman
Late Night with David Letterman is a nightly hour-long comedy talk show on NBC that was created and hosted by David Letterman. It premiered in 1982 as the first incarnation of the Late Night franchise and went off the air in 1993, after Letterman left NBC and moved to Late Show on CBS. Late Night with Conan O'Brien then filled the time slot. As of March 2, 2009, the slot has been filled by Late Night with Jimmy Fallon. It will be filled by Seth Meyers in the spring of 2014, after Fallon becomes host of The Tonight Show.
Late Night with David Letterman
1982
The Late Late Show with Craig Ferguson
The Late Late Show with Craig Ferguson is an American late-night talk show hosted by Scottish American comedian Craig Ferguson, who is the third regular host of the Late Late Show franchise. It follows Late Show with David Letterman in the CBS late-night lineup, airing weekdays in the US at 12:37 a.m. It is taped in front of a live studio audience from Monday to Friday at CBS Television City in Los Angeles, California, directly above the Bob Barker Studio. It is produced by David Letterman's production company Worldwide Pants Incorporated and CBS Television Studios. Since becoming host on January 3, 2005, after Craig Kilborn and Tom Snyder, Ferguson has achieved the highest ratings since the show's inception in 1995. While the majority of the episodes focus on comedy, Ferguson has also addressed difficult subject matter, such as the deaths of his parents, and undertaken serious interviews, such as one with Desmond Tutu, which earned the show a 2009 Peabody Award.
The Late Late Show with Craig Ferguson
2005
Prime Video
The Ellen DeGeneres Show
The Ellen DeGeneres Show, often shortened to just Ellen, is an American television talk show hosted by comedian/actress Ellen DeGeneres.
The Ellen DeGeneres Show
2003
UNHhhh
RuPaul's Drag Race season 7 queens Katya Zamolodchikova and Trixie Mattel in 'UNHhhh.' It's a show about nothing, and yet it's about everything.
UNHhhh
2016