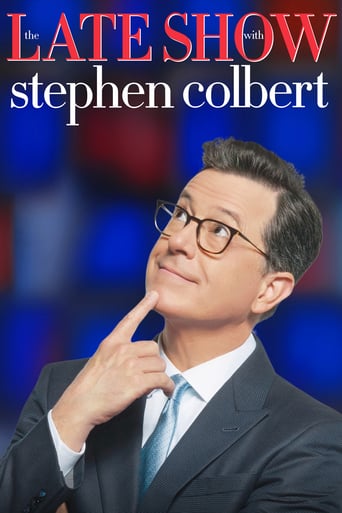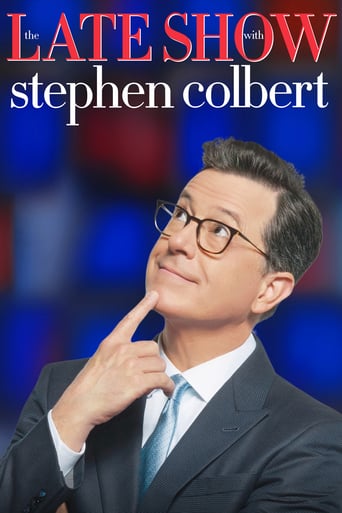 The Late Show with Stephen Colbert
June. 24,2020 TV-PG
AD: This title is currently not available on Prime Video
Improv actor and comic Stephen Colbert leaves his "The Colbert Report" character behind as he makes his long-awaited return to television. As the host of The Late Show franchise redux -- taped at the historic Ed Sullivan Theatre at New York -- Colbert talks to actors, athletes, politicians, comics, artists and musicians as himself for the first time. Loyal fans, however, will also be treated to consistency as Colbert remains backed by many members of his writing and digital team from his former venture. Julliard-trained Jon Batiste serves as the bandleader.
Seasons & Episode
Seasons 5 : 2019
|
111 Episode
|
MORE
Seasons 4 : 2018
|
187 Episode
|
MORE
Seasons 3 : 2017
|
194 Episode
|
MORE
Seasons 2 : 2016
|
154 Episode
|
MORE
Seasons 1 : 2015
|
143 Episode
|
MORE
Related
Full Frontal with Samantha Bee
Samantha Bee breaks up late-night's all-male sausage fest with her nuanced view of political and cultural issues, her sharp interview skills, her repartee with world leaders and, of course, her 10-pound lady balls.
Full Frontal with Samantha Bee
2016
Last Week Tonight with John Oliver
A half-hour satirical look at the week in news, politics and current events.
Last Week Tonight with John Oliver
2014
The Tonight Show Starring Jimmy Fallon
After Jay Leno's second retirement from the program, Jimmy Fallon stepped in as his permanent replacement. After 42 years in Los Angeles the program was brought back to New York.
The Tonight Show Starring Jimmy Fallon
2014
Late Night with Seth Meyers
Seth Meyers, who is "Saturday Night Live's" longest serving anchor on the show's wildly popular "Weekend Update," takes over as host of NBC's "Late Night" — home to A-list celebrity guests, memorable comedy and the best in musical talent. As the Emmy Award-winning head writer for "SNL," Meyers has established a reputation for sharp wit and perfectly timed comedy, and has gained fame for his spot-on jokes and satire. Meyers takes his departure from "SNL" to his new post at "Late Night," as Jimmy Fallon moves to "The Tonight Show".
Late Night with Seth Meyers
2014
Conan
A late night television talk show hosted by Conan O'Brien.
Conan
2010
The Tonight Show with Conan O'Brien
The Tonight Show with Conan O'Brien is an American late-night talk show that featured Conan O'Brien as host from June 1, 2009 to January 22, 2010 as part of NBC's long-running Tonight Show franchise. The program's host, Conan O'Brien, previously hosted NBC's Late Night with Conan O'Brien, which followed The Tonight Show with Jay Leno for 16 years, until O'Brien's brief succession over Leno. Many members of the Late Night cast and crew made the transition to The Tonight Show. The Max Weinberg 7, the house band from O'Brien's Late Night, served as the house band under the new name, Max Weinberg and The Tonight Show Band. Andy Richter returned to the show as announcer, and also began resuming his role as sidekick, shortly before the show's conclusion. The opening and closing theme song from Late Night was also carried over to Tonight, in a slightly altered form. In January 2010, after the show had been on the air for seven months, it was announced that NBC was intending to move Jay Leno from primetime back to his original timeslot at 11:35 pm, with O'Brien's show starting shortly after midnight. In response to the announcement, O'Brien released a press statement saying that he would not continue as host of The Tonight Show if it was moved to any time after midnight to accommodate The Jay Leno Show. He feared it would ruin the long and rich tradition of The Tonight Show. It had been on after the late local newscasts from the beginning. After two weeks of negotiations, NBC announced that they had paid $45 million to buy out O'Brien's contract, ending both his tenure as host as well as his relationship with NBC after 22 years.
The Tonight Show with Conan O'Brien
2009
Late Night with Jimmy Fallon
Late Night with Jimmy Fallon is an American late-night talk show airing weeknights at 12:35 am Eastern/11:35 pm Central on NBC in the United States. The hour-long show premiered on March 2, 2009, and is hosted by actor, comedian and performer Jimmy Fallon, an alumnus of Saturday Night Live. Hip hop/neo soul band The Roots serve as the show's house band, and Steve Higgins is the show's announcer. The third incarnation of the Late Night franchise originated by David Letterman, the program originates from NBC Studio 6B in the GE Building at 30 Rockefeller Center in New York City. The show typically opens with a brief monologue from Fallon, followed by a comedy "desk piece," as well as prerecorded segments and audience competitions. The next segment is devoted to a celebrity interview, with guests ranging from actors and musicians to media personalities and political figures. The show then closes with either a musical or comedy performance. The show frequently employs digital media into its comedy, which has become crucial to its success. Fallon has been appointed to become the next host of The Tonight Show, where he will succeed the current host Jay Leno at the conclusion of the 2014 Winter Olympics, with fellow SNL alum Seth Meyers slated to replace Fallon.
Late Night with Jimmy Fallon
2009
The Colbert Report
The Colbert Report is an American satirical late night television program that airs Monday through Thursday on Comedy Central. It stars political humorist Stephen Colbert, a former correspondent for The Daily Show with Jon Stewart. The Colbert Report is a spin-off from and counterpart to The Daily Show that comments on politics and the media in a similar way. It satirizes conservative personality-driven political pundit programs, particularly Fox News' The O'Reilly Factor. The show focuses on a fictional anchorman character named Stephen Colbert, played by his real-life namesake. The character, described by Colbert as a "well-intentioned, poorly informed, high-status idiot", is a caricature of televised political pundits. The Colbert Report has been nominated for seven Primetime Emmy Awards each in 2006, 2007, 2008, 2009, 2010, 2011, and 2012, two Television Critics Association Awards Awards, and two Satellite Awards. In 2013, it won two Emmys. It has been presented as non-satirical journalism in several instances, including by the Tom DeLay Legal Defense Trust and by Robert Wexler following his interview on the program. The Report received considerable media coverage following its debut on October 17, 2005, for Colbert's coining of the term "truthiness", which dictionary publisher Merriam-Webster named its 2006 Word of the Year.
The Colbert Report
2005
The Late Late Show with Craig Ferguson
The Late Late Show with Craig Ferguson is an American late-night talk show hosted by Scottish American comedian Craig Ferguson, who is the third regular host of the Late Late Show franchise. It follows Late Show with David Letterman in the CBS late-night lineup, airing weekdays in the US at 12:37 a.m. It is taped in front of a live studio audience from Monday to Friday at CBS Television City in Los Angeles, California, directly above the Bob Barker Studio. It is produced by David Letterman's production company Worldwide Pants Incorporated and CBS Television Studios. Since becoming host on January 3, 2005, after Craig Kilborn and Tom Snyder, Ferguson has achieved the highest ratings since the show's inception in 1995. While the majority of the episodes focus on comedy, Ferguson has also addressed difficult subject matter, such as the deaths of his parents, and undertaken serious interviews, such as one with Desmond Tutu, which earned the show a 2009 Peabody Award.
The Late Late Show with Craig Ferguson
2005
Jimmy Kimmel Live!
Jimmy Kimmel Live! is an American late-night talk show, created and hosted by Jimmy Kimmel and broadcast on ABC.
Jimmy Kimmel Live!
2003