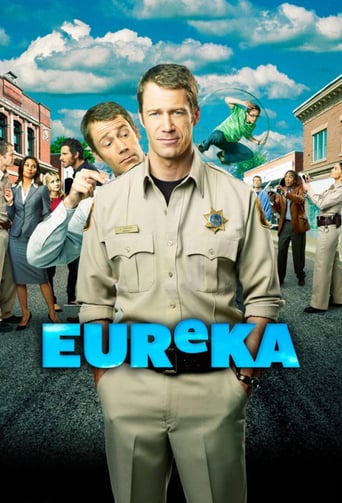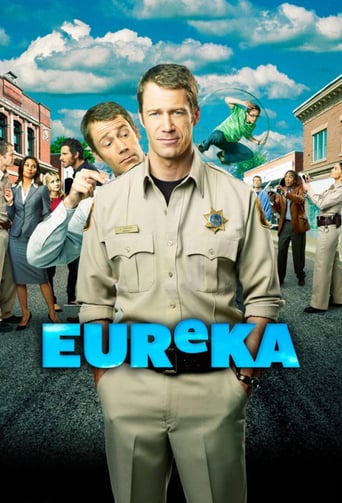 Eureka
July. 16,2012 TV-14
AD: This title is currently not available on Prime Video
The sleepy Pacific Northwest town of Eureka is hiding a mysterious secret. The government has been relocating the world's geniuses and their families to this rustic town for years where innovation and chaos have lived hand in hand. U.S. Marshal Jack Carter stumbles upon this odd town after wrecking his car and becoming stranded there. When the denizens of the town unleash an unknown scientific creation, Carter jumps in to try to restore order and consequently learns of one of the country's best kept secrets.
Seasons & Episode
Seasons 5 : 2012
|
13 Episode
|
MORE
Seasons 4 : 2010
|
21 Episode
|
MORE
Seasons 3 : 2008
|
18 Episode
|
MORE
Seasons 2 : 2007
|
13 Episode
|
MORE
Seasons 1 : 2006
|
12 Episode
|
MORE
Related
Continuum
The series centers on the conflict between a group of rebels from the year 2077 who time-travel to Vancouver, BC, in 2012, and a police officer who accidentally accompanies them. In spite of being many years early, the rebel group decides to continue its violent campaign to stop corporations of the future from replacing governments, while the police officer endeavours to stop them without revealing to anyone that she and the rebels are from the future.
Continuum
2016
Defiance
In the near future, planet Earth is permanently altered following the sudden—and tumultuous—arrival of seven unique alien races. In the boom-town of Defiance, the newly-formed civilization of humans and aliens must learn to co-exist peacefully.
Defiance
2015
Falling Skies
Falling Skies opens in the chaotic aftermath of an alien attack that has left most of the world completely incapacitated. In the six months since the initial invasion, the few survivors have banded together outside major cities to begin the difficult task of fighting back. Each day is a test of survival as citizen soldiers work to protect the people in their care while also engaging in an insurgency campaign against the occupying alien force.
Falling Skies
2015
Haven
FBI agent Audrey Parker arrives in the small town of Haven, Maine to solve a murder and soon discovers the town's many secrets—which also hold the key to unlocking the mysteries of her lost past.
Haven
2015
Warehouse 13
After saving the life of the President, two secret service agents - Myka Bering and Pete Lattimer - find themselves assigned to the top secret Warehouse 13. The Warehouse is a massive, top secret facility that houses dangerous and fantastical objects. Together, Pete and Myka along with fellow agents Claudia, Steve Jinks and Warehouse caretaker Artie, must recover artifacts from around the globe before they can cause catastrophic damage.
Warehouse 13
2014
Burn Notice
A formerly blacklisted spy uses his unique skills and training to help people in desperate situations.
Burn Notice
2013
Fringe
FBI Special Agent Olivia Dunham, brilliant but formerly institutionalized scientist Walter Bishop and his scheming, reluctant son Peter uncover a deadly mystery involving a series of unbelievable events and realize they may be a part of a larger, more disturbing pattern that blurs the line between science fiction and technology.
Fringe
2013
Chuck
When Buy More computer geek Chuck Bartowski unwittingly downloads a database of government information and deadly fighting skills into his head, he becomes the CIA's most vital secret. This sets Chuck on a path to become a full-fledged spy.
Chuck
2012
Alphas
Five ordinary people with superhuman physical and mental abilities are brought together to form one extraordinary team of Alphas. Operating within the U.S. Department of Defense, the team investigates cases that point to others with Alpha abilities.
Alphas
2012
Terra Nova
In the year 2149, the world is dying. The planet is overdeveloped and overcrowded, with the majority of plant and animal life extinct. The future of mankind is in jeopardy, and its only hope for survival is in the distant past. An ordinary family goes on an extraordinary journey back in time to prehistoric Earth as a part of a massive expedition to save the human race.
Terra Nova
2011