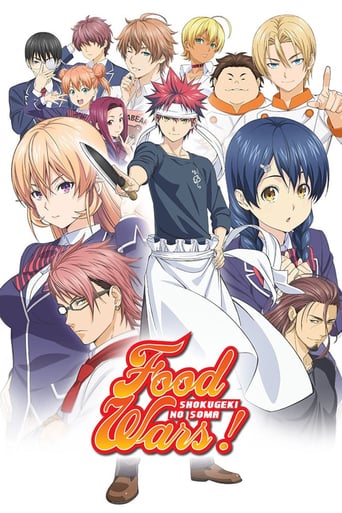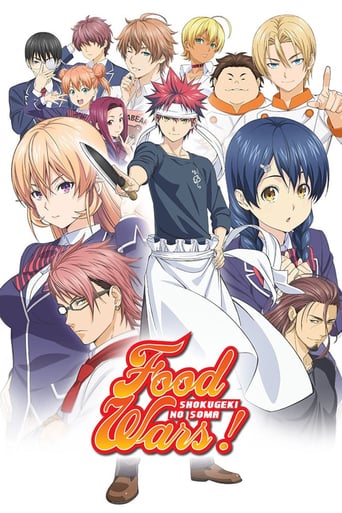 Food Wars!: Shokugeki no Soma
October. 12,2019 TV-PG
AD: This title is currently not available on Prime Video
Yukihira Souma's dream is to become a full-time chef in his father's restaurant and surpass his father's culinary skill. But just as Yukihira graduates from middle schools his father, Yukihira Jouichirou, closes down the restaurant to cook in Europe. Although downtrodden, Souma's fighting spirit is rekindled by a challenge from Jouichirou which is to survive in an elite culinary school where only 10% of the students graduate. Can Souma survive?
Seasons
Season 4
2019
Season 3
The Moon Festival is Tootsuki Academy's annual gourmet gala, where students compete against each other to earn the most profit through selling their cuisine of choice. But for Souma Yukihira, it is also his first opportunity to challenge the Elite Ten, the supreme council that rules over the academy. However, this is only the beginning of Souma's war against the Elite Ten; a nefarious plot is underway that will provide Souma with the challenge he desires but will also shake the very foundations of Tootsuki Academy itself.
Season 3
2017
Season 2
The qualifiers of the Autumn Elections are now over, and only eight talented chefs remain. Now, they face off in one-on-one food wars, each with their own unique themes. Met with both new judges and new opponents all with their own specialties, Souma must stay on his toes if he hopes to make it to the top of both the Autumn Elections and Tootsuki Culinary Academy.
Season 2
2016
Season 1
Ever since he was a child, fifteen-year-old Souma Yukihira has helped his father by working as the sous chef in the restaurant his father runs and owns. Throughout the years, Souma developed a passion for entertaining his customers with his creative, skilled, and daring culinary creations. His dream is to someday own his family's restaurant as its head chef. Yet when his father suddenly decides to close the restaurant to test his cooking abilities in restaurants around the world, he sends Souma to Tootsuki Culinary Academy, an elite cooking school where only 10 percent of the students graduate. The institution is famous for its "Shokugeki" or "food wars," where students face off in intense, high-stakes cooking showdowns. As Souma and his new schoolmates struggle to survive the extreme lifestyle of Tootsuki, more and greater challenges await him, putting his years of learning under his father to the test.
Season 1
2015