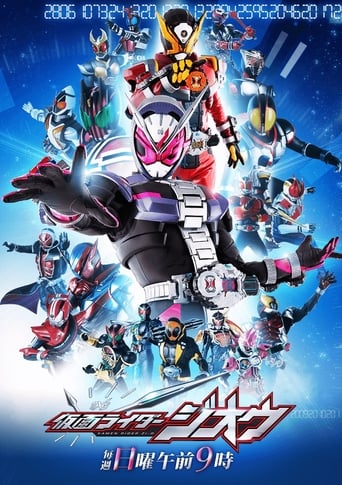 Kamen Rider Season 3
February. 16,1974
Robotics scientist Keitaro Jin and his son Keisuke become caught up in the campaign of terror by an evil organization known as "G.O.D.". They are attacked and the professor's technology stolen, but before Keitaro dies, he is still able to perform surgery on his son. With the very last of his robotics technology, he transforms his son into "Kamen Rider X". To avenge his father's death and ensure the safety of the entire world, Keisuke uses this technology as he battles the monstrous minions of G.O.D.
Episode 35 : Farewell, X Rider
October. 12,1974
Episode 34 : The Weapon of Terror Aims at Three Riders!!
October. 05,1974
Episode 33 : Fear! King Dark's Revenge!!
September. 28,1974
Episode 32 : Showdown! King Dark vs. X Rider
September. 21,1974
Episode 31 : Stand! King Dark!!
September. 14,1974
Episode 30 : I Want Blood! The Monster of the Corpse Swamp!!
September. 07,1974
Episode 29 : Deathmatch!! X Rider vs. X Rider!!
August. 31,1974
Episode 28 : Look! X Rider's Great Transformation!!
August. 24,1974
Episode 27 : Special Edition, Full Force of Five Riders!!
August. 17,1974
Episode 26 : Hell's Dictator, Starfish Hitler!!
August. 10,1974
Episode 25 : The Mysterious Thief, Rhinocerous Beetle Lupin!!
August. 03,1974
Episode 24 : Revenge Demon Geronimo! The Silent Attack!!
July. 27,1974
Episode 23 : King Dark! The Devil's Invention!!
July. 20,1974
Episode 22 : The Terrible Great Giant! King Dark Appears!!
July. 13,1974
Episode 21 : Apollo Geist's Last General Attack!!
July. 06,1974
Episode 20 : A Monster!? The Mysterious Snake Man Appears!!
June. 29,1974
Episode 19 : The Corpses at the Ghost Mansion Call!!
June. 22,1974
Episode 18 : Scary! It's GOD's Cat Disguise Operation!!
June. 15,1974
Episode 17 : Scary! Humans are Being Made into Books!!
June. 08,1974
Episode 16 : Counterattacking Apollo Geist! X Rider in Danger!!
June. 01,1974
Episode 15 : GOD's Secret Base! X Rider Sneaks In!!
May. 25,1974
Episode 14 : Apollo Geist - The Madness of Insect Hell
May. 18,1974
Episode 13 : GOD Radamus's Great Prophecy!
May. 11,1974
Episode 12 : Sweep the ESPer Girl Away!
May. 04,1974
Episode 11 : The Invulnerable Water Snake Monster Hydra!
April. 27,1974
Episode 10 : GOD Secret Police! Apollo Geist!!
April. 20,1974
Episode 9 : X Rider's Great Deadly Training
April. 13,1974
Episode 8 : Mystery!? Little Earth - Middle Earth - Big Earth
April. 06,1974
Episode 7 : The Terrible Genius Human Project!
March. 30,1974
Episode 6 : The Japanese Island Fragmentation Plan!
March. 23,1974
A mysterious bus falling accident. Sachiko, a girl who lost her parents due to the accident. Pittying Sachiko who was full of sadness, Keisuke Jin investigates the cause. Hovewever Sachiko was kidnapped by someone.
Episode 5 : The One-Eyed Monster's Human Review Operation!
March. 16,1974
Episode 4 : GOD, the Shadow of Fear!!
March. 09,1974
Episode 3 : Assassination Dark Spider Operation!!
March. 02,1974
Episode 2 : Run, Cruiser! X Rider!!
February. 23,1974
As Keisuke Jin is troubled by no longer being human, a mysterious sound causes everyone who hears it to become violently homicidal. Why is one child not affected? And what links him and the newly-born X-Rider?
Episode 1 : X-X-X-Rider is Born!!
February. 16,1974
G.O.D. a secret organization is planning to conquer the world but a new hero Kamen Rider X stands in their way.