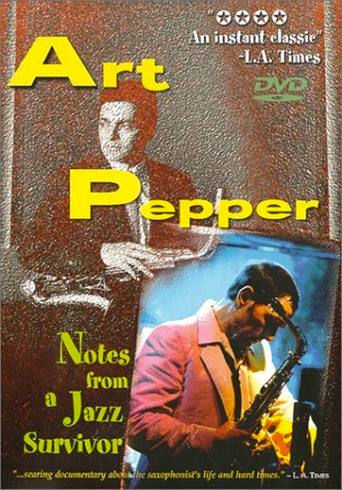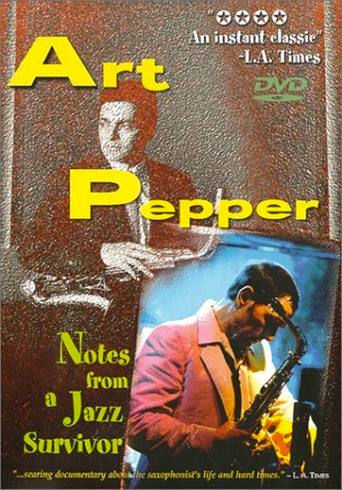 Art Pepper: Notes from a Jazz Survivor
December. 31,1982
AD: This title is currently not available on Prime Video
Saxophonist Art Pepper (1925-1982) lived the kind of jazz life only found in Hollywood movies. His prodigious talent led him to top gigs as a teenager, but drugs and attendant criminal activity knocked him out of commission for virtually all of the 1960s and early 1970s. This documentary, shot shortly after his searing memoir, {-Straight Life}, was published in 1979, shows Pepper in the full flower of a remarkable comeback. His third wife, Laurie, is featured prominently; they met in the drug treatment facility Synanon in 1969 and were married in 1974. She took over his business affairs and helped him write {-Straight Life}. Pepper tells his own story here, but the emphasis is on an evening's performance at a club in Malibu, with the musician in fine form, backed by a terrific trio. (Tom Wiener, Rovi)
Reviews
Simply A Masterpiece
... more
The film makes a home in your brain and the only cure is to see it again.
... more
There is, somehow, an interesting story here, as well as some good acting. There are also some good scenes
... more
It is an exhilarating, distressing, funny and profound film, with one of the more memorable film scores in years,
... more
Musical ideas came naturally to legendary saxophonist Art Pepper, probably more so than any other jazz musician in history. He married his manager Laurie who, like Thelonious Monk's and many other musicians' widows, looked after his basic needs during his years on (and off) the road. You'll see how she might have even extended his life. The film doesn't cover his many years in prison, or his music before he joined that "gated community", just his life since and a few [wonderful] extended jazz performances after his release. Heroin was his drug and it eventually took its toll. He speaks candidly. Film follows the tone of his book. Fascinating, positive. You'll know him like a relative by films end. Appreciate it just for the music, even!
... more