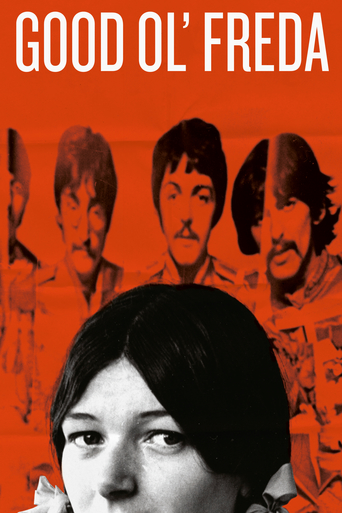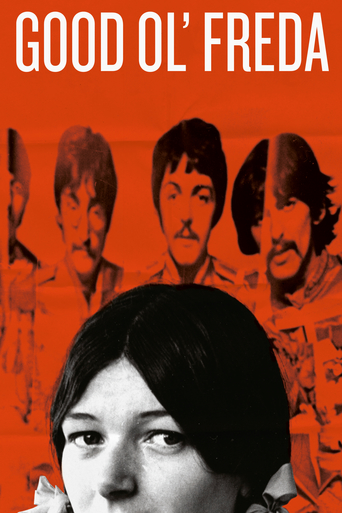 Good Ol' Freda
September. 06,2013 PG
AD: This title is currently not available on Prime Video
The story of Freda Kelly, a shy Liverpudlian teenager asked to work for a young local band hoping to make it big: The Beatles. Their loyal secretary from beginning to end, Freda tells her tales for the first time in 50 years.
Reviews
This is not a tell-all movie. It's about Freda, from Freda herself, who thought herself the luckiest girl in the world.When you think you've seen every documentary about the Beatles or Beatles phenomenon, along comes this absolutely charming film about the member of their organization almost solely responsible for the unbridled love their fans felt for them on a global scale.Freda clearly loved them as family, and never stopped loving them. It's as if she's speaking of her brothers. As she tells her story, you'll be transported back in time, and you'll feel that excitement you felt when you first discovered the Beatles. Freda's loyalty never waned, and the joy and glow she felt in her job and relationship with the boys just radiates off the screen.
... more
Just finished watching "Good Ol' Freda" and if you have not seen it yet, I highly recommend it. Freda was Brian Epstein's personal secretary and head of the official Beatles Fan Club for 11 years. The documentary is her story and is not a tell all which was refreshing. There are a lot of still images of the Beatles from the Cavern days as well as some video and interviews. The film follows Freda from the Cavern, where she went to see the Beatles during their lunchtime shows through to the year after their break up. There is also a good mix of music playing in the background, some Beatles tunes as well as songs they covered, performed by the original artists.If you enjoy(ed) the Beatles, I believe you will find this film both interesting and entertaining.Cheers!!
... more
GOOD OL' FREDA (2013) ***1/2 Sweet valentine to The Fab Four in Ryan White's pedestrian yet warm-hearted documentary about The Beatles' secretary Freda Kelly's ascent from teenage office drone to fan club organizer ultimately to engaging friend who divulges little insight to the cult of celebrity yet manages to bring a smile to those who crave any and all details about the rock and roll legends, no matter how trivial. Her lifelong career (well for 11 years at any rate) proves that old school devotion pays off in more ways than fame and fortune: a lifetime of love and friendship; how rare indeed and again, all you need is love. Resplendent in awesome archival footage and gorgeous black and white candids of the rockers with their female compadre that will have you wanting to go back and time and (re)live it again. Fab!
... more
The moment that I saw Good Ol' Freda listed in the Hot Docs program, without reading the description, I knew exactly who this doc was about. That's good ol' Freda Kelly, once called the luckiest girl in the world by newspapers and teen rags, because she was the secretary to a little band called The Beatles. The title comes from the 1963 Christmas message recorded by the Fab Four for their fan club, which Kelly also ran, in which they specifically mention "good ol' Freda." Early in the film, Kelly looks at the camera and says, "Who wants to hear the secretary's story?"The answer of course is – We do, we do! All these years later, the world is still hungry for any piece of the story of The Beatles that has been left untold. And Freda Kelly is our last best hope. She has remained mum for years – she's never sold her story; rarely gives interviews; didn't cash in the treasure trove of Beatles memorabilia in her attic, instead passing it directly to fans or donating to charity. Good Ol' Freda is less a tale of The Beatles and more a tale of one woman's – a girl's actually, being only 17 when she was hired – fierce loyalty and protector of a trust given her by the four most famous men in the world.Freda Kelly was a nice Liverpudlian girl who found herself in extraordinary circumstances. She coped with those circumstances with more grace than one can imagine and has continued to do so for years. Kelly took her job very seriously, but… she was a fan first and foremost, and she still counts herself as one today. Turns out, that "luckiest girl in the world" appellation was exactly how she felt – and still does. Kelly notes that she agreed to do this doc, with some reservation, because she wants her grandson to know that she did some fun and cool stuff in the '60s. Good Ol' Freda will definitely make that possible.After the Sunday afternoon screening at TIFF Bell Lightbox, director Ryan White and producer Kathy McCabe came out on stage. The crowd applauded. The Freda Kelly came up. The audience – a packed house – leapt to its feet for a lusty round of ovation. That's the kind of affection Freda Kelly inspires and her story as told in Good Ol' Freda inspires. This doc is a must see, now at Hot Docs or anywhere else you can catch it.
... more