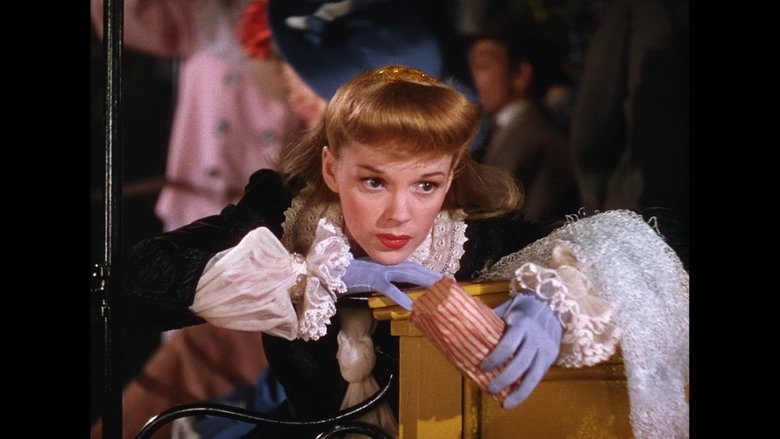 Meet Me in St. Louis
November. 23,1944
AD: This title is currently not available on Prime Video
In the year before the 1904 St Louis World's Fair, the four Smith daughters learn lessons of life and love, even as they prepare for a reluctant move to New York.
Reviews
Movie musicals don't get any better than this! In "The Wizard of Oz" Judy Garland's character, Dorothy, opines, "there's no place like home." In "Meet Me in St. Louis" we are treated to a depiction of exactly what an ideal home, a home to cherish and nostalgically remember, is. The Smith family lives in a sprawling and lovely house in the nicer part of St. Louis. Three generations of the family live together: Grandpa Smith, Lon (a prosperous attorney )& Anna Smith and their five children: Lon Jr. (off to Princeton), Rose (smitten with Warren Sheffield), Esther (getting to know "the boy next door") and the two youngest girls, Agnes and irrepressible "Tootie" (always up to mischief). Family drama unfolds! The brilliantly talented Vincente Minneli has created in this film an irresistible homage to home and family circa 1903/04 with the added piece de resistance of Judy Garland singing some of her most well-known and beloved songs: "The Boy Next Door," "The Trolley Song," and "Have Yourself a Merry Little Christmas." Beautiful!Garland is the supreme entertainer of her generation and possibly for all time. She can relate a song to her audience and make them feel what is in her heart. Nowhere in St. Louis is this more clear than in her rendition of Have Yourself A Merry Little Christmas - a carol with obvious tear-jerking sadness and poignancy. However, the film's most exuberant display of joyous passion remains 'The Trolley Song'. At any rate, enjoy! This is one film that never gets old and Judy Garland was never more beautiful than she was right here.
... more
Meet Me in St. Louis is a rather ridiculous "good old days" movie. Told episodically, it focuses on a family's problems, which mainly involve daughters trying to get husbands and decisions on where to live.While silly, the movie has charm to spare, supplied mainly by the always riveting Judy Garland and by Margaret O'Brien, giving her best performance as an anti-Shirley Temple.O'Brien's performance is surprising. While most of the movie is artificial even by the standards of the times, O'Brien offers a surprisingly id-based child obsessed with death and provocation. It is far more real than the simpering children who inhabit most 40s films.While the story is slight, the movie gets buy on tremendous moments, all involving Garland and O'Brien, as when Garland's heartbreaking rendition of Have Yourself a Merry Little Christmas is followed by O'Brien's surprising reaction.While it's no more realistic than Sleeping Beauty (even though Republicans often act as though this white, patriarchal, upper middle- class world is a thing we could actually "return" to), it is utterly charming.
... more
In the year before the 1904 St Louis World's Fair, the four Smith daughters learn lessons of life and love, even as they prepare for a reluctant move to New York.This film took me a while to warm up to. Judy Garland, the star of the film, is dressed horribly with awful hair, and frankly I find her singing voice quite atrocious. How can this be? In others films ("Wizard of Oz" and "A Star in Born") she sings so nicely. Of course, the songs in general are pretty awful in this one... not fun like other musicals (e.g. "State Fair").I would have rated the film lower, but the Halloween scene redeemed it. Kids starting fires, dumping in old furniture, and smashing people in the face with flour? Priceless.
... more
Amid the many superior musicals produced by MGM, few were as well-executed and charming as this one. I say that not having seen the film since the old days of black and white television, when I wasn't very impressed. Finally now, in 2012, I am watching it again and wow...what I missed all of these years! In terms of production, Vincente Minnelli did a marvelous job here...not to mention meeting Judy Garland and eventually marrying her. The Technicolor here is truly stunning, although there is some unevenness in the current print shown on TCM.But best of all is a tremendous cast. Perhaps the only time Judy Garland was better was in "The Wizard Of Oz", five years earlier...and I say that as no particular fan of Ms. Garland. Margaret O'Brien, only 7 years old, turns in a remarkable performance. I didn't recognize Mary Astor as the mother; a very different role for her, and well done. Lucille Bremer and Tom Drake do nicely; I never understood why Drake wasn't more successful. I always got a kick out of Marjorie Main until the Ma & Pa Kettle movies, and here she is great as the maid. Leon Ames has a more substantial role here as the father, and does very nicely. Harry Davenport -- always a treat to watch -- plays the grandfather. And June Lockhart is here, also.There is one issue that may be a bit of a downer for some viewers. If you are heavy into plots, you'll be disappointed. There really is no plot to the film. Rather, it's a series of vignettes showing a small child (O'Brien) and a late teen (Garland) growing up. And it's done so nicely, you're likely to excuse the lack of a plot. And then there are the songs, particularly "The Trolley Song" and "Have Yourself A Merry Little Christmas".I rarely give an "8", but here's one!
... more