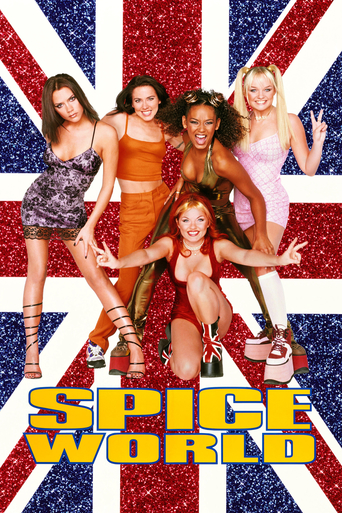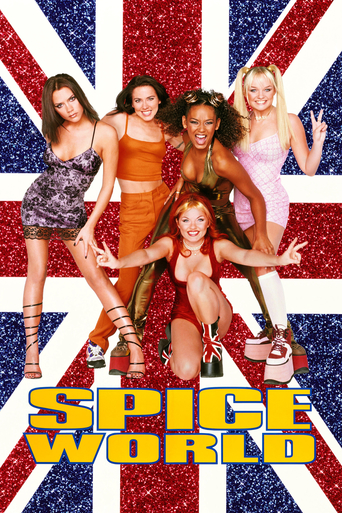 Spice World
December. 19,1997 PG
AD: This title is currently not available on Prime Video
The film follows the Spice Girls and their entourage (mostly fictional characters) - manager Clifford, his assistant Deborah, filmmaker Piers (who is trying to shoot a documentary on "the real Spice Girls") and others in their everyday life.
Reviews
This film is just pure fun. So 90s and a reminder to how much the spice girls achieved! Pure fun
... more
Undoubtedly one of the worst British films ever made, SPICE WORLD is nothing more than a lame, tacked-together vanity project for a girl group thankfully long forgotten. The film is nothing more than a series of filmed songs with a few supposedly comedic sketches linking the material. The Spice Girls share 'witty' banter and drive around London in their tour bus while various nefarious managers and media employees work against each other in a plot which has nothing to do with the main characters. The script is dumber than dumb and the Girls are no actresses, with their one-liner delivery quite embarrassing. Poor old Richard E. Grant chews up the scenery while Alan Cumming delivers the fakest accent ever. The rest seems to be an excuse for endless celebrity cameos, which at least takes your mind off the tedium a little.
... more
At the age of 9 I was a Spice Girls fan. And I immensely enjoyed it in the cinema. Now I do realize how silly actually this movie was. Spice World is, and is meant to be, purely the fan-fantasy featuring five of their favorite singers doing... well, whatever. The film goes around with several subplots, one more forgettable than the other. But throughout we do see Spice Girls interacting (and overacting). When you are a child fan, that is how you imagine they must spend some of their free time, or at least, you fantasize about it in a similar fashion. Their personalities in the film are actually only exaggerated versions on what stereotype their nicknames presented them with. If you are not a Spice Girls fan, do not see this film. You will probably not enjoy. Unless you are looking something 'so bad it's good'. Film goes nowhere and gives you nothing, unless you are a fan and enjoy seeing them on big screen, mostly singing familiar songs, bickering and having fun. It is definitely a plus if you are in a super-funny mode and ready to have some laugh with them and at them. My diagnostics: 8/10 for fans, 3/10 for everyone else.
... more
Being a bit of a film fanatic, I was always of the opinion that no matter what the film, good or bad, it's worth watching. You can delight in the great ones and laugh at the ones that were really really awful. This film changed that opinion. I tried, but unlike any other film, I could not find it funny that I wasted my time watching it.It has NO plot. The acting was not just bad, it was so bad it made their singing ability look good... and they were playing themselves! Really, how hard can that be? Don't get me wrong, I'm aware it was suppose to be silly and not taken seriously, but I'm pretty sure it was also suppose to be entertaining... which it wasn't. It just bounced from boring scene to boring scene not linking them in anyway.Even if you like the spice girls, no amount of nostalgia would be worth watching this film. If you're looking for a walk down memory lane your better off watching Bugsy Malone, Labyrinth, Moonwalker, pretty much anything from the early 90s. Besides, this film made me forget what I liked about the spice girls in the first place. After watching this film, I went from a secret fan, to seeing the spice girls as the people that got me to spend my time and money on the worst film ever made.
... more