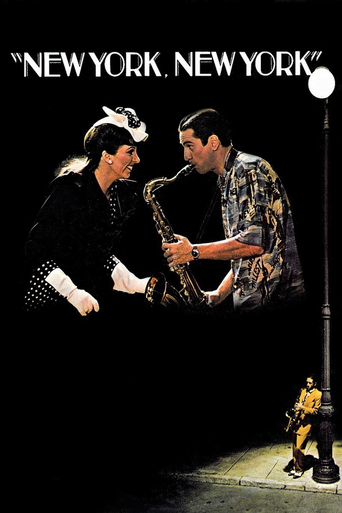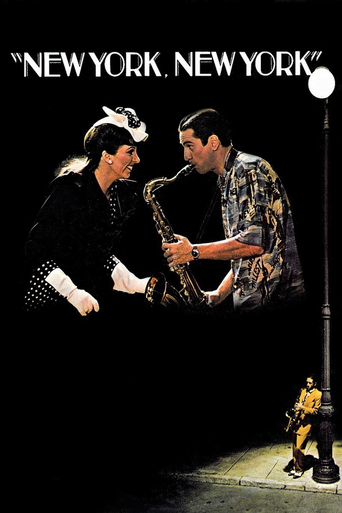 New York, New York
June. 21,1977
AD: This title is currently not available on Prime Video
An egotistical saxophone player and a young singer meet on V-J Day and embark upon a strained and rocky romance, even as their careers begin a long uphill climb.
Reviews
Coming from the success of his previous films, Scorsese went back to the 40s and made a tribute to his home town and the classic Hollywood genre – although he refused to call it a musical, mentioning Billy Wilder's statement that you can't call a film a musical unless characters sing in situations where you don't expect them to.With almost a three-hour running time, this highly stylized film filled with music and a rambling plot was a box-office failure and only a few critics giving a positive review, including Roger Ebert who said that if we forgive the movie its confusions we're left with a good time. Robert De Niro, collaborating for the third time with Scorsese for his least memorable character with the director, was not charming in this film and almost coming off as an annoying selfish character (and maybe that's the point), but Liza Minelli was great when performing the songs, especially in the highest point of the film when she sang its theme song, which is more memorable than the film itself – an indication that it was one of Scorsese's rare miscarriage as a director.The failure of the film led his cocaine addiction into rock bottom, which obviously he will recover from with flying colors – bouncing back in the next decade for a brand new chapter of his life and career.
... more
I love old Big Band music and the history and trials of their times and the road. But I would Never let my daughter see this for fear she might think it is OK to be mentally abused by someone who professes to love her.The plot is weak, there are no redeeming qualities of this film....Liza is a wimp.....Robert D even wears the same suit all the time!Its difficult to believe that Martin Scorsese to have created it.Shame on This for even showing it....and for Robert De Niro and Liza Minnelli for agreeing to be a part of it.I wish I could say something positive, but this is a bad message.
... more
Director Martin Scorsese is best known for his searing portrayals of urban life and its corruptions, as detailed in acclaimed films like "Taxi Driver" (1976), "Raging Bull" (1980) and "Goodfellas" (1990), but here, in the first of many directorial moments where he demonstrated his verisimilitude, he lovingly crafted a musical with a twist. "New York, New York" (1977) has the glorious look of an MGM Technicolor musical of the late forties or early fifties, from the plentiful sets recreating the artifice of the Big Apple in large sound stages in Hollywood, to the costumes and makeup, Scorsese flawlessly imitates the style, the look of another era of cinema. Yet if this was all there was, the film would be an empty, hollow stylistic exercise; instead, the characters that populate this entirely synthetic world are completely real, De Niro and Minnelli creating complex, fascinating characters. Working like the great improvisatory director John Cassavetes, Scorsese coaxes flowing performances from his two leads, detailing their relationship and the conflicts that stem from their deeply musical, creative personalities. Lionel Stander has a memorable supporting role, his distinctive, strong New York accent dominating his scenes. However, this film is defined by the trio of Scorsese, De Niro and Minnelli who collectively define the film.The production design by Boris Leven, who himself had designed "West Side Story" (1961), is excellent; the cinema's view of the Big Apple circa 1945 once more brought to the screen and counterpoints the realism of the characters in a satisfying contrast. Famed Hungarian cinematographer László Kovács shoots in the characteristically Baroque style of the forties while employing some incredible crane shots to remarkable effect.However, one of the key facets for any musical to be a success is its score, and with songwriters John Kander and Fred Ebb, who wrote the music for the original stage productions of "Cabaret" (1966) and "Chicago" (1975), the film achieves magnificently. The title song, subsequently covered by Frank Sinatra, is justifiably iconic, but "The World Goes Around" and the lavish ironic musical number "Happy Endings", invoking the extravagant set pieces of Busby Berekly in the 1930s musicals also help assure the picture's position as the finest original musical of the last forty years.A passed over classic, a forgotten great of New American Cinema of the 1970s, this deserves to be seen once more and appreciated for its tremendously fresh achievement.
... more
Martin Scorsese combined the splashy atmosphere of the old studio musical with an unromanticized marriage story in his valentine to Hollywood and the Big Band era.New York, New York is a musical-drama film directed by Scorsese. It is a musical tribute, featuring new songs by John Kander and Fred Ebb as well as standards, to Scorsese's home town of New York City, and stars Robert De Niro and Liza Minnelli as a pair of musicians and lovers.It features Minnelli's signature song,"New York New York".On V-J Day 1945, newly minted civilian saxophonist Jimmy Doyle meets USO singer Francine Evans at a dance, but she rebuffs every advance that he makes. A day and a hotel lobby meeting later, Jimmy finally wins Francine over after she uses her pop instincts to save his too-jazzy audition at a nightclub. When she goes on tour with Frankie Harte and his Orchestra, Jimmy tracks her down, taking a job with the orchestra to be with her. Together on stage, they make beautiful music; off stage they marry, but the struggle between two artists begins to take its toll. Unable to understand that Francine's needs and talents are just as important as his, and unwilling to compromise his music for security, Jimmy abandons Francine after their baby is born. Separately, the two succeed even more, as Francine becomes a music and movie star, while Jimmy has a top hit and opens a jazz club. When they are reunited several years later, the pair must decide if their relationship is worth another try.A downbeat homage to bright-lights showbiz dramas, an epic orchestration that indulges in stubbornly obsessive riffs, Martin Scorsese's New York, New York seems to value awkwardness and indecision above all else considering that it never pulls itself together into a coherent whole.But nevertheless,one cannot deny the fact that we're left with a good time considering the great amount of entertainment and satisfaction this musical provides.Also,Scorsese created a very handsome and dynamic film reveling in the costumes and music.Overall,it may not be the a classic but it surely does leave the viewer a wonderful time.
... more