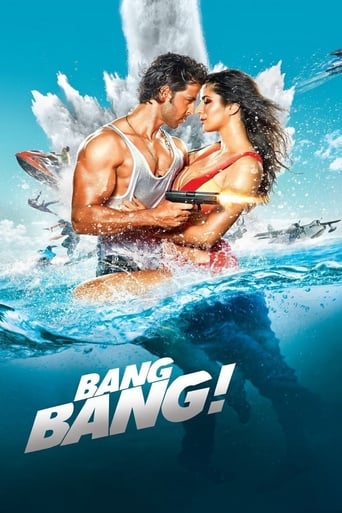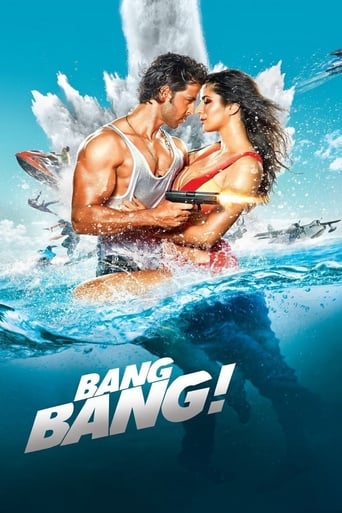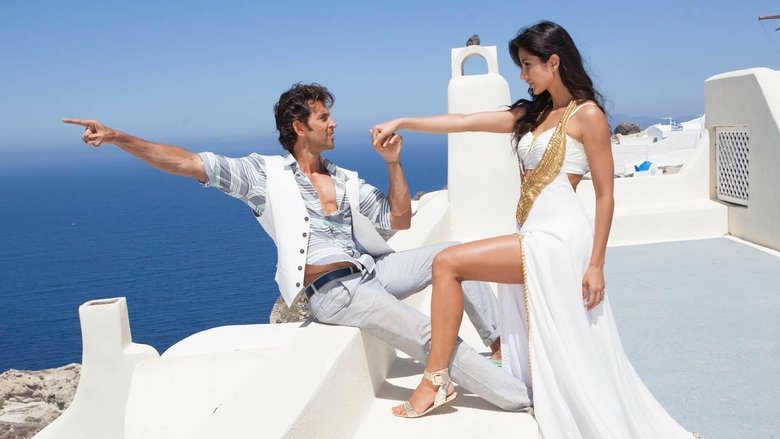 Bang Bang!
October. 02,2014 PG-13
AD: This title is currently not available on Prime Video
A girl gets mixed up with a spy trying to clear his name. A chance encounter of the unassuming bank receptionist Harleen Sahni with the charming yet mysterious Rajveer Nanda, results in an on-rush of ditched planes, car chases, shoot-outs, bombing raids and general global mayhem. But as the transcontinental chase ensues with Rajveer convincing Harleen that he's the good guy, can she really trust him, and will trust matter when the bullets start flying?
Reviews
They say imitation is the sincerest form of flattery. This remake of the hit "Knight and Day" is a remake, but it has its own Indian flavor and charm. It is the BEST Bollywood movie we have ever seen and it was the most expensive movie ever made by Bollywood. The sets and picturesque backgrounds are breathtaking. It is a cute comedy-action-romance and for those who don't know, it is also a musical. The dance numbers are edgy (for Bollywood), contemporary and suggestive and the violence over the top (generally shoot 'em up without a lot of blood, but there is some gore in a couple of scenes) - so not a G (family) rated movie (I would say at least a PG-13), yet it has a sweet center with relationships/family being shown to hold the favored place. The romance was charming, quite innocent (no sex out of marriage) and sweet. The underwater tech was absolutely FANTASTIC with the first ever Flyboard stunt, which was stunning. The barefoot skiing sequence and others were also very creative. Some of the fight scenes are among the best ever made. No, it isn't a Hollywood production, so some things are a bit disjointed and don't come across as slick as a Hollywood movie, but as I said, the BEST ever Bollywood ever made. For what it is, two thumbs up.. ENCORE, ENCORE... we would like to see more of this kind of movie from Bollywood. We loved it, and recommend you try it, too.
... more
What we liked about the film:1.The action sequences in Bang Bang are worth a watch. Both Hrithik Roshan and Katrina Kaif have pulled off incredible stunts in the film. We must say Siddharth Anand has done a decent job with it.2.The sizzling and super-hit pairing: After Zindagi Na Milegi Dobara, we get to see Hrithik and Katrina's sizzling chemistry again in this film. The duo makes a fantastic pair together. While Hrithik sincerely drives the film with his swagger and hot bod drool-worthy looks, Katrina adds to the film with her cute and innocent character.3.If you are a music lover, this film has it all. You will find each and every genre of music, best in its own kind. Tu Meri is one of those songs where you will love Hrithik's sexy dance moves with amazing music beats by music composer duo Vishal-Shekhar. On the other side Meherbaan is a romantic track that you want to listen to again and again. At the end, in the title track, Bang Bang, Hrithik's high on energy dance moves will surely stun you!What we didn't like:1. The storyline of the film is predictable. The film's beginning and climax are fine, but becomes boring post the interval as it is quite over-stressed.2. You will feel that the song placements are quite odd. Sometimes it looks like they are forced into the film.Our verdict: With Hrithik driving the film from start to end, watch the movie only for him!
... more
I enjoyed Knight & Day. Cruise and Diaz are such wonderful actors and shared such gr8 on screen chemistry that they took an average film like Knight and Day to another level.So when it was announced that Hrithik and Katrina will be starring in the official remake, I was excited considering that both shared a gr8 chemistry in Zindagi Naa Milegi Dobara.Alas, my happiness was short lived. After 15 mins into Bang Bang, I'd two words in my mind ...Bore Bore.Seriously, Bang Bang is an ultimate mess. From the 1st scene at MI 5 HQs in London to the climax, it was a film I failed to understand. I agree logic is something not found easily in Hindi movies. But Bang Bang is way ahead. Bang Bang premise is based on stealing the Kohinoor Diamond....seriously ?? Bro..we are not drunk while watching the film.Wish the film makers and writers stuck to the original script. The movie might have been a little better.Also, casting Katrina turned out to be a disaster. She shows being uninterested in the movie. And the lovely chemistry I spoke abt earlier is not there at all. Casting Kareena Kapoor would have been a better choice considering that she is a far far better actress than Katrina.Also, actors like Danny, Jimmy Shergill and Javed Jaffery are wasted in stupidly written roles.Hrithik is the best thing in the film and when he is on screen especially the action sequences, the film lights up a bit. To give Siddharth Anand, the director his due, the action sequences are very good. But Anand doesn't have the capability to direct an average script like Bang Bang. He messes up the film which is overall disappointing.
... more
An official remake of the Hollywood film Knight and Day, 'Bang Bang' is A Typical Commercial Entertainer, the boasts some impressive action-sequences, energetic music & fair entertainment. Expect less, and you won't be disappointed!'Bang Bang' Synopsis: A young bank receptionist gets mixed up with Rajveer Nanda, a man who has a mysterious background.'Bang Bang' has a brisk & engaging first-hour, where almost all the over-the-top situations & mindlessness hold an appeal. The second-hour, however, is dragging & a bit too long. The brisk pace turns slow & the nonstop action also looks forced, after a while.Sujoy Ghosh & Suresh Nair's heavily Adapted Screenplay begins very well, but loses steam in the latter hour. Also, the dialogue could've been smarter! Siddharth Anand's Direction is stylish. Cinematography is good. Editing is crisp. Action-Sequences are impressively executed. Music by Vishal-Shekhar is energetic. Performance-Wise: Hrithik seems correct for the role. He enacts the robber on the run with perfection. Katrina is cute & shares a nice on-screen chemistry with Hrithik, throughout. Danny Denzongpa is awesome as the antagonist. Jaaved Jaffrey is competent, as always. Pawan Malhotra is efficient. Vikram Gokhale is decent. Jimmy Shergill is superb in a cameo.On the whole, 'Bang Bang' is a good one-time watch, at best.
... more