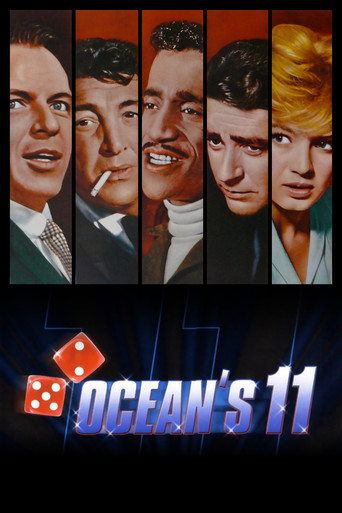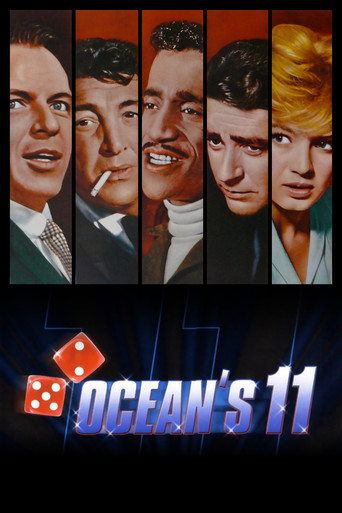 Ocean's Eleven
February. 17,1960 NR
AD: This title is currently not available on Prime Video
Ocean's Eleven is the 'Rat-Pack' comedy about robber Danny Ocean and his gang's attempt to rob the five biggest casinos in Las Vegas.
Reviews
Lucky to have seen this after I watched the Clooney's 11,12 & 13. Must say, it's a nicely made movie with stellar cast and decent performances. The climax is neat !. Loved the movie. Didn't expect that coming. Maybe because of the newer versions. Don't know. But this 1960 classic is surely a must watch for all those loving heist movies. Pace is slow. Might get boring at times.But all in all , a good package.I don't come from the heritage times, but nevertheless,classics remain a classic.disappointed at such a low rating here.
... more
Fifteen years after the end of the Second World War Danny Ocean is getting his old squad back together again; not to reminisce about old times but to go on another mission… this time for themselves. Their target will be the city of Las Vegas where, if all goes according to plan, they will rob millions from five casinos on New Year's Eve. Once they have the money their problems are far from over; law enforcement officers have virtually shut the city so getting the money out without being caught will not be easy.This will is rather fun even if we don't learn what the group is planning until almost half way through the film… perhaps a good thing if you watch knowing nothing about it as one might wonder what on earth this group of old war buddies are planning. Frank Sinatra and his fellow Rat Pack friends do a good job as Danny Ocean and his buddies… if you didn't know it isn't obvious that they are better known for singing than acting… although Dean Martin and Sammy Davis Jr do get to sing a song or two. There are plenty of laughs to be had throughout the film even if a few of the gags have dates somewhat. The heist itself doesn't take very long which and while it is going on there is little sense of real danger which was a bit of a pity; I guess the makers wanted to keep the tone light or possibly I'm unfairly comparing it to the remake that concentrates far more on the actual heist. Overall this was fun but I still preferred the remake.
... more
I guess I should confess at the beginning that I'm an avid Dean Martin fan. But even having said that, this is hardly my favorite Dean Martin film. Oh yes, it's a clever little movie, but to me, the problem with the film is one major flaw -- we're supposed to root for thieves. There are no good guys in this film. They're all crooks. They blow the power going into Las Vegas, depriving everyday people of electricity, some in hospitals, some on oxygen machines, whatever. Yet, again, we are expected to root for them. Sorry, but for me, that's a bit of a problem. If there is one character that you can have a little empathy for, it's Richard Conte's character.Of course, the film also seems very dated today. Not because it's the Rat Pack...they seem almost timeless. But this is the Las Vegas of yesteryear.. Which is okay. It's just dated.And I also dislike the premise of this film -- we're swingers...aren't we just the coolest thing ever? Now I know you're thinking that hey, that guy just doesn't like the Rat Pack. Actually, that's not true. "sergeants 3" is pretty decent. "4 For Texas" is okay. I very much like "Robin & The Seven Hoods".Another problem is that for much of the film, it drags., particularly in the middle of the film.And my final complaint is that much of the film moves kind of slow with too much talk and little action.As to the cast, pretty good. Frank Sinatra is fine here as Danny Ocean, but this is about as far away from his best performances as can be; and I do think that Sinatra was a darned good actor. Dean Martin plays Dean Martin, which is pleasant enough. Sammy Davis, Jr. certainly does better here than he did in "Robin & The Seven Hoods" (where he was little more than a supporting actor); but of course, the Black guy drives the garbage trucks and picks up the stash at the dump). Peter Lawford was quite good as the spoiled rich boy. Richard Conte has the more serious role of a loser who is preparing to die and wants to leave his little boy enough money to go to college. Joey Bishop is interesting in that he plays against character -- a very self-assured cog in the machine. Angie Dickinson is here as the somewhat love interest for Frank Sinatra; not a very impressive role, but she does fine. I always enjoy seeing Cesar Romero. Akim Tamiroff is somewhat interesting as the financial backer of the effort.So, what's interesting about the film? Well, Dino singing the once banned "Ain't That A Kick In The Head". A funny cameo by Red Skelton trying to gamble. And an even funnier cameo of a drunk Shirley MacLaine flirting with Dino. It's also interesting to see a cameo by George Raft.It's a pretty average film that is less than its reputation. But it's worth watching...once...or more if you're a fan of any members of the Rat Pack.Simply because it's a Dean Martin film I recently purchased the Blu-Ray version. It's a very nice transfer.
... more
Of Interest only as an Artifact, its Artificiality is Acute and its Antiquity is Apparent. It Epitomizes the Plastic and Forced Cool of the Participants and what Passed for Breezy, Aloof, Non-Conformity. Truth is, All of this Non-Conformity was nothing but Packaged Personalities Manufactured for Easy Consumption by Pseudo-Anti-Conformists.It Doesn't Age Well, it Doesn't Wear Well, and its Facade gets more Glaring with each Passing Year. It is a Perfect Personification of the Stale and Inhibited Demeanor of its Time that was about to Change in a Few Years as all of the Make-Up and Stiffness was Posed to Give Way to a more Honest and Freewheeling Culture. This kind of Stuff just Had to Go. It's Expiration Date had Arrived.The Movie is Excruciatingly Dull, Not Funny, and Barely Entertaining except for a Chance to See Big-Name Stars On the Screen in Portrait.Nothing comes off as Easy-Going, Natural, or Ad-Lib as it is often Sighted. In Fact, just the Opposite. Everything looks Scripted, Staged, and Performed, no matter how many Cigarettes or Drinks are Passed Around.Cesar Romero and Richard Conte (non Rat-Packers) are the only ones with any Apparent Dignity. The Songs are a Waste, with Sammy's "EE-OH Eleven" Embarrassing and Dino's "Ain't that a Kick in the Head", much Better On Record. Sinatra doesn't even Bother with a Tune and Wears some of the Ugliest Sweaters Imaginable.Overall, only for Die-Hard Rat-Pack Fans and to See what passed for Highly Stylized Fluff in 1960 and a Last Gasp for this Type of "Cool", that would Soon be Laid to Rest and then just to be Sure it was Dead, Cremated.
... more