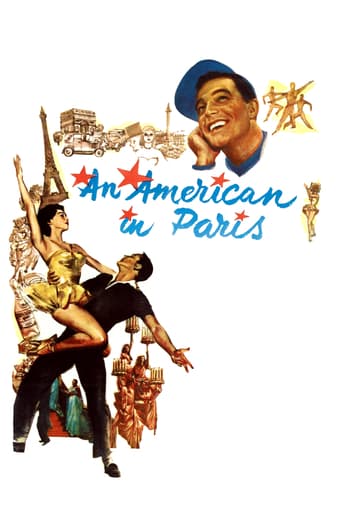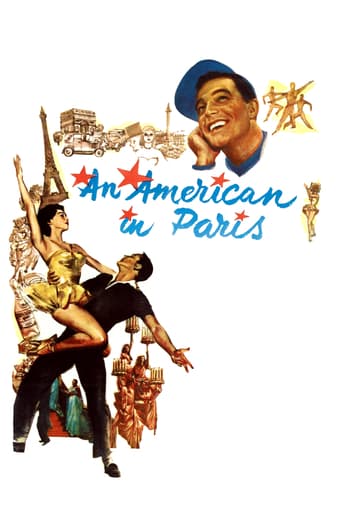 An American in Paris
August. 08,1951 NR
AD: This title is currently not available on Prime Video
Jerry Mulligan (Gene Kelly) is an exuberant American expatriate in Paris trying to make a reputation as a painter. His friend Adam (Oscar Levant) is a struggling concert pianist who's a long time associate of a famous French singer, Henri Baurel (Georges Guétary). A lonely society woman, Milo Roberts (Nina Foch) takes Jerry under her wing and supports him, but is interested in more than his art.
Reviews
I wouldn't call "An American in Paris" one of the most overrated movies of all time since there seems to be a general consensus about this status. But it is certainly one of the most dated. On every single level it is so outrageously dated that you the year of release isn't even a alibi.First of all, there's something a little dishonest about the title; the film teases our expectations by using Paris in the title but apart from some obligatory establishing shots, Paris isn't remotely present in the story. "Casablanca" could get away with it because the idea of the oriental city mattered more than the real setting but in the flashback sequences, they did their best to show Paris in the background, because you just can't cheat with Paris. Besides, can you imagine "West Side Story" shot indoors? Can you imagine a matte with drawn hills in "The Sound of Music"? Even the sound of Gerschwin fails to make Paris alive.The film is also dated by Gene Kelly (and Stanley Donen)'s "Singin' in the Rain, the movie that should have won the Best picture of 1952, if "High Noon" hadn't get it. We're talking of the greatest, funniest and most iconic musicals of cinematic history a quite a leap from 1951. Sure, Vincente Minelli didn't intend to pull any laughs from the viewers, but while watching the film, I kept wondering which scene he really intended to make an ever lasting impact. "I Got Rhythm" where Gene Kelly makes some great moves in front of admiring kids is one of the few I can still remember and the whimsical tone used when he strolls down the street. Neither of them involves the romance.Indeed, the film is also dated by the standards of romances, you can't make a picture in Paris and not have the city play an integral part to it. In 1953, "Roman Holiday" was one of the first productions set in a foreign places setting the precedent where the local flavor enhances the passion between the protagonists. "An American in Paris" doesn't even allow us a small immersion in Paris, and apart from a few "bonjour" and "ça va", the film could have been set anywhere. I just saw recently the movie "Fanny" and at least, you could have a direct taste on the Marseilles waterfront. You can't cheat with Marseilles, you just can't cheat with Paris. "The Aristocats" felt more Parisian than this.Finally, there's no need to go till 1961, 1953 or 1952, Vincente Minelli's Best Picture winner is outdated by its Best Picture co-nominees, over the movie that changed the face of acting, winning three Oscars on that category, Elia Kazan's "A Streetcar Named Desire" and the no less groundbreaking "A Place in the Sun"? I don't even know if it's even the best-looking Picture of the three, even "Quo Vadis" looked gorgeous and Peter Ustinov stole the show as the complex and tormented Nero. "An American in Paris" is a glorious and lavish anachronism only highlighted by Gene Kelly's contagious smile, great performance (yes) and Leslie Caro who does her best.Caron would get more interesting roles in the future, but it's clear that her frail lovability was exploited at the expenses of a real chemistry with Kelly, I could feel why he fell in love but not that she could love him back. The film itself is based on a rather bland love triangle whose only spices are the interactions between Kelly and Nina Foch, despite a few high spots, some musical numbers fell flat. The film was a gigantic ballet put on screen, there's never a moment where they try to transcend the barriers and make something new and fresh. Even the musical sequences feel like fillers to the plot, the climax of the story is an excuse for music just when the romantic triangle started to be interesting, "Singin' in the Rain" had the same problem but it was in the middle of the film and here, it wasn't a plot that called for such digression, by the time it ends, you really stop caring about the characters. Especially when the young starlet is obviously too shy and utters English words that don't match her thick accent and when the friendliest person with Jerry gets the harshest treatment.This was the first musical to win after 15 years (the last one was "The Great Ziegfeld") so I wonder if nostalgia wasn't part of it, and that it marked the rebirth of Hollywood, the victory of Cecil B. De Mille's "Greatest Show on Earth" deepened the shift between the Academy and the new dispositions of Cinema in the 50's, but again, they didn't even nominate "Singin' in the Rain" so I'm probably missing something.I said I wouldn't call "An American in Paris" overrated, well, I'm having second thoughts now.
... more
Producer: Arthur Freed. Copyright 5 September 1951 by Loew's Inc. A Metro-Goldwyn-Mayer picture. New York opening at the Radio City Music Hall: 4 October 1951 (ran 7 weeks). U.S. release: 9 November 1951. U.K. release: 24 December 1951. Australian release: 2 April 1952. 10,204 feet. 113 minutes.NOTES: M-G-M production number: 1501. Negative cost: $2,723,903. Total worldwide rentals gross to 1975: $8,050,000. Initial domestic rentals gross: $4 million, which gave it the number 5 position at the U.S./Canadian box-office for 1952. When the film was being edited for release, some musical numbers were deleted and minor cuts were made to tighten the picture. Kelly was extremely sorry to see his favorite number eliminated. "I've Got a Crush on You" was a solo number to which he had given particular thought and attention. "Love Walked In" and "But Not for Me," both Guetary solos, were also taken out of the film. The former held up the tempo in the early part of the picture and the latter didn't play in the surrounding whirl of the Beaux Arts ball.Shooting from 1 August 1950 to 8 January 1951, with one day of re- takes on 2 April 1951.While Kelly was rehearsing the final ballet, Minnelli directed a sequel to his "Father of the Bride". On 6 December, when Minnelli came back to shoot the ballet, he brought with him John Alton, his cameraman on that sequel, namely "Father's Little Dividend". "I regretted that I hadn't had him for the whole film," Minnelli later stated. "I think he is one of the greatest cameramen that I have ever worked with. Alton is very flexible; he doesn't have a set mind like Gilks had, and he is capable of modifying his lights according to the director's preferences." This was Alton's first Technicolor assignment. But even so, he had very definite ideas as to how to bring about certain color effects. Many of Alton's fellow cameramen believed that it was impossible to shoot the ballet the way he did: shooting directly into a light, or using less than the minimum of light deemed necessary for a good negative. There was also a row with the electricians, who strongly objected to Alton's procedures. Instead of flooding the set with sixty lights, Alton would use only three or four. COMMENT: Unlike every other movie studio in the entire world, M-G-M really hated newspaper critics. Give an M-G-M movie a bad review and they'd suspend your press privileges for a week, a month or even a year. They black-balled me on any number of occasions. I was never permitted to review this film, for example, so I am forced to rely on the excellent Warner DVD. All the same I do remember very distinctly how disappointed I felt when I finally saw the film.Admittedly, the film was handicapped for me by the presence of Gene Kelly himself. I concede that he is a brilliant (if extremely flashy) choreographer, an amazingly adroit dancer and an equally imaginative director, but as a singer he is weak and as an actor he often displays many of the least likable aspects of the American character: his brash, aggressive manner, his supreme self- confidence, his boastfulness and perhaps above all, his ingrained belief that the world owes him deference simply because he is an American. Unfortunately, these traits are in great evidence in "An American In Paris". Lacking sympathy for the central character, it is easy to see why the film failed to fully engage my attention when I finally caught up with it in 1971. I was not happy with the supporting characters either. As a singer, Georges Guetary belongs to the florid school, and as a personality, he did not come across at all. And I much preferred glamorous Nina Foch (who is supposed to be the unsympathetic character) to gamin Leslie Caron (who is supposed to be the heroine). At least Oscar Levant is his usual amusing screen self.The plot is slight and all-too-familiar but some of the songs are very catchy. On the other hand, I have never cared for the music of "An American in Paris," which seems to me to be strident, forced, lacking in harmony and melody. What impressed me most about the film in 1971 was its glittering color photography, its sumptuous sets and its dazzling costumes. I have no doubt that "An American In Paris" fully deserved the Hollywood awards it won in these departments.
... more
It's ironic that "An American in Paris" features US citizens speaking glowingly of France. Half a century later Donald Rumsfeld called it Old Europe when Jacques Chirac refused to help the US invade Iraq. Of course, France wasn't without its own misdeeds. Anyone who's studied a little history knows that the French were merciless to the Algerians, and tortured Algerian prisoners during Algeria's war for independence.But anyway, the movie is unpleasant to watch, knowing that Gene Kelly was twice Leslie Caron's age. Seriously, their relationship comes across as statutory rape. If you've read my reviews of musicals, then you probably know that I watch them for the purpose of heckling them like Mike, Servo and Crow do to the crummy movies that Dr. Forrester and TV's Frank send them on "Mystery Science Theater 3000". Most of my comments during "AAiP" are not ones that I'll be allowed to repeat in this review. I will, however, say that the 16-minute dance sequence at the end looks like something that they came up with after eating too much sugar. A lot of people would probably call it an acid trip.One thing that I noticed was the appearance of Hayden Rorke, best known as Dr. Bellows on "I Dream of Jeannie". My satirical explanation of his appearance here is that Jeannie accidentally blinked him to Paris, and so he calls his wife and says "Amanda, Maj. Nelson has somehow sent me to Paris! There's bound to be a conspiracy at work here!", causing mass hysteria in Coco Beach, leading to an accidental launch of a rocket. Oh Jeannie, will you ever learn? Long story short, this is not a movie that I can take seriously, and it didn't deserve Best Picture in a year that gave us "A Streetcar Named Desire".
... more
Although director Minelli's work is generally considered Hollywood gold his experiment with an early 1950's dance oriented film won an academy award for best picture without translating well to millennium audiences today. Among the five leads Nina Foch was ill for most of the shooting, Georges Giuterry was a relative unknown in America, Leslie Caron and Oscar Levant became infamous as difficult to direct and Gene Kelly as the choreographer of a dance film was more a line boss than a performer on the set. The tap sequences are exquisite and there is a full performance of a one act ballet during the running time, all positives for dance fans. Despite Minelli's obvious talents shining through casting three leads who are not dancers in a dance film - Foch, Giuterry and Levant, gives the romantic leads, Kelly and Caron more to dance than to sing and does Caron really have a song in the film?
... more